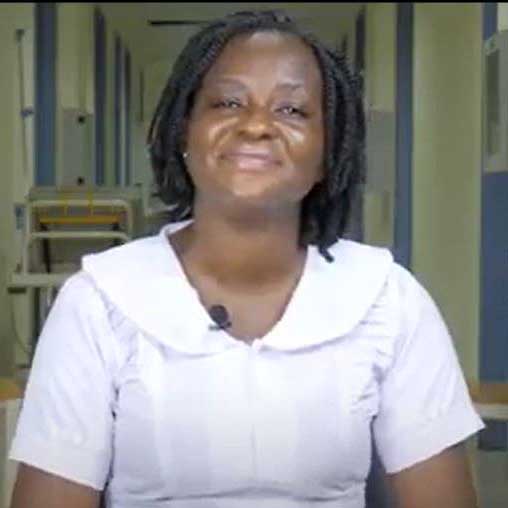 Wa, Ghana—Shulammite Asamoah Gyamerah still remembers her first shift at the COVID-19 treatment center. For the first time in her 13-year nursing career, the 37-year-old mother of two was fearful and anxious. ''I was very worried about getting infected and infecting my family too,'' says Shulammite. But, as a senior nurse at the Upper West Regional Hospital, she knew her priority was delivering lifesaving care to COVID-19 patients and helping restore them to good health.
With one of the highest testing rates in West Africa, Ghana has recorded about 158,000 Covid-19 cases and over 1,400 deaths. Even as the vaccine rollout gathers momentum, the virus continues to change and new variants emerge. Increased referrals of Ghanaians with Covid-19 to advanced health facilities in Accra and Kumasi exposed a shortage of critical care workers and a lack of case management skills and equipment to care for these patients.
A few weeks after we confirmed our first cases, it became clear that there were not enough critical care workers to meet the increasing caseload."

Nurse Shulammite
Recognizing these challenges, the Ghana Health Service prioritized providing health workers in selected facilities across the country with the skills and training necessary to treat and care for severe and critically ill Covid-19 patients.
Shulammite was among the 86 health workers trained on advanced respiratory support through the Jhpiego-led Reaching Impact, Saturation and Epidemic Control (RISE) project, which is funded by the U.S. President's Emergency Plan for AIDS Relief (PEPFAR) and the U.S. Agency for International Development (USAID).
RISE, a consortium of six partners, has been working since 2019 to provide HIV prevention, care and treatment to men, women and priority populations through strategic technical assistance and direct service delivery in PEPFAR countries. With the onset of the pandemic, and through emergency funding from USAID, RISE teams have marshalled their expertise in delivering care at scale to help countries on three continents—from Ecuador to India—plan and roll out their Covid-19 response.
RISE's focus in Ghana is to strengthen critical care services. In partnership with the Ghana Health Service Institutional Care Division, RISE hosted physicians, anesthetists and nurses at the Ghana Infectious Disease Center in Accra for a four-week training on managing severe and critically ill patients.
Through these sessions, health workers developed the skills to monitor the conditions of patients with breathing difficulties, determining when they needed to receive oxygen through a fitted mask or a nasal cannula. Depending on the severity of a person's illness, providers learned to recognize when a patient needs to be sedated and let a machine breathe for them.
The health workers also received a follow-up virtual training to sharpen skills and gauge their preparedness. To continue the exchange of ideas and to provide support to health workers across the country, the RISE Jhpiego team organized a Covid-19 community of practice.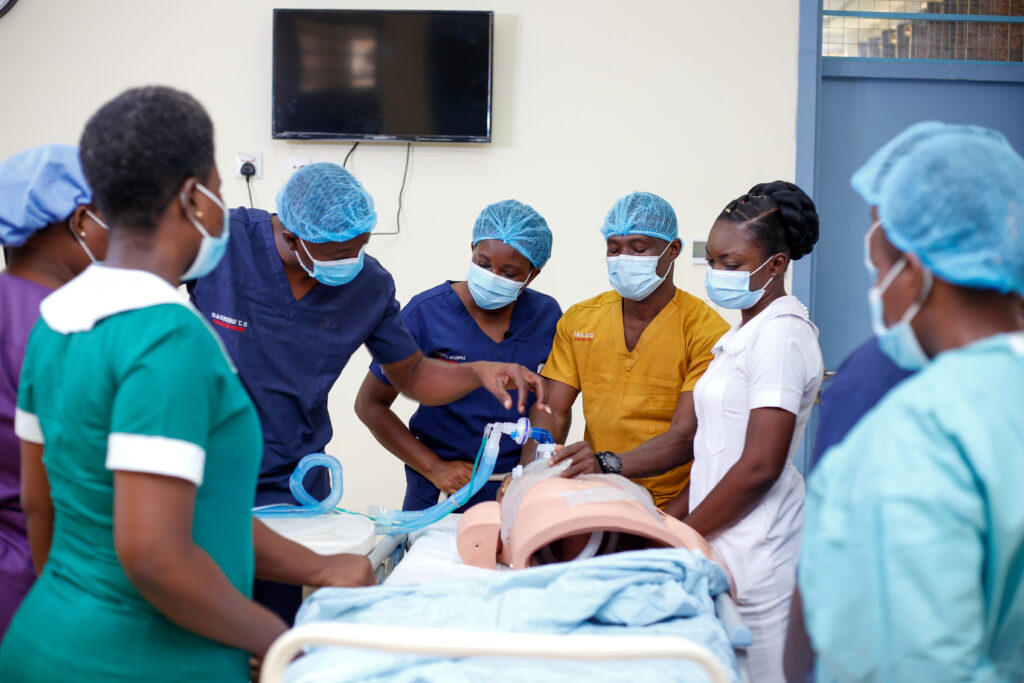 "A network has been developed between the consultants and the trainees. The consultants from the National Case Management Team are readily available via Zoom and even WhatsApp and voice call to provide tele-support to the trainees at the treatment centers," said Dr. Lawrence Ofori-Boadu, Deputy Director of Ghana Health Service Institutional Care Division.
With USAID support, the 26 treatment centers have received needed equipment, including laptops, mobile WiFi modems and patient monitors from the World Health Organization.
"We learned that managing Covid-19 is all about oxygen therapy," said Shulammite. "If you give the right oxygen at the right time to a patient, there wouldn't be the need for intubation because the patient will recover."
Now, every staff at the Covid-19 treatment center and even the hospital's ICU knows when to give what form of oxygen therapy."

Nurse Shulammite
Confident now in her skills in advanced respiratory therapy, Shulammite organized a refresher course on basic critical care for the 23-member staff at the Covid-19 treatment center and intensive care unit (ICU) at the Upper West Regional Hospital. Shulammite and her team have also set up a high dependency unit and an ICU at the treatment center.
"I am very confident we have the skill and equipment to provide care for our clients right here in Wa. Thanks so much to USAID for support."
Emmanuel Attramah is a Communications Specialist in Jhpiego's Ghana office.
Jhpiego believes that when women are healthy, families and communities are strong. We won't rest until all women and their families—no matter where they live—can access the health care they need to pursue happy and productive lives.
Donate now!