Jakarta, Indonesia—Restiani was just 28 weeks pregnant when she went into labor. Her husband, Martudilah, drove her by motorbike on the 30-minute journey to their public hospital where she gave birth to a premature, underweight boy, Edgar.
Hamriani was much further along—38 weeks. She awoke one night with a throbbing headache and realized she was having contractions. In a borrowed car, her husband took her to their health center where midwives quickly identified the warning signs for pre-eclampsia, a life-threatening hypertensive disorder.
Desi was 40 weeks pregnant and ready to have her baby. But after delivering her son, the placenta failed to follow, and Desi began bleeding heavily.
Three births. Three serious complications. Three opportunities to ensure a pregnant woman survived childbirth.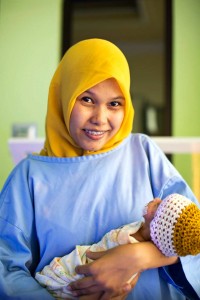 The experiences of Restiani, Hamriani and Desi are not unique. Throughout Indonesia, complications at birth continue to threaten the lives of women and their babies. The number of maternal and newborn deaths in Indonesia remains unacceptably high and, by some indications, has increased. From 2007 to 2012, for example, Indonesia's estimated maternal mortality ratio increased from 228 to 359 deaths for every 100,000 births.
These three women, fortunately, survived pregnancy and childbirth with the help of the Expanding Maternal and Neonatal Survival (EMAS) program that was launched by the government of Indonesia through the support of the U.S. Agency for International Development (USAID). EMAS, a program led by Jhpiego, works across the health system from village center to hospital to strengthen business practices, supervision and oversight of health service providers and the skills of individual midwives.
The EMAS program helps train health workers to recognize and manage complicated labors like those Desi and Hamriani experienced. Twice a month, the midwives and nurses at Hamriani's health center practice emergency drills to ensure that they're always confident and ready to take action when the need arises. In fact, the very same day that Hamriani arrived at her health center with pre-eclampsia, midwives there had just completed a skill-building session on addressing pregnancy-related high blood pressure and its impact on mother and child. With skills fresh on their minds, the midwives worked together as a team, each managing a different aspect of Hamriani's difficult labor. An hour later, she gave birth to a healthy baby.
For Desi, even those skills weren't enough—she needed to be referred to the nearby public hospital. Through EMAS, an emergency text message-based referral system was in place, so the staff of the referral hospital was ready with the right blood type for transfusion, key supplies and the necessary intervention for Desi when she arrived.
In Restiani's case, her newborn son Edgar needed attention. He was taken into intensive care immediately after birth and stabilized. Midwives showed Restiani how to hold him skin-to-skin to transfer body warmth—an intervention called kangaroo mother care, which has been shown to increase a baby's weight, prevent hypothermia and create a bond between parents and their newborn. Every day, Restiani swaddled Edgar against her chest. Today, they're both safe and healthy.
USAID's EMAS program works in 30 districts and cities, which include 150 hospitals and 300 health centers, to ensure that pregnant women like Hamriani, Desi and Restiani survive childbirth and deliver healthy babies.
From encouraging expectant mothers to give birth at a health facility to ensuring that health workers have the skills and confidence to manage complicated births, EMAS is helping build bright futures for mothers, newborns and families across Indonesia.
Jhpiego believes that when women are healthy, families and communities are strong. We won't rest until all women and their families—no matter where they live—can access the health care they need to pursue happy and productive lives.
Donate now!