Midwife Sharmin Akhter, 25, readjusts her protective gear before she attends to a mother in labor at a sub-district health facility, called an Upazila Health Complex (UHC), in Barlekha, Moulvibazar District. Her reassuring voice comforts the mother, who continues pushing to deliver the baby—until the endearing cry of a newborn engulfs the room.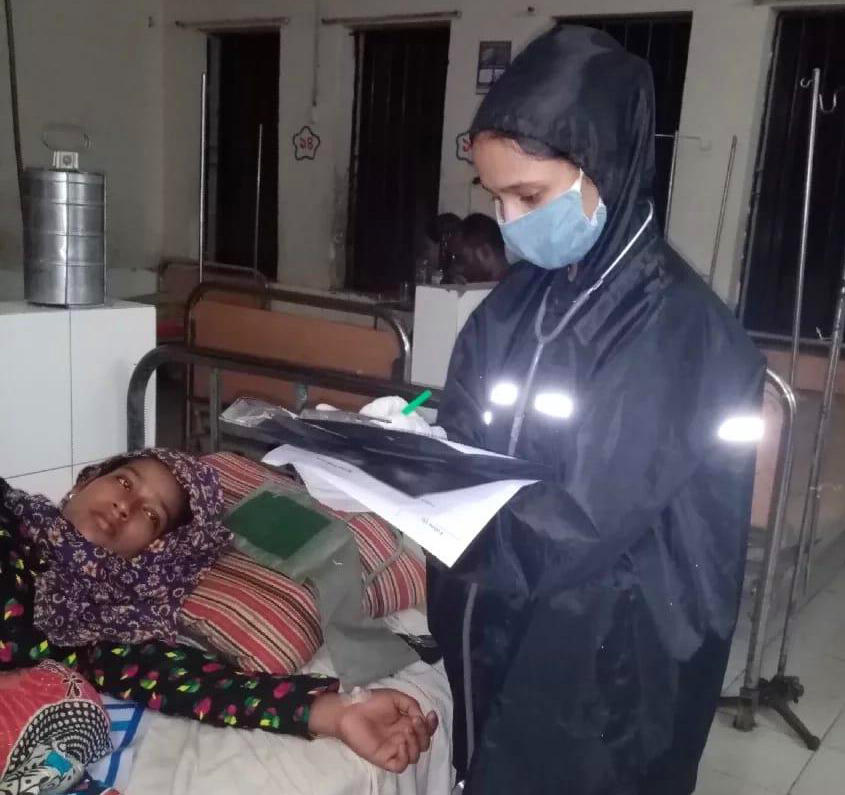 Sharmin has conducted yet another safe delivery, her fifteenth this March. Although delivering babies is an integral part of Sharmin's job as the labor room in-charge at the UHC, she finds these 15 deliveries special, as they happened during the month that the COVID-19 pandemic first made its way into Bangladesh.
With rapidly rising numbers of new COVID-19 cases and deaths, health care providers in Bangladesh—including midwives—have risen to the forefront to respond to the pandemic. Midwives like Sharmin are working hard to ensure that essential maternal and child health services continue to be provided at their facilities. Without these services, women and newborns could die—not of COVID-19 but of fatal complications during and after labor. In addition to providing antenatal, delivery and postnatal care services, Sharmin and her colleagues are also offering family planning services—another intervention that saves lives, in this case by ensuring healthy spacing of pregnancies.
Sharmin became a midwife four years ago, never expecting to practice during a pandemic. Yet, she feels ready to cope with anything she encounters. "When I was a diploma midwifery student, I knew the journey of a midwife is not so smooth. Today, I know there is every chance that I could be affected by (COVID-19), but I don't think too much about myself when I am on duty. I concentrate on doing all I can to ensure a healthy baby from a healthy mother."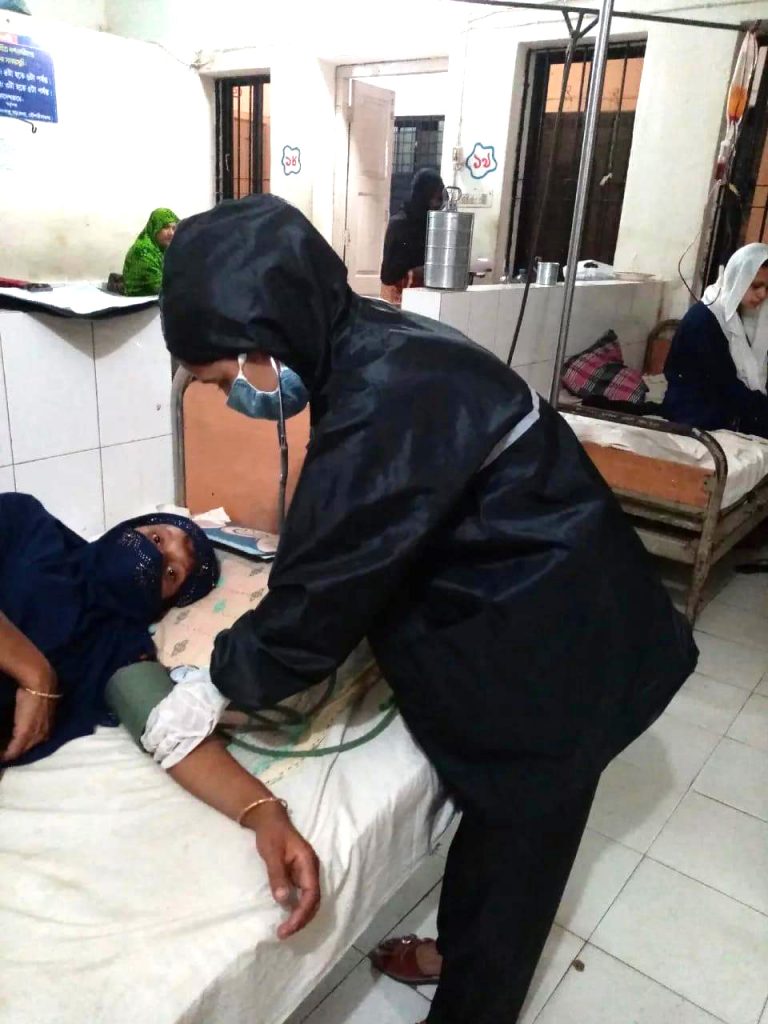 A Jhpiego-trained midwife, Sharmin had previously attended a 12-day training on providing postpartum family planning services. More recently, she and her colleagues received a detailed e-orientation by Jhpiego on infection prevention and disinfection methods to prevent transmission of the virus, as well as how to take care of pregnant women and new mothers suspected of having COVID-19.
In its response to the evolving pandemic, Jhpiego has been working closely with the Ministry of Health and Family Welfare, Government of Bangladesh to ensure the continuation of maternal and newborn health and postpartum family planning services. With support from a private foundation, Jhpiego is assisting in supplying vital personal protective equipment to health care workers, as well as providing training, through virtual platforms, on infection prevention and control (IPC).
"Jhpiego is providing continuous support and assistance to every service provider working in the maternity ward of Barlekha UHC," Sharmin says. "They have been organizing virtual meetings to ensure the safety of the service providers, especially midwives, during COVID-19 and have also shared IPC-related technical updates. Jhpiego regularly updates us about maternal and child health care and postpartum family planning services during the outbreak of COVID-19 and is there to address all the issues that we face during our day-to-day work."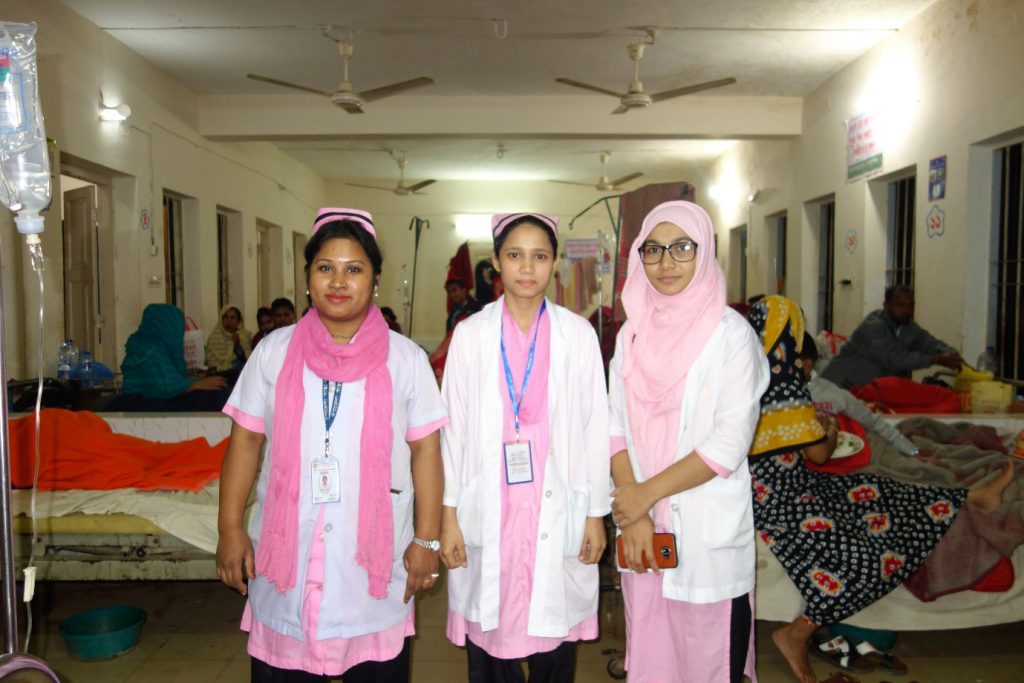 In this time of fear and anxiety, every new life that Sharmin Akhtar and her fellow midwives deliver is a source of hope. As the world confronts the pandemic, another source of hope are the heroes like Sharmin who are doing their part, quietly and fearlessly, to ensure safer pregnancies and childbirth for the communities they serve.
Tanvir Uz Zaman is a technical officer and Rubayet Mahmood is a former intern, both in the Jhpiego Bangladesh office; Indrani Kashyap is Jhpiego's communications specialist for the Asia Region. Rashedul Haque, district manager of the Bangladesh Country office, also contributed to this story.
Jhpiego believes that when women are healthy, families and communities are strong. We won't rest until all women and their families—no matter where they live—can access the health care they need to pursue happy and productive lives.
Donate now!