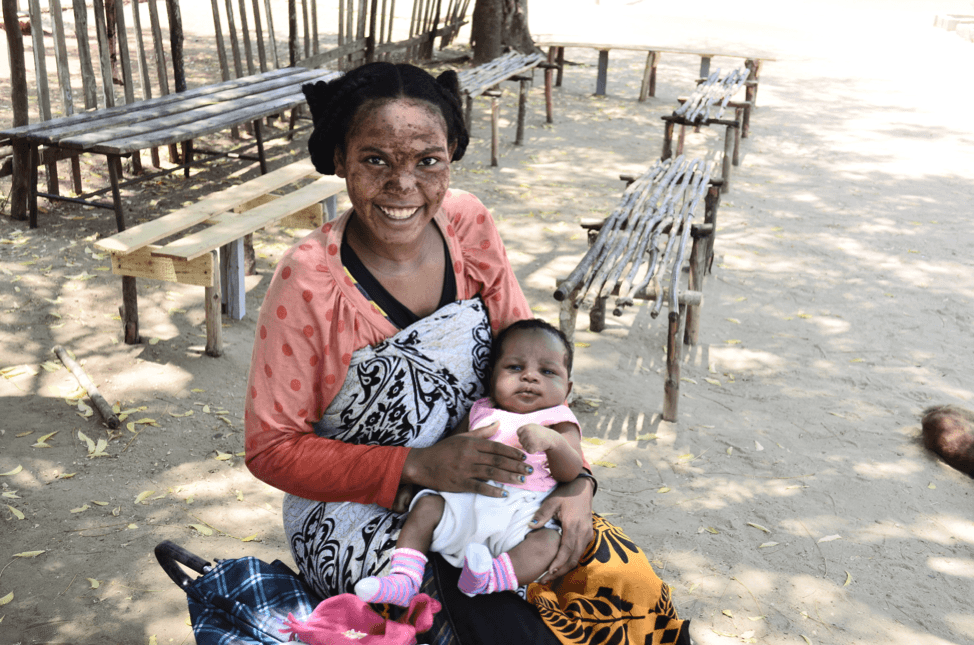 Morondava, Madagascar — Sitting in the cool dappled shade outside the Bemanonga Health Center in Menabe region, first-time mother Dorothée Orline holds her baby daughter in a comfortable embrace on her lap.
Born and raised in a peasant family in rural Madagascar, Dorothée had only known and used traditional medicine. Her neighbors discouraged her from visiting the health facility because of the costs, complaints of poor service and unfriendly attitudes by health workers. When Dorothée was pregnant, her parents planned for her to travel in her seventh month to her mother's village, Tandrokosy, and wait to give birth there with the help of a traditional birth attendant.
According to the 2012–2013 Madagascar Millennium Development Goals National Monitoring Survey Report[1], more than half (56 percent) of pregnant women in the country give birth without the aid of a skilled birth attendant. About 60 percent of all the births do not occur at a health facility. As a result, Madagascar has one of the highest rates of women dying (478 deaths per 100,000 live births) from complications related to pregnancy and childbirth. Most of the complications can be prevented or managed if women had access to a functional health facility with a skilled birth attendant.
Moreover, Madagascar has a high fertility rate among adolescents and young women. Young women and first-time parents have poor access to sexual and reproductive health information and may feel inhibited or ashamed to ask for contraception services. Some, like Dorothée, rely on other people, like their mother or mothers-in-law, for such information.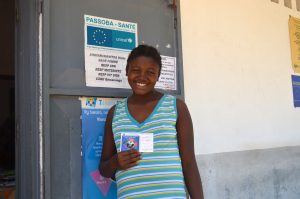 With funding from the U.S. Agency for International Development's global flagship Maternal and Child Survival Program (MCSP), in partnership with several ministries led by the Ministry of Health such as Education, Communication, Youth, and Population, MCSP has launched an initiative called Tanora Mitsinjo Taranaka (Young people looking after their legacy) or TMT. MCSP in Madagascar is a partnership led by Jhpiego, with Save the Children Federation, Inc., and John Snow, Inc., as associate partners.
Building on MCSP's success in increasing access to family planning services in Madagascar, the TMT initiative is designed to reach first-time, young parents, both mothers and fathers, in Morondava and Miandrivazo districts in Menabe region, and those who influence them. Since the initiative started in May 2017, TMT, implemented by MCSP partner Save the Children, has empowered 75 community health workers and 32 health providers with skills and confidence to provide friendly adolescent sexual and reproductive health services and to encourage first-time parents to use those services.
Community health workers are trained to use a checklist when discussing reproductive health service topics with young mothers. Topics include birth preparedness, postpartum family planning and the importance of health facility visits for pregnant and young parents. Clients are then issued special invitation cards to encourage a visit to a health facility.
Roselle Bavelo, one of the community health workers empowered through the TMT initiative, met Dorothée and her mother while conducting house-to-house visits. Dorothée was three months pregnant then, and she had not yet left for her mother's village.
"When the community worker came to see me, my mother was also there. The first attempt [to encourage me to visit the health facility] wasn't successful," Dorothée said. Her mother was insistent that she follow tradition. "[Actually] childbirth, like pregnancy, is a natural process [it's not a disease]. You do not need any medication for that," she remembers her mother telling her.
Roselle didn't give up. She visited Dorothée and her mother several times, counseling them on danger signs of pregnancy, birth preparedness and antenatal care and the benefits of delivering at a health facility. Roselle allayed their fears on the poor services from health providers. She told them the providers at Bemanonga Health Center are participating in the TMT program. As a result, the providers now offer friendly services to young people while attending to the needs of first-time parents.
"It was the [special services for] first-time parents that caught my attention. The [TMT] invitation card reflected my needs," Dorothée said. "I was now less afraid to approach the health center. And with the services being free, my parents were okay. I decided to try [it]."
Since the introduction of the TMT initiative in the community, the number of young women (24 years old and younger) accessing antenatal care at the Bemanonga Health Center, for example, rose from 90 to 132 between July and October 2017; and those receiving family planning services increased from 113 to 599 during the same period.
Dorothée is one of the success stories. When she was going to give birth, and after attending five antenatal care visits, she went to Bemanonga Health Center. Her daughter, Samelto, was born on September 6, 2017, the birth signaling the family's newfound path to safe motherhood and a departure from the risky tradition of home deliveries with unskilled attendants. After the delivery, Dorothée hasn't missed a clinic visit to check on her progress and that of her daughter's.
---
Dr. Jean Francois Xavier is the Field Technical Officer for MCSP in Madagascar. Liva Hasina Andrianalitiana, Program Assistant for MCSP in Madagascar, and Dr. Charles Wanga, Jhpiego's Africa Region Senior Communications Specialist, contributed to this story.
Jhpiego believes that when women are healthy, families and communities are strong. We won't rest until all women and their families—no matter where they live—can access the health care they need to pursue happy and productive lives.
Donate now!