Anjengo Village, Migori, Kenya – Daniel Otieno stares lovingly into his infant grandson's eyes as he tickles the baby, eliciting a chuckle from both.
"He makes me so happy," Daniel says.
He remembers when he first learned that his 15-year-old daughter, Hellen, was pregnant.
"I was shocked," says the father of six. "I could hardly speak, so many thoughts revolved in my head: Why did I not talk to her sooner about safe sex? What would happen to her? How would I take care of them?"
The reality of his daughter having a baby was too hard to comprehend.
Adolescent pregnancy and unmet need for family planning remains a significant social and public health concern throughout Kenya, and in Migori county, where Daniel lives. In Kenya, 43 percent of pregnancies are not planned. And unmet need for family planning is highest among adolescents and young people ages 15–29 at 30 percent. Located in western Kenya, densely populated Migori is a major transport and mining hub. Adolescents in this area are at risk of early marriages and transactional sex.
Further exacerbating the situation is the reality that adults in Migori, including health workers, are generally unsupportive of young people accessing contraceptive health information and services.
Jhpiego, with funding from Merck for Mothers and in partnership with the Kenya Red Cross, launched the G-Amini project in 2016 to help educate adolescents on health needs and to assist them in transitioning safely into healthy childbearing, establishing their place in the community, and fully realizing their potential to build a brighter future for themselves. G-Amini, meaning "believe in yourself," aims to increase access to health education and modern contraceptives among adolescents in Mandera and Migori counties by creating a supportive community and responsive, adolescent-friendly health care system.
"We do not speak to our children about sex. It is a taboo."– Daniel Otieno

Like most parents in Kenya, Daniel, who is also a community health volunteer, only started speaking to his children about sex after his daughter conceived. "Sex is a taboo topic," Daniel says. " A man in my community should not be heard speaking to his daughter about sex."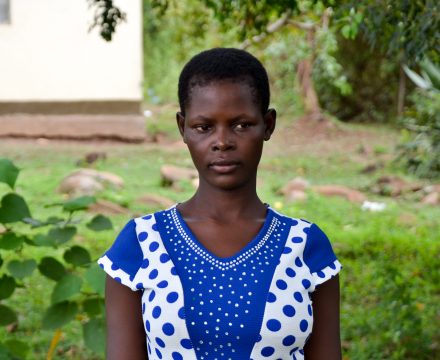 Today, Daniel uses the training he received on adolescent and reproductive health from Jhpiego to advocate for youth access to health information and services, inform parents on the importance of contraceptive access for adolescents, and dispel the myths and misconceptions on contraceptive use. Daniel has also ensured Hellen is using a long-term contraceptive method so that she can continue her education and delay a next pregnancy.
"Times have changed. We can no longer pretend that our children are not having sex. So, it is our responsibility as parents to help them delay pregnancy by providing them with information and supporting them to access contraceptives," Daniel says.
To date under G-Amini, over 50% of the targeted (4,500 of 8,700) adolescents and youth in Migori county have been able to access health services, with 1,538 of those taking up modern contraceptive methods.
Jhpiego-Kenya colleagues Janet Aketch and Evelyne Njiiri contributed to this story.
Jhpiego believes that when women are healthy, families and communities are strong. We won't rest until all women and their families—no matter where they live—can access the health care they need to pursue happy and productive lives.
Donate now!