Hours before going into surgery in Kisumu County Referral Hospital in February 2022, Evaline Akoth spent time with her husband, 16-year-old son, and two young daughters. These nearly became her last memories: Evaline experienced complications after surgery and suffered a cardiac arrest.
"I woke up three days later in a different room from the one I was in, and after a week, a nurse told me that my heart stopped, and I started crying because I thought about how I would have left my youngest daughter, who was still breastfeeding, and my son would have sat his national secondary school without my support," said Evaline who was undergoing surgery to repair a badly healed broken arm.
While Evaline hardly remembers what happened, nurse Jane Oriato recalls how an elite team of emergency health providers performed Cardiopulmonary Resuscitation (CPR) and administered the oxygen that revived the mother of three. Evaline was taken then to Jaramogi Oginga Odinga Teaching and Referral Hospital (JOOTRH) and admitted to intensive care for specialized and closer monitoring.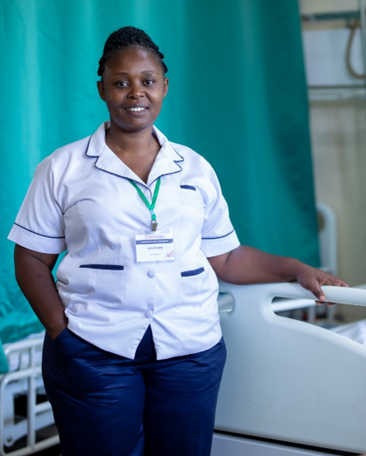 Jane is part of Code Blue, the special team of nurses, doctors, anesthetists, and clinical officers in Kisumu hospital that respond to medical emergencies in the facility. Jane is one of the 165 healthcare workers in Kenya who received specialized training in Basic Emergency Care (BEC), which includes the use of oxygen, from the U.S. Agency for International Development-funded Reaching Impact, Saturation, and Epidemic Control (RISE) project led by Jhpiego. RISE also strengthened the oxygen eco-system by supporting the implementation of 5 PSA oxygen production plants, provided technical assistance for 80 health facilities on oxygen use, and trained 223 health professionals in evidence use of oxygen.
Jane, who is also in charge of the emergency department at the facility, described the newly acquired skills and procedures that she and her colleagues use to save the lives of patients like Evaline.
"Someone was doing chest compressions, another one bagging her using an adult mask, and then we used a rebreather mask to administer the oxygen while at the same time ensuring the patient was positioned correctly," Jane said.
Eventually, Jane said, the patient regained a pulse and started breathing again.
The RISE-supported BEC course gives frontline healthcare providers skills to identify acute illness and injuries. The World Health Organization estimates that emergency medical conditions are responsible for over 28 million deaths annually, most of which occur in low- and middle-income countries such as Kenya, where emergency medicine is still in its infancy.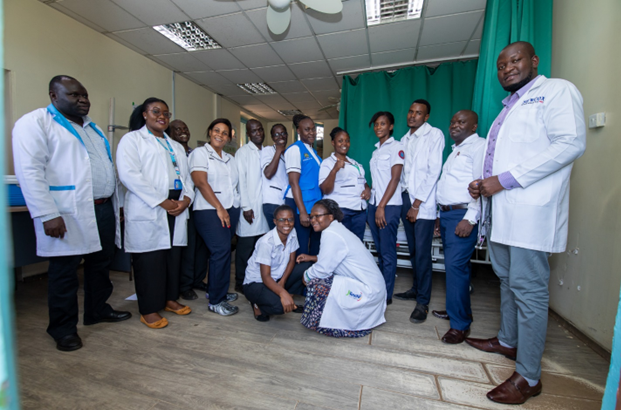 Kisumu County's Health Executive, Dr. Gregory Ganda, said the Code Blue team, which the county formed after the RISE training, is the first of its kind. Seeing the direct impact of the original 9-member Code Blue team, the county has supported their work to train other healthcare providers.
Since her recovery, Evaline visits the Code Blue team whenever she comes to the facility for her checkup.
"My husband and the health workers told me that the nurses and doctors fought to save my life, to bring me back to my family, and I do not know whether a "thank you" is enough to (express my gratitude) to the healthcare workers, to whoever taught them in school and whoever pays their salaries," said Evaline.
RISE, a 5-year global project funded by the U.S. President's Emergency Plan for AIDS Relief (PEPFAR) and USAID, allows USAID missions to access direct service delivery and technical assistance to achieve their PEPFAR targets. RISE is ready to mobilize our in-country teams to help USAID achieve country operational plan targets across the HIV prevention, care and treatment cascade. RISE has supported over 20 countries across the globe with technical assistance, service delivery, research, and cross-cutting health system aid.
This story was reviewed by Dr. Michelle Grunauer, RISE Ecuador Project Director, Global Program Operations, Jhpiego.
Jhpiego believes that when women are healthy, families and communities are strong. We won't rest until all women and their families—no matter where they live—can access the health care they need to pursue happy and productive lives.
Donate now!