Since March 20, when the first case of COVID-19 was confirmed in Zimbabwe, five Jhpiego-supported districts have moved fast to ensure that critical health services remain uninterrupted despite a sustained national lockdown.
The success of this timely pivot can be attributed, at least in part, to the fact that strong mobile mentorship was in place prior to the pandemic.
Beginning in 2012, Zimbabwe established a mentorship package for its national HIV and TB programs. Six years later, the National Malaria Control Program (NMCP), with support from the U.S. Agency for International Development's (USAID's) Zimbabwe Assistance Program in Malaria (ZAPIM) project, used this model as the basis for its own mentorship approach to strengthen the quality of malaria service delivery. As a core member of the ZAPIM consortium led by Abt Associates, Jhpiego, in partnership with the Ministry of Health and Child Care and NMCP, has supported mentorship to implement high-quality case management of malaria and malaria in pregnancy, strengthening systems and designing capacity-building interventions at all points of health care.
When COVID-19 resulted in a national lockdown, health services were impacted in many ways: Travel for both clients and medical supplies was restricted; personal protective equipment for providers was in short supply; and widespread fear was common among those seeking facility-based health care services. With March data already showing more malaria deaths than usual, the ZAPIM team needed to work fast to reach patients with urgent health needs such as malaria infection, even as COVID-19 spread. Continued promotion of malaria prevention would lessen the disease burden on the health system, thus freeing health workers to focus on COVID-19 response.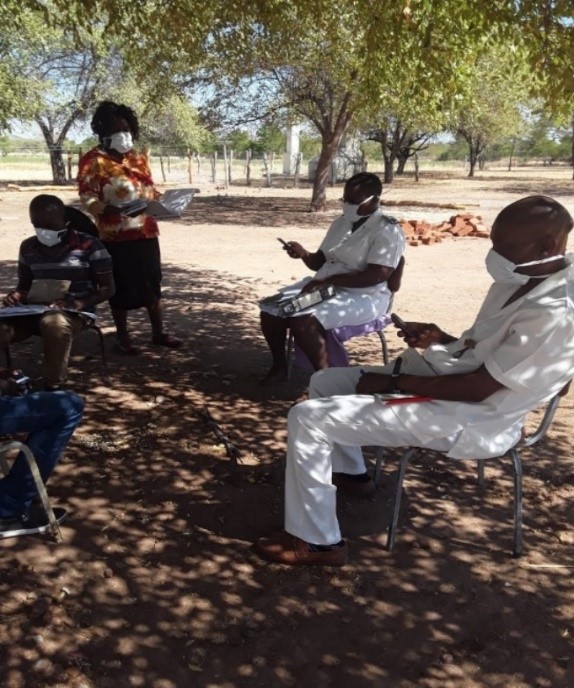 The ZAPIM team rapidly developed a simple process to engage with facility managers and teams by phone, using a conversation guide based on U.S. President's Malaria Initiative and World Health Organization guidance. Soon, virtual mentorship was in full swing as ZAPIM staff began their mentorship calls to health facilities.
"Virtual mentorship works as we were able to pick facilities which had commodity stock outs and other challenges, and helped solve them through the call without physically being on the ground," said Simba Mutowa, a mentor from Murewa District.
During their initial call with Chidodo Clinic in Mbire District, mentors learned that the facility had stopped providing routine services, including malaria services. The reason? Without masks, the staff did not feel protected enough to provide more than emergency services.
As a result, the provincial health team prioritized masks for the clinic. The call was focused on getting services up and running—and reimagined in the context of COVID-19. This included establishing screening for patients at the gate, designating a separate entrance for clients with fever to be tested for malaria, and providing antenatal care in a separate area of the clinic. After four weeks, the mentorship team confirmed during a subsequent call that the clinic staff were again providing all routine services.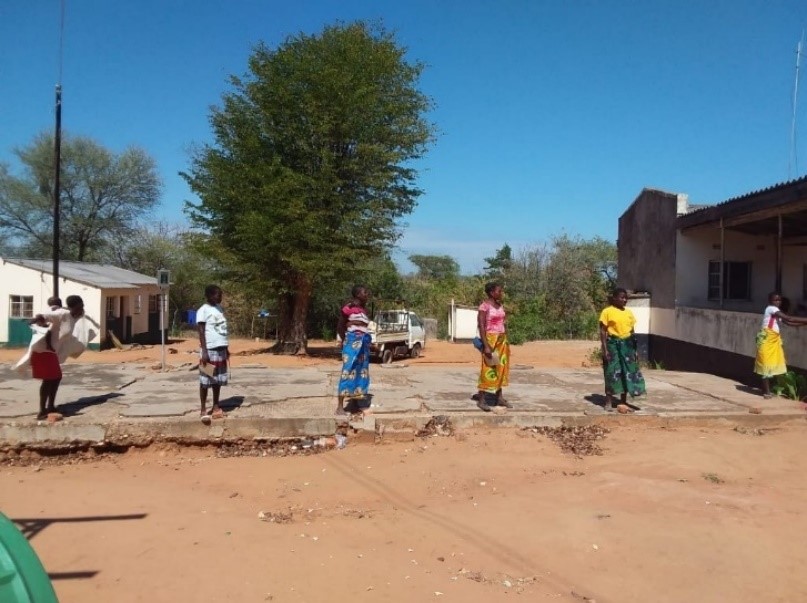 Initial calls to Siansundu Clinic and Siabuwa Rural Hospital also revealed urgent issues. In the midst of a malaria outbreak, the two facilities in Binga District were nearly out of commodities. Mentors successfully worked with the district to prioritize the needed supplies; however, they still lacked the fuel to transport them. Mentors helped the district team write letters requesting fuel support from provincial leaders and other stakeholders, which resulted in help from USAID's Global Health Supply Chain Program. Both facilities are now stocked and providing routine malaria services.
By mid-June, ZAPIM staff and 21 district mentors had virtually reached more than 130 health service providers in 24 facilities. This efficient, low-cost way to connect directly with health facility teams and coordinate with district health management teams enabled providers to identify and overcome their unique obstacles to continuing health services during the pandemic. Follow-up calls helped to keep teams accountable for their chosen actions.
"These mentorship calls helped us to be always alert, up to date, and not to relax in the way that we manage malaria cases, especially in the COVID -19 context," said Marvelous Chidzidzi, a provider at the Nyamuzizi Rural Health Centre.
Although the roll out wasn't without challenges—including limited cellphone coverage, expensive airtime, and hospitals juggling mentorship calls while ramping up facility readiness—the experience showed the value of virtual mentorship to both support and problem solve. Going forward, ZAPIM will transition the responsibility for these continued calls to provincial coordinators and district mentors.
This is good news for providers. Tsitsi Gwenzi, a primary care nurse at Nyamuzuwe Rural Hospital, said the calls galvanized her during this unprecedented health emergency: "It's good to be remembered during this COVID-19 pandemic, where there is fear and uncertainty. This call provides much-needed motivation. We like this approach. Let's do it more often."
Jhpiego believes that when women are healthy, families and communities are strong. We won't rest until all women and their families—no matter where they live—can access the health care they need to pursue happy and productive lives.
Donate now!