A version of this blog was originally posted on impactmalaria.org.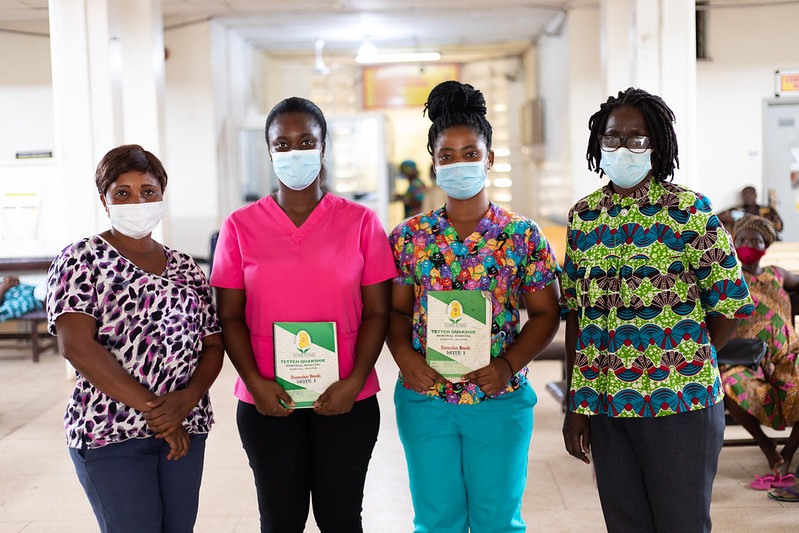 Malaria is a major health risk in Ghana, with over 5.1 million diagnosed cases and over 300 deaths in 2020 alone. With the added threat of COVID-19, the World Health Organization (WHO) advised high-malaria burden countries, such as Ghana, to tailor interventions and maintain the availability of essential health, including malaria rapid diagnostic tests.
Nurse Regina Akweley Kluise, Deputy Director of Nursing Services in Akuapem North District in Ghana, knows that amid the COVID-19 pandemic, it is more important than ever to correctly diagnose the cause of fevers to ensure patients get the right treatment. "COVID-19 and malaria have similar symptoms, like fever, fatigue, headache, and sometimes difficulty breathing," she said.
In Ghana, the U.S. President's Malaria Initiative (PMI) Impact Malaria project, which is led by Jhpiego, supports the National Malaria Control Program to provide quality malaria case management nationwide with high-impact interventions in districts burdened by malaria. With additional funding from the U.S. Agency for International Development, PMI Impact Malaria supported the Ghana Health Service in the development and dissemination of COVID-19 case management and laboratory guidelines. This was followed by training of health workers in the management of febrile illnesses with special emphasis on distinguishing between COVID-19 and malaria.
In the fall of 2020, Nurse Kluise, who also works as a district-level quality assurance health supervisor, attended a two-day training supported by PMI Impact Malaria on how to supervise, train, and coach health workers in diagnosing and treating. Following the training, Regina traveled to the Tetteh Quarshie Memorial Hospital in Mampong. There, she provided support to outpatient nurses as part of PMI Impact Malaria's Outreach, Training and Supportive Supervision Plus (OTSS+) approach to improving health worker skills in diagnosing and treating malaria.
Nurse Kluise and her team noted some of the nurses weren't confident in using malaria rapid diagnostic tests and that the supply of testing kits at the hospital was low. She conducted a refresher training for the nurses on how to perform the tests and how to monitor and maintain test supplies.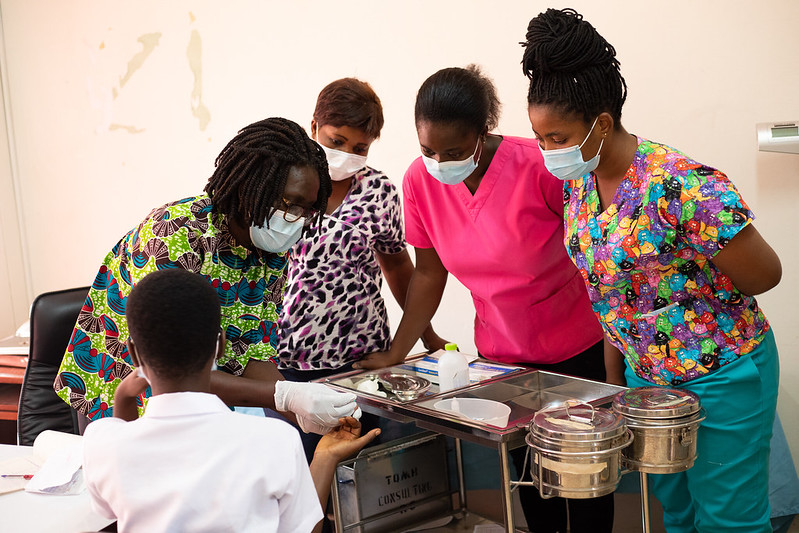 Thanks to the training, coaching, and support from quality assurance supervisors like Nurse Kluise, between September and November 2020, 3,312 health workers—nearly 90% of all health workers in the PMI Impact Malaria-supported health facilities—were trained to effectively use rapid diagnostic tests and correctly diagnose malaria. This resulted in the testing of over 1.1 million people for malaria during this time, 675,992 of whom tested positive and 657,646 started on malaria treatment.
And because of Nurse Kluise's trainings, there have been no test stockouts at Tetteh Quarshie Memorial Hospital in over a year.
With COVID-19 and malaria sharing similar symptoms, WHO warned deaths from malaria could increase if the diseases were misdiagnosed. Nurse Kluise noted that hospitals and health centers increased their use of malaria rapid diagnostic tests. Her role in ensuring that health workers have tests available and the skills to use them confidently and correctly is critical in heading off this added threat and in getting patients the correct therapy they need to treat the cause of fevers.
Raphael Ntumy, Chief of Party of the PMI Impact Malaria project in Ghana, contributed to this article.
---
PMI Impact Malaria is funded and technically assisted by the U.S. President's Malaria Initiative (PMI) and is led by Population Services International (PSI) in partnership with Jhpiego, Medical Care Development International (MCDI), and UCSF.
Jhpiego believes that when women are healthy, families and communities are strong. We won't rest until all women and their families—no matter where they live—can access the health care they need to pursue happy and productive lives.
Donate now!