A nurse's callousness motivated Emmah Kariuki to pursue a compassionate, intrepid style of nursing that has earned her recognition as one of 13 "Heroines of Health" at this year's World Health Assembly meeting in Geneva.
As an adolescent growing up in Kenya, Kariuki experienced painful and prolonged menstruation. A hospital nurse convinced her parents that the 15-year-old wanted to get out of sitting for exams, and she should go to school—even though she was bleeding enough to end up needing a transfusion for anemia.
After that experience, Kariuki vowed to realize her childhood dream and set a standard for nursing in her community that exceeded convention and inspired action.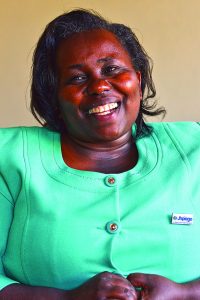 Now 49, a wife and mother of two, Kariuki seizes every opportunity to advocate for women in Kenya and empower them with knowledge about reproductive health so they can lead healthier lives at any stage of life. As a nurse educator and trainer for Jhpiego, Kariuki has championed access to family planning and innovated ways to serve women.
Notably, while working in an integrated maternal health clinic early in her career, Kariuki discovered that few women knew their HIV status—knowledge that would have a direct impact on the health of an unborn child. She decided to integrate HIV testing and counseling with family planning services. Despite resistance from her colleagues, Kariuki's change met with success.
"Contrary to the belief of my colleagues, we started getting more family planning clients requesting for HIV testing and the numbers started to grow," Kariuki said.
Her desire to improve nursing extends well beyond direct patient care. She is dedicated to innovating training approaches and techniques to build competency and confidence among fellow nurses, midwives and other health care providers.
For example, when she noticed that the conventional model used for teaching contraceptive implant removal did not accurately simulate the actual removal experience, she experimented with cotton quilt batting as a substitute for the human fascia that surrounds an arm implant to render a truer implant removal experience. This simple, field-driven innovation has been well received by trainees and is being used in other Jhpiego programs and beyond by the Global Implant Removal Task Force.
Kariuki's passion to help women access high-quality health care has not gone unnoticed.
"Emmah is a trainer, mentor and passionate worker who puts the common mwananchi [citizen] in the forefront," says Nurse Manager Florence Kabuga of the Ministry of Health, Nairobi County Government.
Paul Nyachae, deputy director of The Challenge Initiative, East Africa Accelerator Hub – Tupange Pamoja for Jhpiego, agrees, adding: "We need more Emmahs!"
Kariuki's can-do attitude also has influenced colleagues to view problems as opportunities in need of positive energy and creative solutions. "She has trailblazed family planning implementation in Kilifi and Nairobi County," says Christine Muia, program officer, Jhpiego Kenya.
"Emmah is my hero," says coworker Mercy Kamau of the Tupange Program. "She always challenged me . . . and tried in her own capacity to innovate around health facilities to ensure that quality family planning services were offered to poor women."
While working in the slums of Nairobi, Kariuki met women who wanted to space their pregnancies but lacked information or felt negative pressure from their communities. She saw that young girls and teen mothers were particularly vulnerable. By engaging community leaders in discussion, she opened a door for women to begin to explore ways to educate their partners so together they could plan their families.
"I have seen family planning bring up the lives of women who are in the slums," said Kariuki. "It is encouragement that you are giving something [to someone] who would be hopeless. When I see the positive attitudes of women, it gives me energy to serve more and more."
---
Sonia Elabd is an editor at Jhpiego; Maryalice Yakutchik is a Senior Communications Manager. Catherine Ndungu, Communications Manager in the Jhpiego Kenya office, also contributed to this article.
Jhpiego believes that when women are healthy, families and communities are strong. We won't rest until all women and their families—no matter where they live—can access the health care they need to pursue happy and productive lives.
Donate now!