At the age of 13, Lucia has hardly put away her dolls and is already thinking of becoming the "doll" of her neighbor—a man old enough to be her father. Married with children older than Lucia, this man promised to provide for her needs and give her money for things her parents can't afford, like skin lotion, new outfits and visits to the hair salon. Although enticed by his promises, Lucia worries that the man's wife will find out—and her own mother, too. Then she would get in trouble. In her mind, she hears the voice of a teacher warning her against taking gifts from men because one thing eventually leads to another—sex.
Lucia's story is among the many I heard from young adolescent girls during a visit to the social hall in the Korogocho slum of Nairobi. About three dozen girls, ages 8 to 14, were meeting there as members of the Kuza Club. Kuza means "nurturing" in Swahili.
The club, supported by Jhpiego, meets every Saturday in the informal settlements of Korogocho, Mathare and Viwandani. It's a safe space to talk about all the issues and concerns that impact the girls' daily lives and futures: things like schoolwork and college—even pregnancy and HIV.
Since 2016, Jhpiego has helped 500 girls living in these settlements to deal with the challenges they face from their families and communities. Studies have shown that girls who drop out of school or become pregnant at a young age lag behind in career development and employment. Many girls end up as household help or in forced marriages, putting them in even worse situations. Girls often experience gender-based violence (ranging from harassment to rape) when they marry much older men or are employed as household help, cooks or family caregivers.
Through the Kuza Club, girls and teens learn life skills and seek practical solutions to common challenges. More than 15 adult members of the community have been trained as mentors to help guide and educate the girls.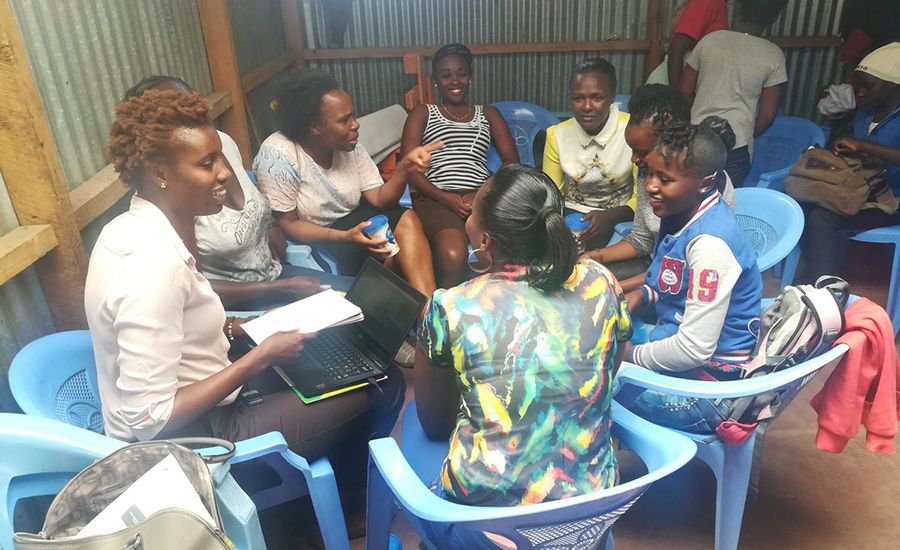 HIV is one of the many important topics discussed. Some of the girls have lost parents, siblings or other close relatives to AIDS. Some have been forced to take on parental roles to their younger brothers and sisters. At 1.1 billion of the world's population, girls under age 18 are a powerful constituency for shaping a healthier and more sustainable world for all. Through its support of Kuza, Jhpiego is tackling issues that have long stood in the way of girls' progress, including teen pregnancy, child marriage and HIV.
On this particular day in Korogocho, the girls have been divided into groups of six to discuss the challenges they faced during the week. The mentors then help the girls identify potential solutions. I was captivated listening to their stories, because they reminded me of my own. I was one of seven children raised in these same conditions, the headstrong daughter of a mother who emphasized the importance of education. Not every girl has such a parent who supports her dreams.
Fatiya, 12, shared how her father beat her for no good reason, especially when drunk. "My father just makes it difficult for me to continue living at home. Can you imagine, he comes home drunk and for no apparent reason starts beating me. He explains that I am lazy and not able to do any household chores. He goes on to beat me until I have to run away to seek refuge in our neighbor's house. This is really difficult for me." As she spoke, with eyes full of tears, Fatiya wondered how she could avoid or prevent these confrontations with her father.
Wairimu, 13, talked about how she's so busy with cleaning the house and other chores that she doesn't have time to do her schoolwork. Her mother insists that staying busy in the house will keep Wairimu from bad influences. But Wairimu then gets punished at school for not finishing her homework. She has tried to explain her home situation to her teacher, but to no avail.
Other girls shared their experiences as the Jhpiego-trained mentors took notes. Afterward, the mentors told their own similar stories to show the girls that they are not alone. These candid testimonies from those who grew up in these same communities but now are pursuing university educations or already have steady jobs aim to encourage the girls to persevere and stay in school. The mentors offered insights, tips and information about everything from abstinence, puberty, self-esteem, negotiation skills, schoolwork, self-control and awareness of one's surroundings to contraception and sexually transmitted infections.
Together with the mentors, the club members brainstormed possible solutions raised during that day's discussion. Wairimu said, "All we are going through will only make us strong. We will not give up."
Wambui, one of the mentors, promised to visit the families of the girls who faced issues with time for studies and abusive parents. If talking to Fatiya's father doesn't have any effect, a mentor may then ask the well-respected community chief to speak with the father and warn him not to continue his abusive behavior. Morine, another mentor, cautioned the girls not to take gifts from men. "Let's not allow anyone in the community to take advantage of our poverty," Morine said, suggesting that they find secondhand clothing, use inexpensive Vaseline instead of lotion and cut their hair to a length easier to maintain.
"After all, poverty is not a permanent state," Morine said. "We can work hard in school, get good grades and complete college. This will ensure we support ourselves and our families with dignity rather than fall pregnant."
At the end of the session, I had a chance to talk with the girls and share similar challenges I had faced at their age. I told them that these challenges are just for this moment and that they can overcome them. I showed them photos of my house and street in Baltimore, saying, "Look, see where I live. I persevered. You can, too—you can make it!"
The Kuza Club has been very successful, with 95 percent of the girls who attend avoiding early pregnancy and continuing on to secondary school. The clubs have been able to track this information based on the number of school dropouts. Even some of the girls who had early pregnancies have decided to go back to school and get college educations. The Kuza Club experience shows the power of community, stable relationships, role models and safe spaces in helping teens to share their problems and come up with ways to resolve them.
Whether the community is a slum in Nairobi or a rural village in India, using peer educators and champions to meet girls where they are—emotionally and physically—can be a winning combination to help girls stay in school and avoid risky relationships, as well as prevent HIV and early pregnancies.
Jane Otai is an adolescent health advisor for Jhpiego.
Jhpiego believes that when women are healthy, families and communities are strong. We won't rest until all women and their families—no matter where they live—can access the health care they need to pursue happy and productive lives.
Donate now!