Uganda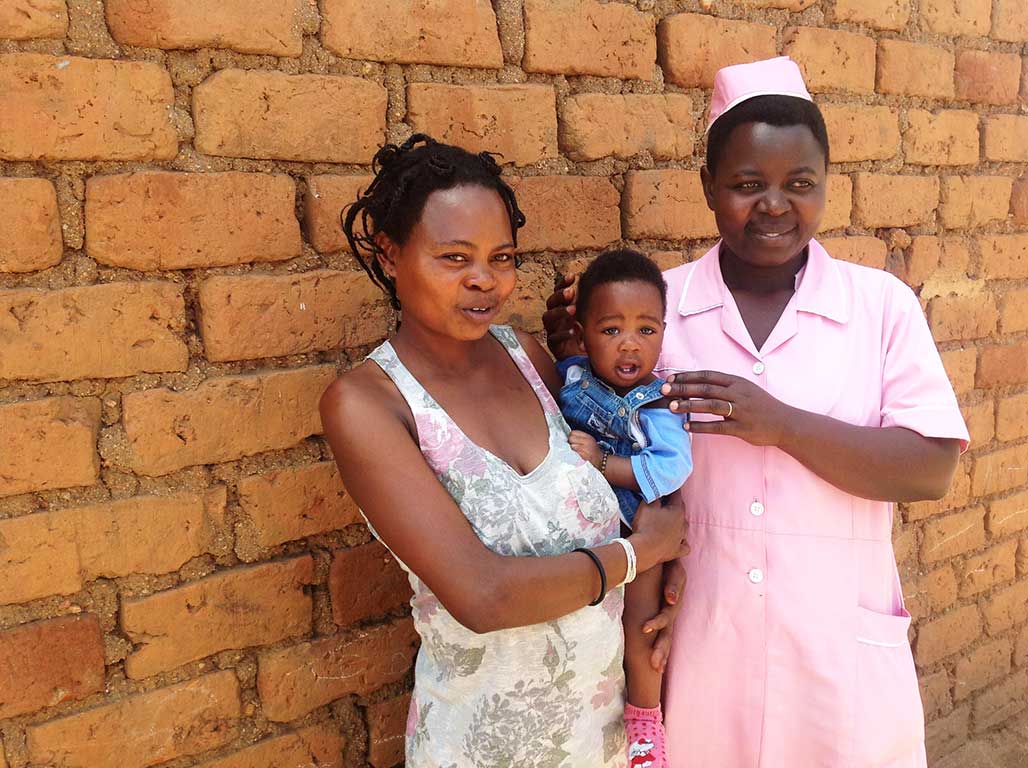 Country Contact
Martin Ndifuna, Country Director
Tel. 256.393.202.937
Plot 36, Lower Naguru
East Road, Nakawa Division
Kampala, Uganda
Current and Recent Donors
Advance Family Planning
Bill & Melinda Gates Foundation
Health Resources and Services Administration
UNICEF
University of New Mexico
USAID
Increasing access to quality health care since the 1980s.
Jhpiego's support to contraceptive method mix services translated to more than 61,000 delayed or avoided pregnancies in fiscal years 2020/21.
Based on Jhpiego's successful implementation of the low-dose, high-frequency (LDHF) learning approach, the Ugandan Ministry of Health adopted LDHF as the preferred alternative training approach; LDHF was used to build the capacity of more than 5,000 health care personnel who attended more than 13,000 deliveries at Ministry of Health sites.
Jhpiego supported health facilities to implement quality improvement activities, including strengthening malaria commodities' supply chain and logistics management—resulting in reduction of treatment of malaria-negative cases from 47% in 2016 to 2% in 2020.
Through the Health Resources and Services Administration-funded Skills Sharing Project, Jhpiego is supporting virtual technical assistance sessions among Ugandan and U.S. health care providers.
Our Work in Uganda
Performance Monitoring for Action Project (PMA)
This four-year project, funded by the Bill & Melinda Gates Foundation, builds on the PMA2020 project, which used innovative mobile technology to support low-cost, rapid-turnaround surveys monitoring key health and development indicators. PMA is enhancing this survey platform to generate high-quality data and ensure that governments, donors, managers and advocates use this data to make decisions regarding family planning programs. In addition to scaling up the survey platform for more widespread use, this project supports expanding it to include additional technical areas. Co-led by Jhpiego and the Bill & Melinda Gates Institute for Population and Reproductive Health, this project is operational in several African and Asian countries, including Uganda. For more information, visit here: https://www.pmadata.org/countries/uganda.
Uganda Reproductive Maternal and Child Health Services Improvement Project
With funding from the World Bank through Uganda's Ministry of Health, the Uganda Reproductive Maternal Child Health Services Improvement Project prioritizes upgrading the skills and knowledge of health workers. Jhpiego coordinates reproductive, maternal, newborn, child and adolescent health (RMNCAH) mentorship in West Nile Region to improve health workers' clinical skills in RMNCAH quality of care. The project is building a robust in-service training database through the HRIS Human resource management system, supporting utilization of data for clinical decision making, integrating mentorship into routine processes and improving infection prevention in health facilities. This mentorship has contributed to improved maternal and perinatal outcomes in West Nile region through specialist mentors from health professional associations who provide skills-based mentorship to frontline health workers.
MOMENTUM Country and Global Leadership
Moving Integrated, Quality Maternal, Newborn and Child Health and Family Planning and Reproductive Health Services to Scale (MOMENTUM) is a suite of projects, funded by the U.S. Agency for International Development, that aims to accelerate reductions in maternal, newborn and child mortality and morbidity in high-burden countries by increasing host country commitment and capacity to provide high-quality, integrated health care. Each of the projects has a specific focus area; together they provide a comprehensive, flexible package of support for countries as they overcome context-specific health challenges towards sustainable development. The five-year, Jhpiego-led MOMENTUM Country and Global Leadership project focuses on: 1) providing targeted technical and capacity development assistance to our missions, partner countries and local organizations; and 2) contributing to global technical leadership and policy dialogue for improved maternal, newborn and child health, voluntary family planning and reproductive health outcomes. Jhpiego's 12 sub-partners under this project are: Save the Children, Johns Hopkins University International Vaccine Access Center, The Manoff Group, Quicksand, Matchboxology, BAO Systems, Avenir Health, McKinsey and Company, PACT, Institute for Healthcare Improvement, Christian Connections for International Health and Ubora Quality Institute.
Health Workforce for the 21st Century
The Health Workforce for the 21st Century (HW21) project, funded by the Health Resources and Services Administration, supports country programs in accelerating progress towards addressing key human resources for health (HRH) systems barriers to achieving their 95-95-95 goals (i.e., 95% of people living with HIV knowing their HIV status, 95% of people who know their status on treatment, and 95% of people on treatment with suppressed viral loads). In Uganda, Jhpiego is providing technical and implementation assistance to the Government of Uganda, HRSA and the U.S. Centers for Disease Control and Prevention (CDC) to reach the health workforce with expert knowledge and skills that will enable providers to counsel and enroll more men and women into care, properly provide antiretroviral therapy and maintain clients in care. Utilizing a customized technology platform for learning will also enable rapid transmission of real-time best practices to reach more health workers than would be possible with traditional in-person methodologies, thus building a critical mass of trained health workers that will enable Uganda to realize its 95-95-95 goals.
The Challenge Initiative
The Challenge Initiative (TCI), funded by the Bill & Melinda Gates Institute for Population and Reproductive Health, focuses on scaling up proven family planning (FP) high-impact solutions under Tupange for Better Cities. Jhpiego is the implementing partner responsible for leading TCI's East Africa Accelerator Hub. In collaboration with TCI headquarters in Baltimore, Jhpiego provides technical assistance to local governments in Kenya, Tanzania and Uganda as they implement interventions for family planning and adolescent sexual and reproductive health to increase access to modern contraception for urban poor women. For more information, visit the the TCI website.
The Common Elements Treatment Approach
Jhpiego, in collaboration with the Johns Hopkins University and Ugandan Ministry of Health, is supporting the development of an integrated mental health system serving people living with HIV (PLHIV) at increased risk of treatment disruption, as well as health care workers providing services to PLHIV in Uganda. Currently, there is only one such approach designed for youth and adults that has been tested in multiple low-and middle-income countries (LMICs): the Common Elements Treatment Approach. This approach is a lay provider-delivered, evidence-based system of care that has been found, through five randomized controlled trials in LMICs, to be clinically effective in reducing a range of mental and behavioral health problems including depression, anxiety, trauma, violence, functional impairment, unhealthy alcohol use and risky behaviors. This project is funded through the Health Resources and Services Administration with American Rescue Plan Act funds designated for the COVID Health Workforce for HIV and Chronic Disease Service Delivery (COVID HW21) global initiative.
Skills for Sharing Program
With funding from the Health Resources and Services Administration through the University of Washington, Jhpiego is providing technical assistance and support through learning exchanges between HRSA-funded providers in the United States and selected HIV clinics in Uganda.
Country Contact
Martin Ndifuna, Country Director
Tel. 256.393.202.937
Plot 36, Lower Naguru
East Road, Nakawa Division
Kampala, Uganda
Current and Recent Donors
Advance Family Planning
Bill & Melinda Gates Foundation
Health Resources and Services Administration
UNICEF
University of New Mexico
USAID