Uganda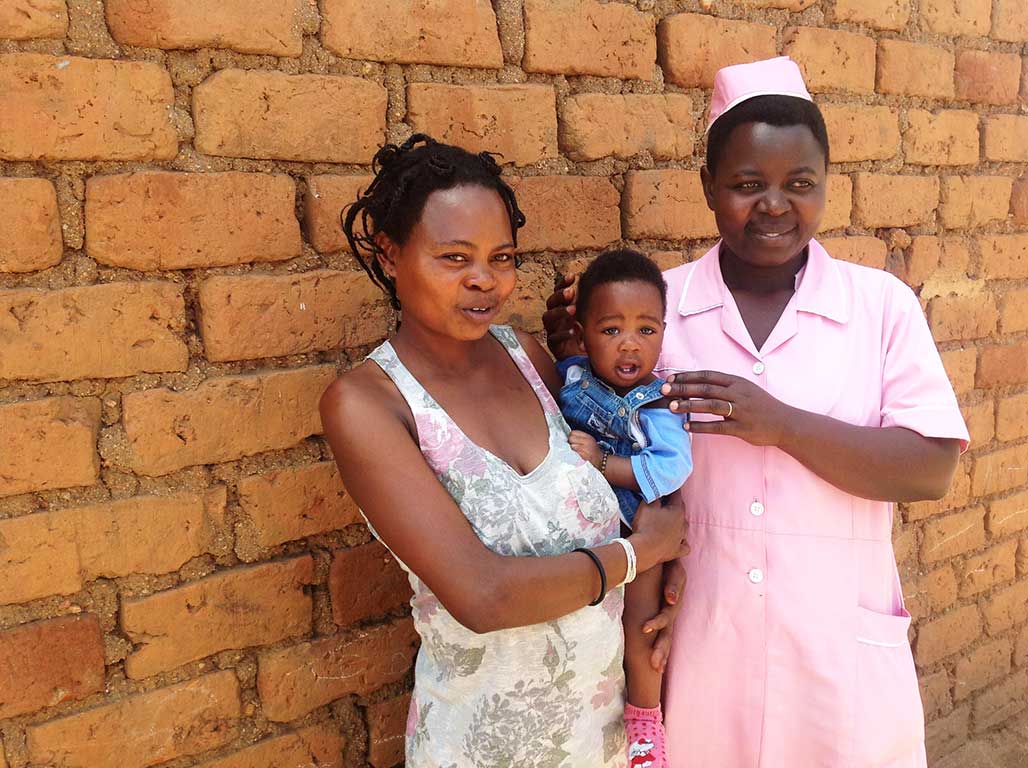 Country Contact
Martin Ndifuna, Country Director
Tel. 256.393.202.937
Plot 8 Circular Drive Ministers' Village Ntinda
Kampala, Uganda
Current and Recent Donors
Bill & Melinda Gates Foundation
Children's Investment Fund Foundation
Health Resources and Services Administration
Merck for Mothers
Ugandan Ministry of Health
UNICEF
University of New Mexico
UNFPA
USAID
U.S. Centers for Disease Control and Prevention
World Health Organization
Increasing access to quality health care since the 1980s.
Jhpiego's support to contraceptive method mix services translated to more than 61,000 delayed or avoided pregnancies in fiscal years 2020/21.
Based on Jhpiego's successful implementation of the low-dose, high-frequency (LDHF) learning approach, the Ugandan Ministry of Health adopted LDHF as the preferred alternative training approach; LDHF was used to build the capacity of more than 5,000 health care personnel who attended more than 13,000 deliveries at Ministry of Health sites.
Jhpiego supported health facilities to implement quality improvement activities, including strengthening malaria commodities' supply chain and logistics management—resulting in reduction of treatment of malaria-negative cases from 47% in 2016 to 2% in 2020.
Through the Health Resources and Services Administration-funded Skills Sharing Project, Jhpiego is supporting virtual technical assistance sessions among Ugandan and U.S. health care providers.
Our Work in Uganda
Global Reach II
The U.S. President's Emergency Plan for AIDS Relief, has delivered remarkable lifesaving results, with several countries approaching UNAIDS 95-95-95 goals for HIV epidemic control.  As countries like Uganda come closer to their targets, challenges to close the remaining gaps and cross the "last mile" become more difficult, requiring innovative, targeted approaches to ensure equity and extend services to the hardest-to reach populations and underserved areas. Global Reach II is a five-year project that supports the delivery of effective solutions to address these challenges in country-level HIV responses, adapting to the country contexts. Funded through the U.S. Health Resources and Services Administration (HRSA), Jhpiego leads the project with the following partners: University of California San Francisco, International Treatment Preparedness Coalition, Project ECHO, African Forum for Research and Education in Health (AFREhealth), Johns Hopkins University Center for Global Health and Ata Health Strategies.
The Challenge Initiative (TCI) NextGen
As the implementing partner responsible for leading TCI's East Africa Accelerator Hub, Jhpiego provides technical assistance to local governments in Kenya, Tanzania and Uganda as they implement interventions in family planning and adolescent and youth sexual and reproductive health. The goal of TCI NextGen, which builds on the previous TCI initiative, is to increase access to modern contraception for urban poor women. This project is funded by the Bill & Melinda Gates Institute for Population and Reproductive Health.
Country Contact
Martin Ndifuna, Country Director
Tel. 256.393.202.937
Plot 8 Circular Drive Ministers' Village Ntinda
Kampala, Uganda
Current and Recent Donors
Bill & Melinda Gates Foundation
Children's Investment Fund Foundation
Health Resources and Services Administration
Merck for Mothers
Ugandan Ministry of Health
UNICEF
University of New Mexico
UNFPA
USAID
U.S. Centers for Disease Control and Prevention
World Health Organization