The demand for contraceptive implants is up, with more women getting the long-acting protection that they want. This means, of course, that there's going to be a greater need for providers who are confidently able to remove the tiny, thin rods, about the size of a matchstick, when women decide that they want them removed.
It follows that what goes in—once it outlives its usefulness—must come out. But, that's been an afterthought with implants, the insertion of which is simple, similar to an injection, and the removal of which requires greater skill and surgical instruments.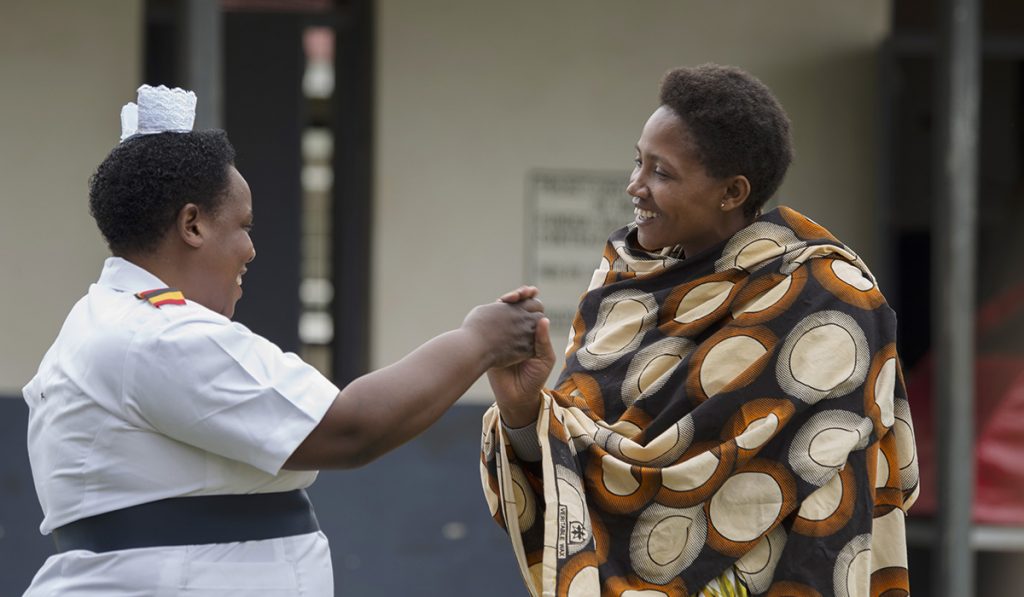 Imagine, for a moment, that a guide competently leads you high up into Uganda's snowcapped Rwenzori Mountains—but can't handle the trickier part of the trek: getting you down.
You'd feel abandoned. Stuck. Not unlike Agnes Ayebare felt after her contraceptive implant—which had been inserted under the skin of her upper arm—had expired.
"I went to Kabale town to two health facilities where I was told to pay 50,000 shillings (about $13), which I did not have," she says. "I tried a health center II in Rukiga, but they failed because they did not have experience with removals."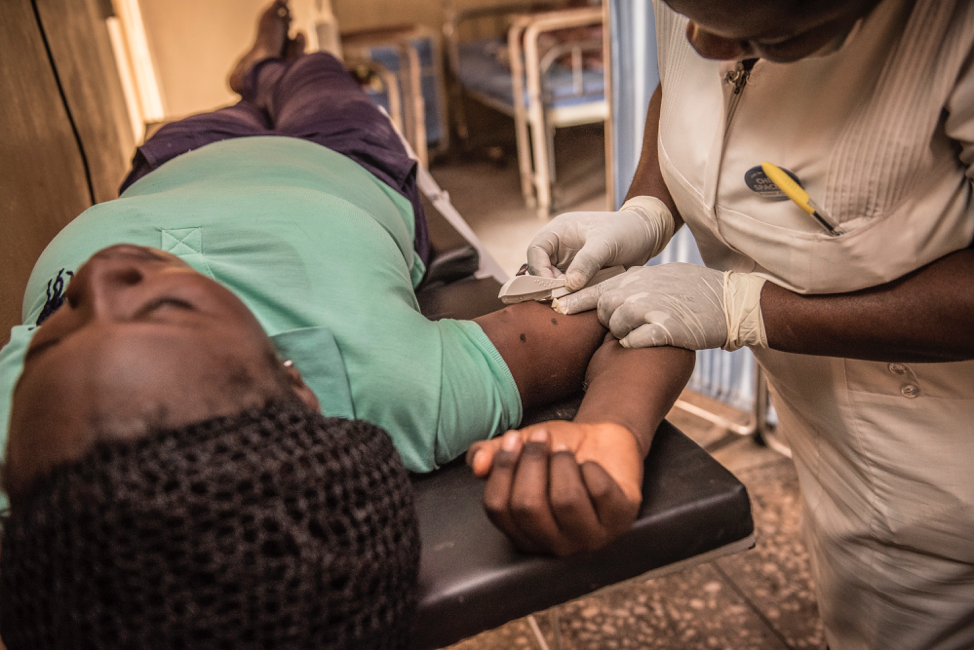 Ayebare, a mother of two, is similar to many women in Uganda—and across sub-Saharan Africa—who choose implants as their family planning method. Gains in implant use in this region have exceeded combined gains for IUDs, pills and injectables. In addition, it's estimated that from 2018 to 2020, 21.2 million women will adopt contraceptive implants across 135 low- and middle-income countries.
This surge in implant insertions has not been matched with timely, accessible and quality removal services, however.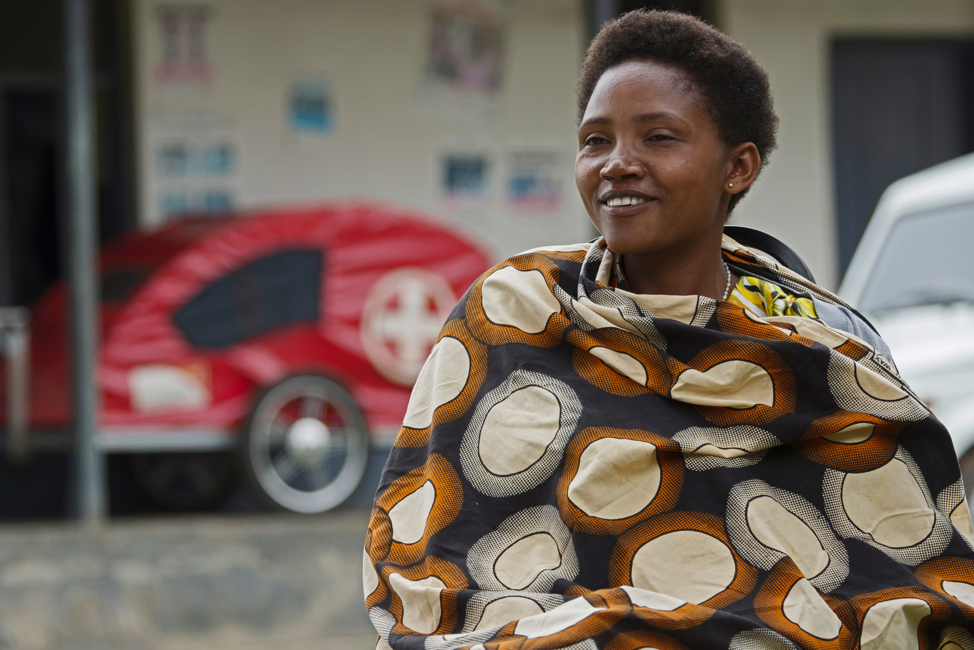 Too often, women who want their implants out—some because of expiration, others because they hope to become pregnant, or perhaps are uncomfortable with side effects—search in vain for someone who's willing and able to remove them. The result is that some end up with unnecessary scars and infections because of poorly executed or botched removals.
The fact that implant removal received less strategic focus in the past left untold numbers in limbo, especially the poorest, says Megan Christofield, a Jhpiego family planning advisor widely recognized for her implant removal expertise and advocacy. But the issue is finally starting to command broad attention, a fact that delights Christofield. She has been at the forefront of a collective effort, led by Jhpiego, in response to interest and enthusiasm in countries like Uganda, where the Ministry of Health is a strong partner, and at least 11 other countries.
Last month, Christofield presented work on expanding global access to contraceptive implant removal services at the North American Forum on Family Planning in New Orleans. This month, she'll be among the Jhpiego contingent sharing study results at the International Conference on Family Planning (ICFP) in Kigali, Rwanda, from November 12–15. Among notable findings: 93% and 60% of implant providers in Kenya and Uganda, respectively, reported having challenges removing an implant. Among facilities actively removing implants, none in Uganda and less than half in Kenya had all the required supplies.
Just a year ago, Jhpiego and partners, as part of the Global Implant Removal Task Force, released an online toolkit: Contraceptive Implant Removal Resources. It includes illustrated job aids, suggested indicators for measuring implant removals at a national scale, equipment lists for supply chain managers and questionnaires for use by researchers seeking to better understand removal access challenges.
More recently, Jhpiego had an unprecedented half-dozen abstracts related to implant removal accepted at ICFP.
Christofield's participation on a panel at the North American Forum on Family Planning ensured that U.S. data on individuals' access to implant and IUD removal services was viewed in a much larger context. Her message: "Ensuring access to quality removal services is within reach provided it gets the attention it requires; look at the success we're having on the global scene through collaboration."
She was particularly excited about being able to offer lessons learned from Jhpiego's work—in Uganda, Kenya and, more recently, Tanzania, Democratic Republic of the Congo, Burkina Faso and Nigeria—to the largely American audience. A big, fundamental lesson is that deliberate attention to meet clients' need for removal services should be a regular part of any family planning program. When women get implants inserted, but find it difficult to get them removed at the time of their preference, their rights are not comprehensively fulfilled.
Through funding from the Bill & Melinda Gates Foundation, Jhpiego collaborated with the governments of Uganda and Kenya and other key partners in "Identifying best practices to ensure access to quality implant removal services." The goal: to accelerate and document promising practical, cost‐effective, scalable and replicable best practices in implant removal services, with an aim to generate or further evidence for the global family planning community.
Back in Uganda, the effort benefited health workers like Jhpiego-trained nurse Michael Nkwasibwe who Ayebare finally encountered at the Mparo Health Centre IV after trying for 7 months to safely and affordably have her expired implant removed.
"He took it out properly," she says.
Nkwasibwe elaborates: "Even after many years of medical training, I had never learned a good way to remove implants. As a result, we struggled to remove the implants and left unsightly scars on mothers struggling to remove the implants. No wonder some women were afraid to come in for services."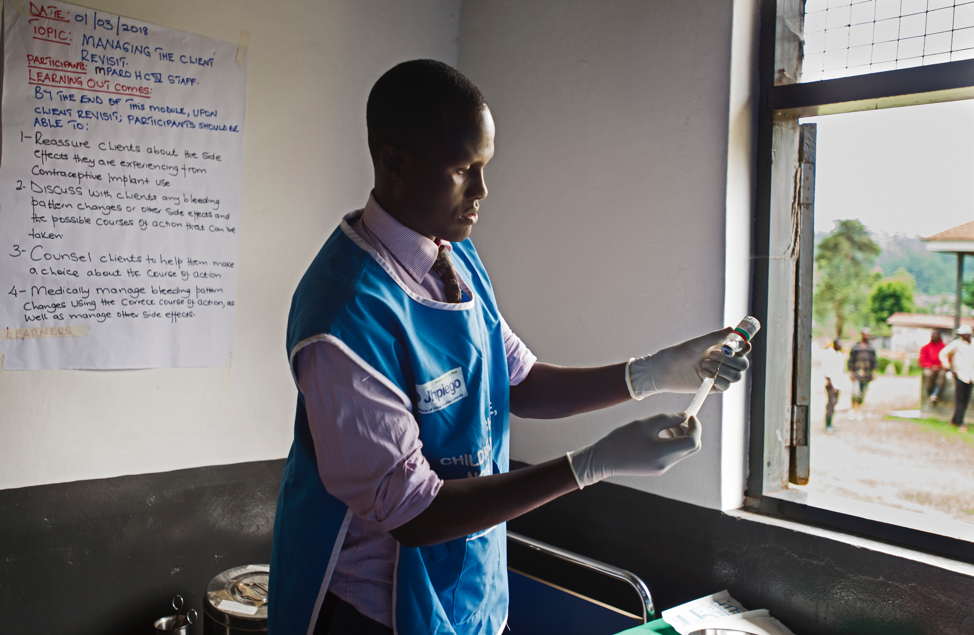 Nkwasibwe recalls having formerly removed implants using a much bigger blade than is recommended for a good removal. "Now, the new surgical blades are part of our standardized supplies order," he adds.
Having the right supplies and enough of them is only part of the equation to alleviating the implant removal problem, however. Nkwasibwe is tending to the other important part, which involves sharing his implant removal skills with other health care workers. "I made up my mind to go and train health workers at the lower facilities as far as 80 kilometers away … so no other [woman] has to suffer."
Maryalice Yakutchik is a communications manager at Jhpiego.
Jhpiego believes that when women are healthy, families and communities are strong. We won't rest until all women and their families—no matter where they live—can access the health care they need to pursue happy and productive lives.
Donate now!