Health records revealed that Roger* had been missing his appointments at the clinic in Fort Portal in western Uganda, a region with high HIV prevalence.
His mood, which was beyond sad, hinted as to why Roger was not showing up for antiretroviral therapy. If taken regularly, the medication can suppress HIV to an undetectable level in his blood, which will prevent him from becoming sick and spreading the virus to others. Lacking the will to live, Roger had become less than vigilant about taking his therapy, a lifesaving medication, the benefits of which extend to his family, community and beyond.
Roger's distant demeanor attracted the attention of Racheal Ahurra, a medical social worker at the clinic who had recently received training in The Common Elements Treatment Approach (CETA), a proven initiative developed by specialists at the Johns Hopkins Bloomberg School of Public Health, Department of Mental Health. The approach is designed for frontline health workers to integrate HIV care and treatment for depression, anxiety, substance use, trauma and stress-related disorders.
The CETA model, developed for use by non-mental health professionals working in low-and middle-income settings, allowed Racheal to competently screen Roger using a brief, multi-purpose tool designed with locally validated assessment measures.
Roger disclosed that he was not sleeping and was feeling helpless. Alarmingly, he also had separated from his family and attempted suicide three times. His grave condition warranted a greater level of care than group education/therapy, a CETA service offered to all clients visiting the clinic. After setting up a safety watch, with the support of Roger's brother, Racheal instituted follow-up calls and referred Roger for individualized counseling for eight to 12 sessions over the course of several months.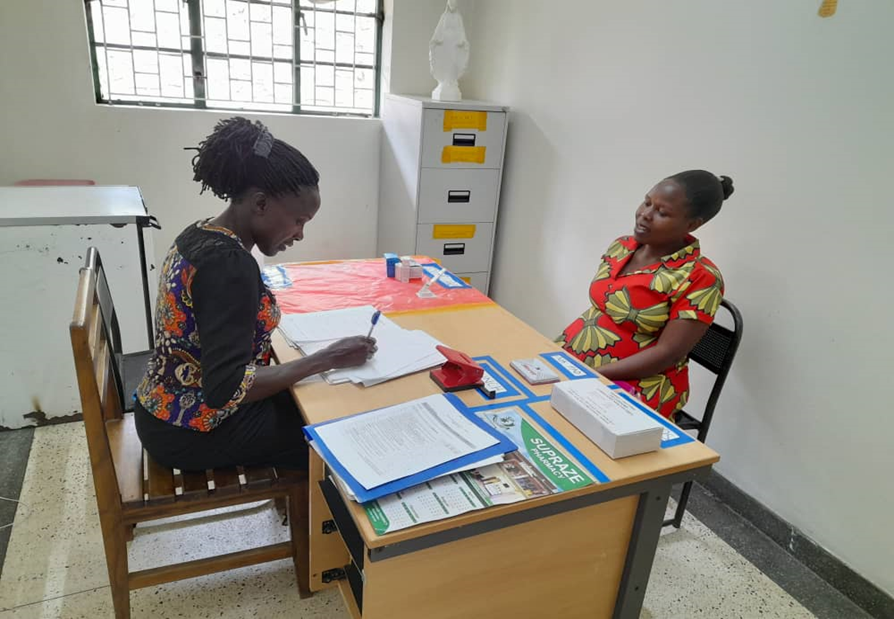 "This has been a missing link in our work, and we hope that Jhpiego will [help us] increase the number of people trained to offer CETA services in our clinic," said Dr. Anitah Bigirwa, clinical lead in the HIV clinic at the Fort Portal Regional Referral Hospital in western Uganda.
Jhpiego's work to collaboratively integrate mental health into primary health care aims to benefit those who are underserved, including displaced persons, migrants and refugees living with HIV in Uganda, a country that, in 2023, continues to host refugees at an unprecedented scale.
---
CETA behavioral health programming and interventions, implemented over the past year in Uganda by Jhpiego, received support through the American Rescue Plan Act funding from the U.S. Health Resources and Services Administration in partnership with the Uganda Ministry of Health, Mental Health and Substance Abuse Division. Mental health services were included in the 2022 Consolidated Guidelines for the Prevention and Treatment of HIV in Uganda to enhance adherence to antiretroviral therapy, retention and viral suppression.
---
By combining treatments for multiple health problems, the CETA approach helps health workers assess symptom severity and create a precise treatment plan to deliver evidence-based, efficient care that ranges from prevention and wellness to treatment and recovery.
"Mental health issues are standing in the way of reaching the global 95-95-95 goals," said Martin Ndifuna, Jhpiego's Country Director in Uganda, referring to worldwide efforts to provide persons at risk of HIV with screening and treatment services to reach viral suppression.
Ndifuna said the NCD approach was first used to help frontline health workers impacted by the strain of the COVID-19 pandemic:
We saw that healthier and happier health care workers were better able to address the issues of people living with HIV who are unseen or not showing up for appointments due to their mental health status."

Martin Ndifuna, Jhpiego's Country Director in Uganda.
Based on these results, they decided to use the CETA approach with their clients, he said. 
In Uganda, CETA has been rolled out at three sites, with 35 frontline health workers using the approach to address mental health challenges and provide quality services not only for people living with HIV but also to those who care for them, including health workers. To date, mental health services have been offered to 11,328 clients, resulting in 463 being enrolled in CETA at three referral sites. In addition, 101 health workers have undergone mental health screening.
More than 75 percent of people with mental health disorders in developing countries receive no treatment or care, according to the World Health Organization. Global objectives set out in the World Health Organization's Comprehensive Mental Health Action Plan 2013–2030 and the Sustainable Development Goals seek to address this dearth of critical care, in part by calling for more community-based mental health services.
A World Health Organization report cites studies showing that people living with HIV/AIDS are twice as likely to experience severe depression compared to others, and that treating depression can improve adherence to care and clinical outcomes. The report also references a recent systematic review that reports that the risk of death by suicide is 100 times higher in people living with HIV than in the general population.
---

---
Racheal's compassionate and skilled counseling efforts, informed by the virtual and in-person CETA training she completed in June 2022, made all the difference for Roger. He no longer misses appointments at the clinic. She reports, "His mood has greatly improved. He is responding well to treatment. He even brought his partner to the clinic and reconciled with family."
*Roger is a pseudonym, used to protect the privacy of the client.
Charles Mwanje is a program officer in Jhpiego's Uganda office. Maryalice Yakutchik, a senior writer working with Jhpiego, also contributed to this story.
Jhpiego believes that when women are healthy, families and communities are strong. We won't rest until all women and their families—no matter where they live—can access the health care they need to pursue happy and productive lives.
Donate now!