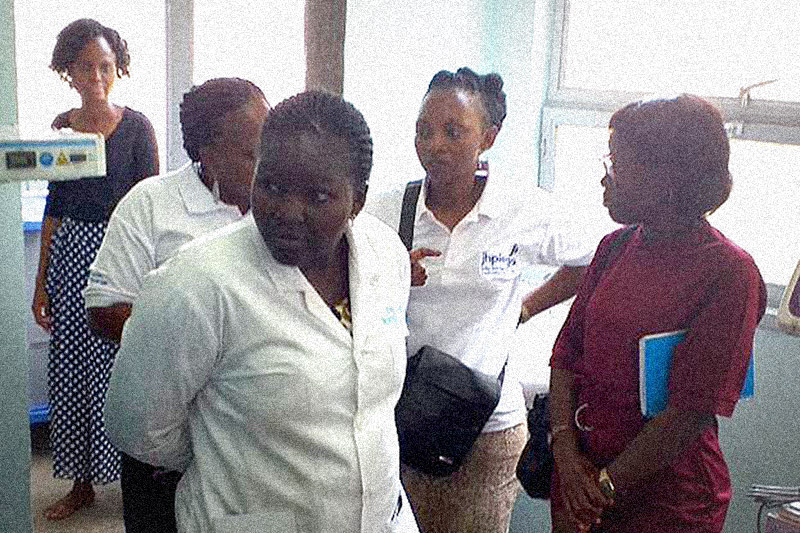 In the Nebbi General Hospital's renovated neonatal intensive care unit (NICU), Dr. Jackline Akello hovers over incubators, attending to the newborns who were born too soon and need specialized care. Mothers sit on benches and straw mats in a nearby waiting room, the access door is locked to prevent unauthorized visits and reduce chances of infection. Infections can lead to sepsis, one of the main causes of newborn deaths worldwide. Dr. Akello, an obstetrician/gynecologist and head of the maternity ward at the hospital in northwestern Uganda, advocated for expansion of the NICU to accommodate newborn babies requiring special care to reduce their referral to larger, more distant facilities and ease access for their waiting parents.
The Jhpiego-led Improving Quality of Care across Reproductive, Maternal, Newborn, Child Health (RMNCH), HIV, and Nutrition (IMPROQ) project—in partnership with the Uganda Ministry of Health, UNICEF and the Embassy of the Netherlands in Kampala—carried out the renovations as part of its ongoing efforts to streamline services and improve quality of RMNCH care in eight facilities across the region.
Since its refurbishment last year, before COVID-19 spread through Africa, the survival rate of newborns in the Nebbi NICU increased from 50% in January 2020 to 100% in May 2020, based on the number of admissions and the number of newborns alive at discharge.
Today, all newborns in the area requiring intensive care are managed at Nebbi General Hospital. Now doctors and midwives have adequate space to perform procedures on babies. Mothers have privacy to carry out kangaroo mother care (KMC), the practice of providing continuous skin-to-skin contact between mother and baby, exclusive breastmilk feeding and early discharge from hospital. KMC has been shown to improve survival in preterm babies by providing protection from infection; regulating temperature, breathing and brain activity; and encouraging mother-baby bonding.
Health workers are no longer stressed because of overcrowded conditions, and mothers and families do not worry about the cost of referrals or about being away from home.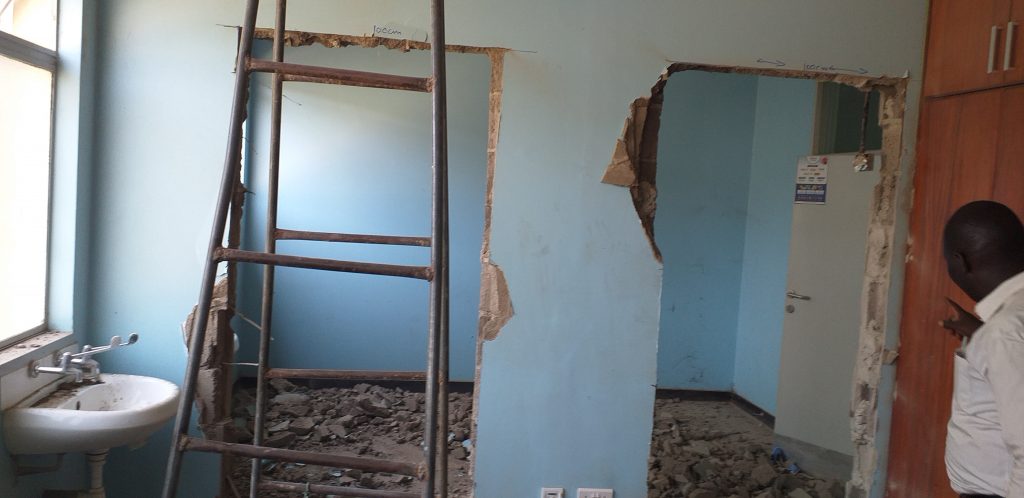 "We are privileged to be part of the IMPROQ project at Nebbi Hospital. We have never seen such a dedicated project before," says Dr. Akello. "We used to refer some babies to Arua [a higher-level facility 78 km away], and some would die on the way. But that will be history because we have now attained a spacious and well-equipped NICU, courtesy of Jhpiego."
As head of the maternity ward, Dr. Akello oversees and conducts deliveries, especially those with complications that require a cesarean section, assesses infants and counsels mothers and families. She also coaches the medical teams on new technologies and medical procedures. In this position, Dr. Akello played a leading role in supporting a refurbished NICU.
In July 2019, with funding from UNICEF, Jhpiego started implementing the IMPROQ project in the West Nile region of Uganda. Nebbi General Hospital, a UNICEF-supported facility, was selected as a major beneficiary of the project because of its worrisome maternal and newborn health indicators.
After getting approval from the relevant district authorities, the IMPROQ project team began making structural changes to the maternity ward. They combined three rooms to create one spacious NICU and assembled equipment that had been in the hospital storeroom. Jhpiego provided health workers in the maternity ward with training on how to use and maintain the equipment.
On the morning of the official opening of the new NICU, Dr. Akello, who was promoted to serve as the hospital's medical superintendent, arrived at the ward bright and early to ensure that the equipment was functional, the bed linens were in place and the hospital medical personnel were briefed on their roles for the day.
"As a doctor, I am happy about this achievement and thank Jhpiego and UNICEF for having given us skills, knowledge and the equipment for saving newborns."

Dr. Akello
With this renovation, Nebbi is well positioned to deliver streamlined, quality health services for newborns who arrive in need of specialized care.
Kullein Ankunda served as a communications consultant for Jhpiego's Uganda office. Photos by Jhpiego staff.
Jhpiego believes that when women are healthy, families and communities are strong. We won't rest until all women and their families—no matter where they live—can access the health care they need to pursue happy and productive lives.
Donate now!