Nigeria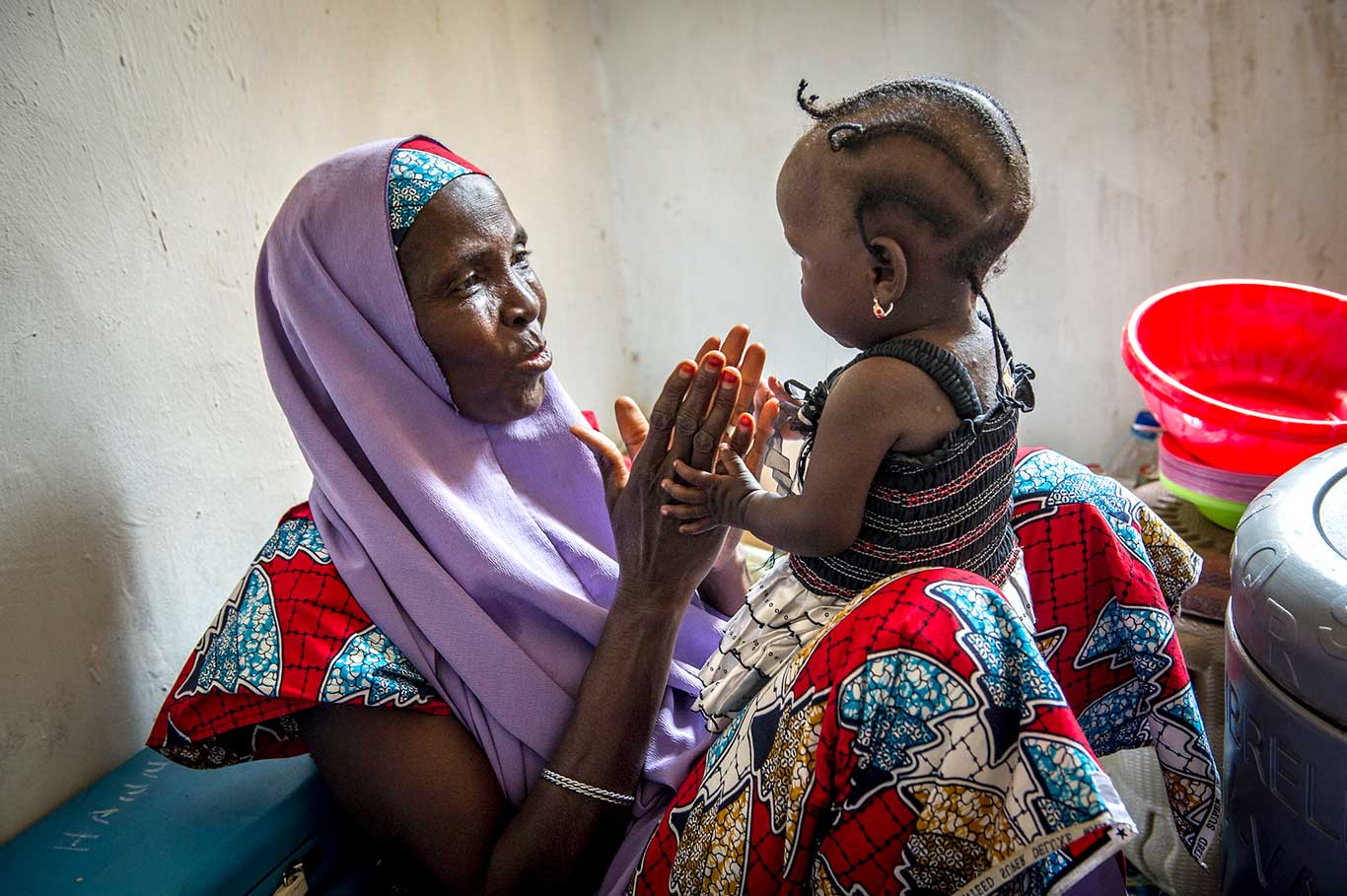 Country Contact
Oniyire Adetiloye, Country Director
Tel. 234 92913684
Plot 971 Reuben Okoya Crescent,
Off Okonjo-Iweala Way
Off Olusegun Obasanjo Way
Wuye District – Abuja
P.O. Box 14832
FCT, Nigeria
Current and Recent Donors
Bill & Melinda Gates Foundation
CDC
Government of Nigeria
John D. and Catherine T. MacArthur Foundation
Merck for Mothers
Unitaid
USAID
We've reached millions of Nigerian women and children since 1978.
Jhpiego-trained skilled birth attendants supervised more than 2.3 million antenatal care visits and 533,000 institutional deliveries.
More than 190,000 pregnant women were reached with HIV prevention messages, counseling and testing; of women identified as HIV-positive, 99% received appropriate antiretrovirals.
Jhpiego's technical assistance has resulted in development of up-to-date national guidelines on HIV testing services to permit recency testing and other novel case-finding approaches, including HIV self-testing, partner notification services (index testing) and dual HIV/syphilis rapid diagnostic testing.
Jhpiego pioneered an approach to link community-based volunteers with health centers to address malaria in pregnancy in Akwa Ibom State, increasing the percentage of women taking two doses of sulfadoxine-pyrimethamine for malaria prevention by 66%.
Our Work in Nigeria
Reaching Impact, Saturation, and Epidemic Control (RISE)
RISE is a five-year global project funded by the U.S. President's Emergency Plan for AIDS Relief (PEPFAR) and the U.S. Agency for International Development (USAID). RISE works with countries to achieve a shared vision of attaining and maintaining epidemic control, with stronger local partners capable of managing and achieving results through sustainable, self-reliant and resilient health systems by 2024. RISE's contributions to this work will lead to fewer new HIV infections, decreased HIV-related morbidity and mortality, and increased quality of life for people living with HIV. With USAID PEPFAR investments, RISE supports countries to achieve and maintain epidemic control by providing strategic technical assistance and direct service delivery to improve HIV prevention, case finding, treatment programming, and viral load suppression. The primary objectives of the RISE project are to: 1) attain and maintain HIV epidemic control among at-risk adult men, women and priority populations; 2) attain and maintain HIV epidemic control among key populations; 3) strengthen health systems including improved program management, health information systems, human resources for health and financial systems to ensure attainment and maintenance of epidemic control; and 4) support the transition of direct funding and implementation to capable local partners to meet the PEPFAR goal of 70% of funding to local partners by 2020. The project is led by Jhpiego with the following partners: ICAP at Columbia University, Management Sciences for Health, Anova, BAO Systems, Johns Hopkins University Center for Public Health and Human Rights, and Mann Global Health. RISE is currently active in several countries, including Nigeria.
Improving Quality of Care along the Pregnancy Continuum to Reduce Risk of Maternal Mortality and Morbidity
Funded by Merck for Mothers (MSD), this project aims to reduce maternal mortality from indirect causes. Jhpiego is applying an innovative quality of care model to improve prevention, early detection and management of indirect causes of maternal mortality and morbidity along the continuum of public and private maternal and reproductive health care services. The model reduces fragmentation and strengthens linkages for a more effective continuum of care across the life cycle (pre-pregnancy, pregnancy and postnatal) and across health system levels (primary, hospital and specialty).
Integrated Health Program
Jhpiego serves as a core partner on the Palladium-led Integrated Health Program, the U.S. Agency for International Development's main program for primary health care (PHC) in Nigeria. The overall objectives are to strengthen systems supporting PHC services, improve access to PHC services and increase the quality of PHC services. The program is expected to contribute to reductions in child and maternal morbidity and mortality in up to five target states, and to increase the capacity of health systems (public and private) to sustainably support high-quality PHC services. Jhpiego's role is to support the program's technical areas of reproductive health, family planning, and maternal and newborn health, including providing support for training and mentoring of providers, while also contributing to the quality assurance and quality improvement aspects of the program.
Mapping of Services for Survivors of Sexual Exploitation and Abuse and Other Forms of Gender-Based Violence
For the Government of Nigeria's Rural Access and Mobility Project (RAMP) and with World Bank funding, Jhpiego is implementing gender-based violence (GBV) mapping services in the states of Abia, Akwa Ibom, Bauchi and Ogun. With the implementation of RAMP, which is rehabilitating rural roads and river crossings throughout the three states, the World Bank and Government of Nigeria recognize that the influx of construction workers into already-destabilized communities within these states exacerbates the risk of GBV by increasing trafficking, sex work and forced marriage. The goal of the GBV mapping assessment is to minimize and mitigate the potential risks of GBV that may arise during implementation of RAMP. To this end, Jhpiego will profile the range of existing GBV services, as well as potential barriers to care, to improve availability and coordination of GBV services in the targeted states. Jhpiego's technical assistance to RAMP also includes improving the referral system and developing a forum for sharing information.
Transforming Intermittent Preventive Treatment for Optimal Pregnancy
Under this Unitaid-funded, five-year grant, Jhpiego is partnering with ISGlobal to reduce maternal and neonatal mortality in the Democratic Republic of Congo, Nigeria, Madagascar and Mozambique by: 1) introducing and setting the stage for scale-up of community intermittent preventive treatment of malaria in pregnancy (IPTp); 2) introducing and increasing demand for quality-assured sulfadoxine-pyrimethamine (SP) for IPTp; and 3) generating evidence for World Health Organization policy change. To achieve desired results, Jhpiego is also collaborating with Medicines for Malaria Venture (to bring quality-assured SP to market) and the World Health Organization (to ensure SP resistance monitoring and foster collaboration between national reproductive health programs and national malaria control programs). For more information, visit here: www.tiptopmalaria.org.
Performance Management and Action Project (PMA)
This four-year project, funded by the Bill & Melinda Gates Foundation, builds on the PMA2020 project, which used innovative mobile technology to support low-cost, rapid-turnaround surveys monitoring key health and development indicators. PMA is enhancing this survey platform to generate high-quality data and ensure that governments, donors, managers and advocates use this data to make decisions regarding family planning programs. In addition to scaling up the survey platform for more widespread use, this project supports expanding it to include additional technical areas. Co-led by Jhpiego and the Bill & Melinda Gates Institute for Population and Reproductive Health, this project is operational in several African and Asian countries, including Nigeria.
Expanding Family Planning Choices
This three-year project, funded by the Bill & Melinda Gates Foundation, seeks to uphold the quality of contraceptive implant services by working at the global and country levels. Globally, Jhpiego serves in a technical advisory role for the Implant Access Program's Operations Group—a working group comprised of donor representatives that supports quality implant programs—to monitor, identify and collaboratively respond to priority issues. Jhpiego also provides short-term technical assistance to ensure that several countries with high implant use, including Nigeria, incorporate a quality implant removal component into overall implant strategy and implementation.
Country Contact
Oniyire Adetiloye, Country Director
Tel. 234 92913684
Plot 971 Reuben Okoya Crescent,
Off Okonjo-Iweala Way
Off Olusegun Obasanjo Way
Wuye District – Abuja
P.O. Box 14832
FCT, Nigeria
Current and Recent Donors
Bill & Melinda Gates Foundation
CDC
Government of Nigeria
John D. and Catherine T. MacArthur Foundation
Merck for Mothers
Unitaid
USAID