More women choose a modern method to safely plan their families
Ikwo, Nigeria—Chinyere Francis loved working on her farm in the rural town of Ikwo in southeast Nigeria. But she worried that neither her earnings nor her husband's $15 monthly income as a pastor in his local church were enough to take care of their growing family. With the latest addition—their tenth child—the couple appeared exhausted at the prospect of yet another mouth to feed.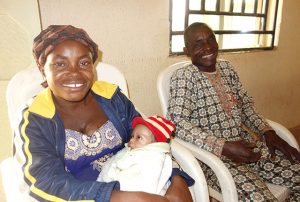 "I wanted to stop having children, but since I didn't know how, they just kept coming," said the 36-year-old wife and mother.
Women in Nigeria have an average of 5.5 children and often face real risks of complications or death when giving birth. With the lifetime risk of dying from complications of pregnancy in Nigeria at 1 in 22, Chinyere felt extremely lucky to have safely given birth to 10 healthy children. Yet she feared she might get pregnant again.
Like so many women of reproductive age in Nigeria, Chinyere never used contraceptives. Only 11% of Nigerians use modern contraceptives, and 16% of married women who want to space their next pregnancy or stop childbearing completely aren't using contraception. Some of the factors behind these numbers include a lack of knowledge about family planning among potential users and a shortage of health care providers with the right family planning skills and knowledge.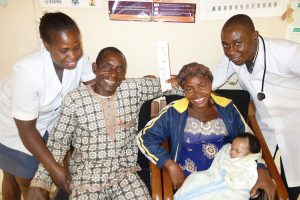 However, the situation is changing in two states—Ebonyi and Kogi—where the government of Nigeria and the U.S. Agency for International Development's global flagship Maternal and Child Survival Program (MCSP), led by Jhpiego, are working together to expand access to high-quality family planning services and modern, highly effective, long-acting and low-cost contraceptives, such as intrauterine devices (IUDs) and implants. In partnership with Save the Children and R4D, Jhpiego has trained more than 220 health workers in the two states to effectively provide these family planning services.
Within six months of the start of the training program in December 2015, more than 1,700 women in Ebonyi and Kogi States received family planning counseling following the birth of a child. Between January and August of this year, 527 of these women received their choice of a modern contraceptive—a promising development in two states where acceptance of family planning methods has been low in the past.
After being counseled on family planning and discussing various methods with her husband, Chinyere received an IUD at Ikwo's Rural Improvement Hospital, one of the facilities supported by MCSP. "My wife told me about the postpartum IUD in the hospital," said her husband. "I told her we must get this IUD. So we came here together for it."
Chinyere and hundreds of other women in Ebonyi and Kogi States are now able to prevent unintended pregnancies, safeguard their health, limit their family size, focus on their livelihood and lighten the burden of family responsibility.
"I would have used the IUD if I had known about it a long time ago," Chinyere said. "But at least I'm relieved that I won't need to worry about getting pregnant again."
Tolase Olatinwo is the Knowledge Management Advisor; Gladys Olisaekee is State Team Leader/Maternal Health Advisor; and Uduak Fred Okum and Rita Anaba are Service Improvement Facilitators in Jhpiego's Nigeria office.
Jhpiego believes that when women are healthy, families and communities are strong. We won't rest until all women and their families—no matter where they live—can access the health care they need to pursue happy and productive lives.
Donate now!