A Nigerian father gets the message about maternal and newborn health.
Several months ago, Israel Nwafor's mobile phone buzzed with a message alerting him that "labor could start anytime now."
He read it in full, sharing aloud what he was learning about the signs of labor—some subtle, some not—with his wife, Monica, who, at the time, was very pregnant with the couple's third child.
The couple soon found out just how timely that text was.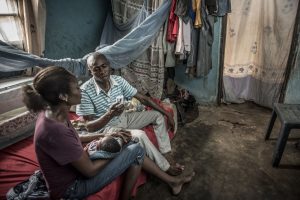 "I discovered that even when I thought that it's not labor, it was labor," Israel recounted recently as his newborn son, Michael, slept in his arms. "As soon as we got to the hospital, my wife delivered. Within a few minutes, she delivered!"
Israel is grateful for having received such vital information and glad he heeded the simple, direct instructions included in that text. "If I had wasted time, maybe something dangerous would have happened [to my wife or my child]."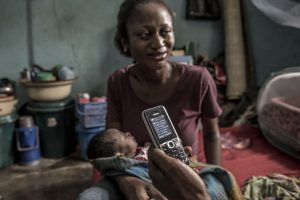 Informative messages about his wife's pregnancy had, at that point in time, been appearing on Israel's phone for months. Monica had just begun her second trimester when she heard about HelloMama, an initiative aimed at educating pregnant women and new mothers as it engages fathers and other relatives to support them. She talked with him about signing up for the free service. As the holder of the family cellphone, Israel concurred, agreeing to pass on all the messages.
There were many, many messages received and relayed—at least two a week. Some reminded Monica to visit the hospital and take prenatal supplements. Others urged the busy, 31-year-old mother of two (who works trading clothes to earn extra money) to take special care of herself—to eat nutritiously and be on the lookout for warning signs of preterm labor.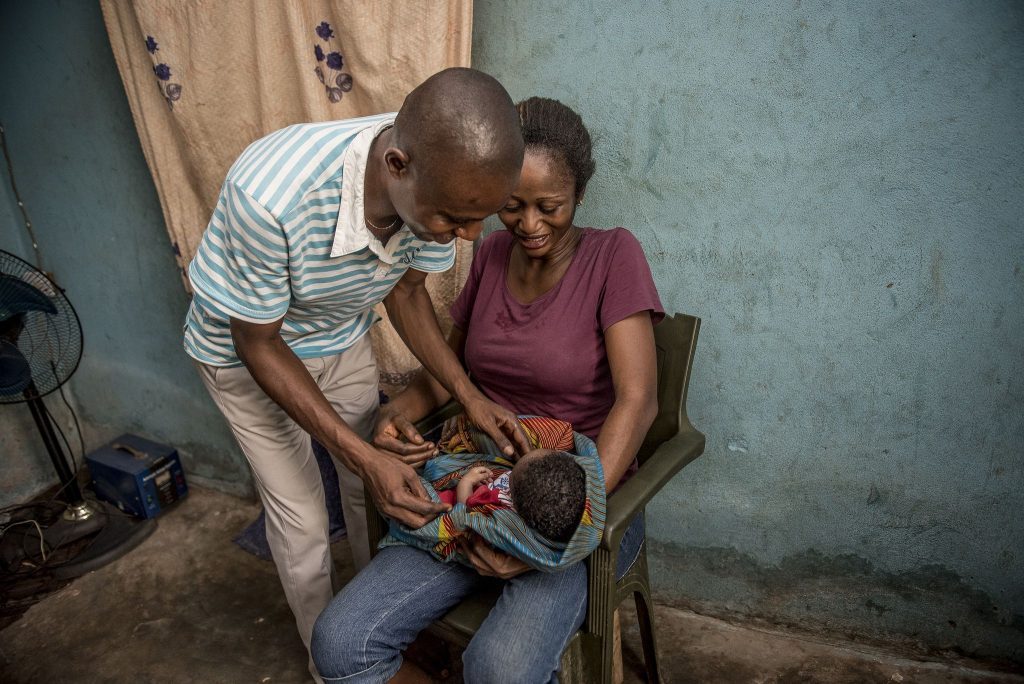 Even now, Israel's phone still buzzes regularly with HelloMama messages. They continue throughout baby Michael's important first year of life, tailored to reflect his stages of growth and development, just as they reflected Monica's stages of pregnancy. A recent text, for instance, reminded the couple to make sure the baby was sleeping under a mosquito net to reduce the risk of malaria.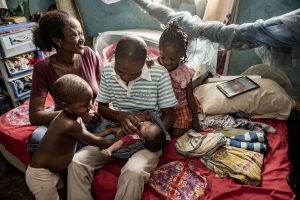 "For our first two children, we sourced health information from the hospital and people who had given birth before us," Israel said. "But in this case, we get direct information [from HelloMama]."
Israel, a teacher, appreciates that the messages aren't full of jargon and are easily understood by both him and his wife. "We learned a lot of things we didn't know before," he said. "And we did everything they said we should do."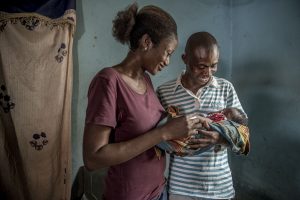 HelloMama is making a difference not only in Israel and Monica's home but throughout Nigeria, where more than 2,000 children under age 5 and over 100 women of childbearing age die every day. In fact, the country ranks second (after India) in terms of number of under-5 and maternal deaths globally. Funded by the U.S. Agency for International Development's flagship Maternal and Child Survival Program, with help from public and private partners, HelloMama is an initiative of the Federal Ministry of Health and the National Primary Health Care Development Agency.
As a parent on the receiving end of a steady stream of free and reliable information meant to ensure his family's health, Israel knows he is one fortunate father. "He is very healthy," Israel said, referring to his son Michael, surrounded by his smiling mother and siblings, "even healthier than his sister and brother [at this age]."
Jhpiego believes that when women are healthy, families and communities are strong. We won't rest until all women and their families—no matter where they live—can access the health care they need to pursue happy and productive lives.
Donate now!