My health center, it is really bad. The ceiling collapsed, termites have eaten it up. Community members run away from the health center. The patients have refused to come. The pregnant women used to say, 'We can't come to have our babies in this place.' It is very hurtful but there was nothing I could do. Before now, we used to refer our pregnant women to other health facilities for delivery.

But that's all in the past . . . our health center is looking fine with the paint, the solar light. The fan is working, burglary proofed everywhere, sliding windows, medical equipment.

Mrs. Fapondunda, Officer in Charge, Iwoye Basic Health Center
---
At the newly renovated Iwoye Basic Health Center in Ondo state in southwestern Nigeria, women and families now receive quality care, thanks to the generosity of the Eurofins Foundation and a circle of supporters with family ties to Nigeria. The renovated facility is proof that individual donors can make a significant difference in the lives of people in underserved areas.
The Iwoye health center, where Jhpiego supports malaria in pregnancy prevention and treatment, serves 14 rural, hard-to-reach farming communities with about 24,500 residents. Over the years, the building had deteriorated and spotty electricity created significant challenges for health workers and patients. Without power, the health facility had no lights and could not run basic equipment or pump or heat water. This was especially dangerous for women who had obstetric complications during birth—the leading cause of maternal deaths in sub-Saharan Africa. The situation was so dire that staff from the World Health Organization recommended that the facility not be used during the rainy season to avoid the danger of it collapsing.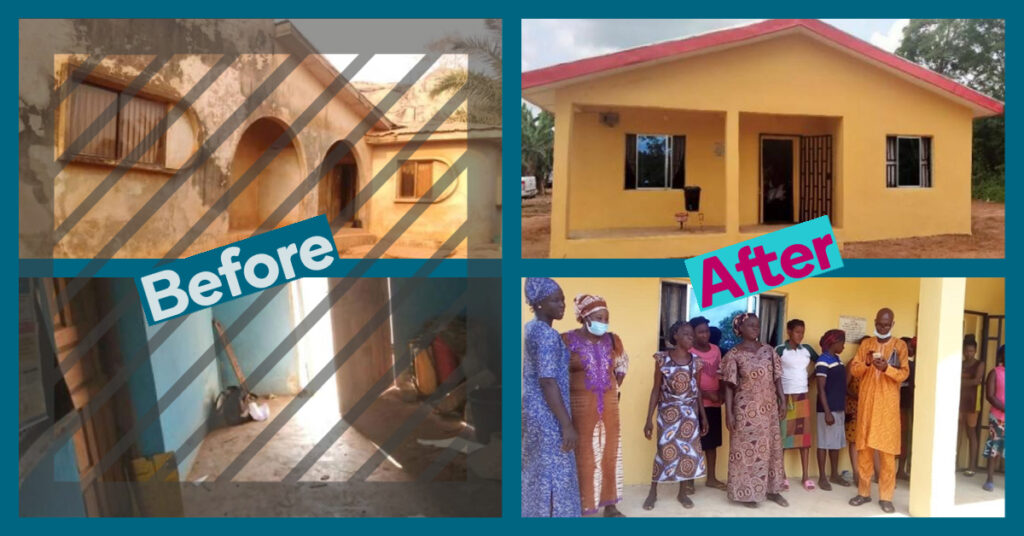 The Eurofins Foundation, a public interest foundation established in Belgium whose objective is to contribute to global health and safety and protect the environment, learned of the need in Iwoye through its annual call for applications. The foundation provided an initial round of support for a renovation plan developed by local stakeholders. First on the list of repairs: restore and paint facility walls; mount security windows; purchase a delivery bed, privacy screens and basic medical equipment; and install a solar power system. These changes made a transformative impact on health workers and patients. In the first quarter after the renovation, the health center saw a 140% increase in attendance.
Additional renovations, to realize the community's vision for their health center, were completed with help from supporters led by Dr. Temitayo Oyegbile-Chidi, a pediatric neurologist at the University of California, Davis, and a Jhpiego advisory board member.
Dr. Oyegbile-Chidi's work crosses borders. She serves as an adjunct faculty member at University College Hospital in Ibadan, Nigeria. There, she consults with local residents experiencing neurological disorders and shares her expertise with students and residents from the University of Ibadan College of Medicine.
"I was excited to do this fundraiser because there is a huge need in Nigeria and this was an opportunity to give back to my community. These funds provide jobs, infrastructure, and resources to improve healthcare in Nigeria. I'm glad to be contributing and making a difference."

Dr. Temitayo Oyegbile-Chidi
Dr. Oyegbile-Chidi hosted a virtual "party with a purpose" and invited others, including her brother-in-law and Jhpiego board member, Basil Chidi, with an interest in Nigeria, which has the highest maternal death rate in Africa. Generous donations from this event funded construction of a motorized borehole so water could be piped to the building and overhead water tanks, an increase in the power of the solar panel to drive the water system, and erection of a perimeter wall and replacement of the facility doors to provide additional security. The renovations have allowed the Iwoye health center to meet its goal of improving quality of care for women giving birth and for children.
"We are so grateful, we can't say enough. . . . The community members will keep enjoying the health services and have peace of mind that there is a place to run to for good care. . . . Thank you very much Jhpiego organization and the Eurofins Foundation for this great work you have done," said Isaac Adedoyin, Ward Development Committee chairman.
A continent away, the Eurofins Foundation supported Jhpiego's efforts to safeguard health care providers in Pakistan as they work to ensure a safe space for the care and treatment of their clients. During the pandemic, Pakistan faced an extreme shortage of personal protective equipment (PPE) in hospitals and doctors were scared to work without adequate protection. Some doctors even reported that they were likely to quit their jobs if they did not receive proper PPE. The foundation stepped in to help bridge inequities in PPE, providing masks, gloves and hand sanitizer to the governments of Singh, Punjab, Balochistan and Kyber Pakhtunkhwa as well as the federal government. This support also included training on the correct use of PPE to keep workers in COVID-19 vaccination centers safe and prevent the spread of COVID-19. Thanks to the generosity of the Eurofins Foundation, Jhpiego was able to meet the needs of providers in facilities with limited supplies of PPE.
Government of Punjab appreciates the contribution of stakeholders like Eurofins Foundation in supporting efforts to manage this pandemic in the country. Jhpiego is a long-trusted partner in health services and this collaboration with Eurofins is highly admirable.

Provincial Program Manager, Expanded Programme on Immunization, Punjab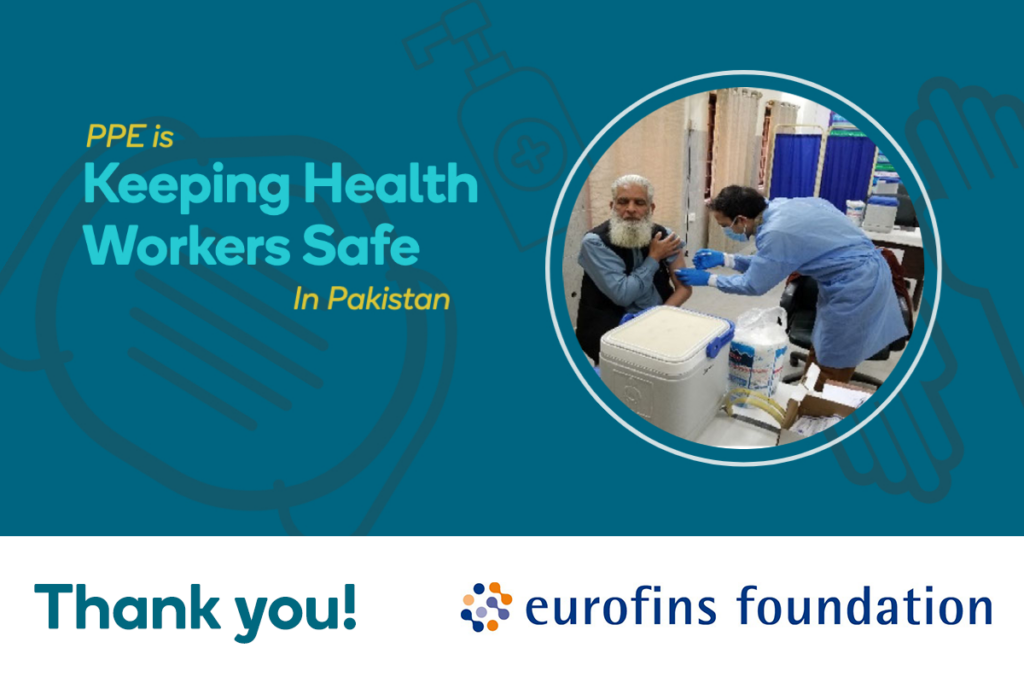 Jhpiego believes that when women are healthy, families and communities are strong. We won't rest until all women and their families—no matter where they live—can access the health care they need to pursue happy and productive lives.
Donate now!