The Jhpiego-led RISE (Reaching Impact, Saturation, and Epidemic Control) consortium recently provided critical upgrades to Emergency Operations Centers (EOCs) in eight states across Nigeria, bolstering that government's efforts to mitigate and contain the spread of COVID-19 in Africa's most populous country.
In June, U.S. Ambassador Mary Beth Leonard summed up the collective impact of the transformed centers, funded by the U.S. Agency for International Development (USAID) and in line with priorities set by the Nigeria Center for Disease Control (NCDC): "With the commissioning of these EOCs, Nigeria can better coordinate the COVID-19 outbreak response and surveillance activities, as well as any other emergent disease outbreaks or disasters. They will help turn the tide of the pandemic within their states, ultimately the nation, and flatten the COVID-19 curve."
The EOCs will serve citizens in the states of Adamawa, Akwa Ibom, Bauchi, Cross River, Edo, Kano, Niger, and Oyo by facilitating the coordination and integration of state government actions to contain the spread of the virus. The upgrades will enable centralized, real-time monitoring and predictive modeling for enhanced coordination of activities and informed decision-making during the COVID-19 pandemic and other public health emergencies.
Notable improvements include a state-of the-art data visualization center with the capability to integrate input from multiple sources for decision-making; a fully equipped call center with agents trained to field and document calls; and built-in infection prevention and control measures in line with standard recommendations related to hand hygiene and social distancing.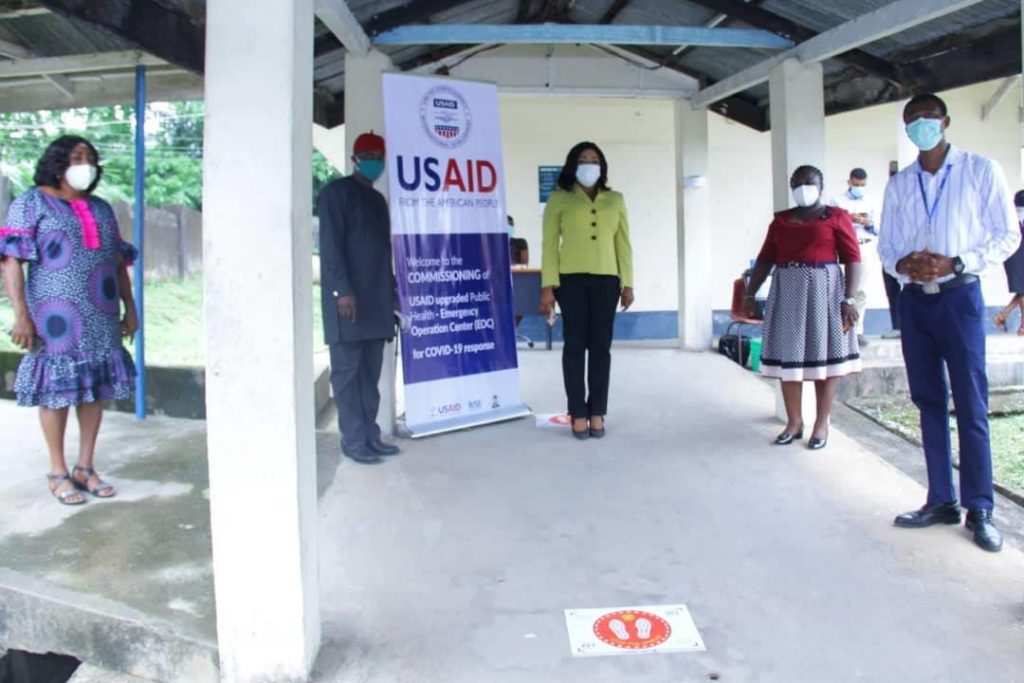 USAID programmed $1.1 million (₦427 million) toward these upgrades (between RISE and other USAID partners in Nigeria), which have helped to transform previous investments and experiences to support Nigeria's COVID-19 response by leveraging existing U.S. President's Emergency Plan For AIDS Relief (PEPFAR) and tuberculosis investments, among others. Over the past two decades, the United States has invested more than $8 billion (₦3.1 trillion) in the Nigerian health sector, boosting laboratory capacity, establishing mega labs, procuring diagnostic machines, augmenting sample transport, enhancing contact tracing, mobilizing risk management communications, and fine-tuning data analytics, outbreak management, and monitoring.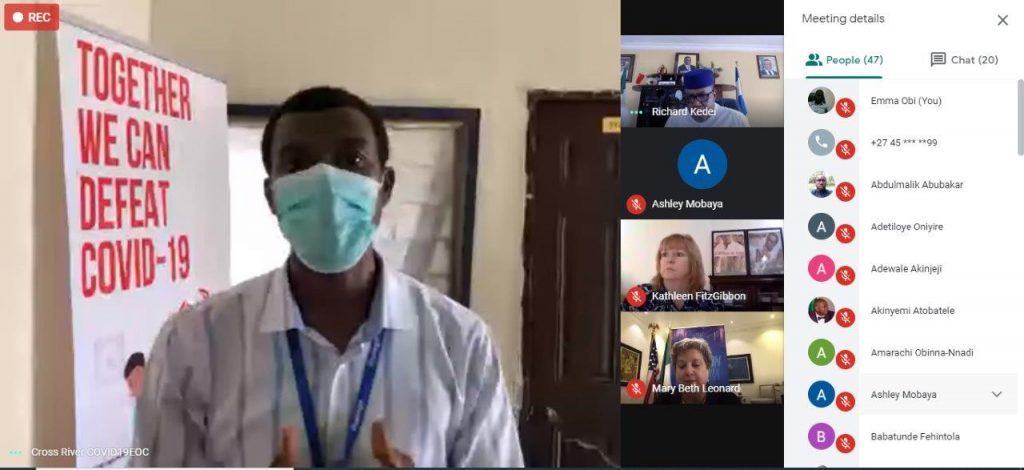 Executive Governors of eight states joined Ambassador Leonard to launch the upgraded EOCs in a series of virtual commissioning ceremonies attended by representatives of the federal Ministry of Health, national and state task forces on COVID-19, national and state government officers of the NCDC, the state Ministry of Health led by the Honorable Commissioners for Health, USAID Nigeria team, and USAID partner Data.FI.
"We want seize this opportunity to continually invite health practitioners to come to Cross River and strengthen our health system," said Deputy Governor Evara Esu. "We really appreciate this support."
The RISE team is continuing to work with the respective state governments to outline effective transition plans that ensure sustainability not only in the coming months, but also well beyond the pandemic, so that the EOCs continue to serve as command centers for steering the response in the event of other public health emergencies.
Jhpiego believes that when women are healthy, families and communities are strong. We won't rest until all women and their families—no matter where they live—can access the health care they need to pursue happy and productive lives.
Donate now!