India

Country Contact
Bulbul Sood, Country Director
Tel. 91 11 49575100
29, Okhla Phase 3
New Delhi, India – 110020
Current and Recent Donors
Advance Family Planning
Bill & Melinda Gates Foundation
Children's Investment Fund Foundation
David and Lucile Packard Foundation
Gavi, the Vaccine Alliance
Johns Hopkins University
MSD for Mothers
Novo Nordisk
Reliance Foundation (ĀSMĀN)
Tata Trusts (ĀSMĀN)
UNICEF
University of Manitoba
USAID
World Bank
World Diabetes Foundation
Since the 1980s, working to save lives and improve health for the most vulnerable.
In the past four years, Jhpiego has supported the Government of India to save the lives of an estimated 83,000 children and 9,900 women through improved contraceptive services. Averting an estimated 16.4 million unintended pregnancies and 10 million abortions saved an estimated US$549 million (INR 38.5 billion) in direct health care spending.1
An independent evaluation of Jhpiego's initiative in India to implement the World Health Organization's Safe Childbirth Checklist (which addresses the major causes of maternal death, intrapartum-related stillbirths and neonatal deaths) showed an 11% decline in still births and very early neonatal deaths at the 100 health care facilities where it was implemented.
Through its collaboration with the public and private sectors, Jhpiego helped ensure that competent health care workers provided high-quality childbirth services for more than 2.8 million deliveries across the country.
As a result of Jhpiego's work in India in 2018, 38 national and subnational policies, regulations, guidelines and strategies were approved. Also, Jhpiego-led advocacy resulted in more than US$49 million mobilized at the national level and more than US$6 million at subnational level.
1Estimates calculated using Impact 2 (Marie Stopes International) and data as of September 2018.

Our Work in India
Fighting COVID-19 Under the Reaching Impact, Saturation, and Epidemic Control (RISE) Project
With funding from the U.S. Agency for International Development (USAID), RISE is working in select countries, including India, to address the COVID-19 pandemic by supporting the safe and effective use of donated mechanical ventilators. Informed by stakeholder consultation and facility level assessments, the project will support USAID and ministries of health to guide the placement of donated ventilators to selected health facilities, and promote safe and appropriate use of the ventilators. Upon delivery and placement of the donated ventilators, RISE will provide training and targeted technical assistance to providers at supported sites focused on advanced and critical care for severe COVID-19, and quantification of supplies, human resources, and other health system needs related to safe ventilator use.
RISE is a five-year global project—funded by the U.S. President's Emergency Plan for AIDS Relief (PEPFAR) and USAID—that works with countries to achieve a shared vision of attaining and maintaining epidemic control, with stronger local partners capable of managing and achieving results through sustainable, self-reliant and resilient health systems. The project is led by Jhpiego with the following partners: ICAP at Columbia University, Management Sciences for Health, Anova, BAO Systems, Johns Hopkins University Center for Public Health and Human Rights, and Mann Global Health. For the COVID-19 ventilator technical assistance effort, RISE is also collaborating with the University of California San Francisco, World Federation of Societies of Anesthesiologists (via the GH STAR project), FHI 360 (via the EpiC Project) and Johns Hopkins University emergency medicine and critical care staff.
Comprehensive Primary Health Care - NISHTHA: Transforming Comprehensive Health Care in India
This five-year project, funded by the U.S. Agency for International Development, aims to transform, redesign and re-engineer primary health care in India. Jhpiego is working to ensure the availability of a skilled workforce, create sustainable training ecosystems and improve health care infrastructure and responsive health systems. At the end of the project, Jhpiego will have established a series of learning labs across the country and upgraded and operationalized an estimated 30,050 health facilities into functional health and wellness centers, providing approximately 143 million people with access to high-quality, comprehensive primary health care services.
Improving Breast Health Care
With support from the Johns Hopkins University, Jhpiego is providing technical assistance to the Government of Uttar Pradesh and Jharkhand to improve access to high-quality breast health care for women in India. For this program, the cornerstones of Jhpiego's evidence-based strategy include a strong learning agenda among providers and communities, and demonstration of a well-functioning early detection system at the primary health care level that links to timely referral to a designated tertiary care hospital.
Expanding Access to Intrauterine Contraceptive Device Services (Phase II)
This program, supported by a philanthropic investment from an anonymous donor, aims at dramatically expanding access to long-term and reversible contraceptive (LARC) methods to women at the sub-district level in the two states of Odisha and Chhattisgarh. While focusing on ensuring quality of care, the program works to establish and strengthen services to provide both the postpartum and the interval (general) intrauterine contraceptive device (IUCD), as well as postabortion family planning and family planning counseling. The goal of Phase II of this program is to ensure sustained contraceptive prevalence rates in the states of Odisha and Chhattisgarh at its 388 program facilities (187 Phase I facilities plus 201 new facilities), with an emphasis on ensuring that LARCs such as IUCDs are part of the expanded contraceptive choices offered.
Strengthening Postpartum Family Planning and Quality of Family Planning Services in Bihar
Funded by the David and Lucile Packard Foundation, Jhpiego provides strategic technical assistance to the Government of Bihar for facilitating the implementation of a comprehensive, multi-year implementation strategy for postpartum family planning (PPFP), along with scaling up some components of the strategy in five focus districts (Muzaffarpur, Gaya, Saran, Bhagalpur and Madhubani). In addition, this initiative seeks to demonstrate a feasible, efficient and effective programmatic model to strengthen provision of high-quality family planning services in the same five districts. The PPFP services include the Lactational Amenorrhea Method, postpartum intrauterine contraceptive devices and postpartum sterilization. In addition to expanding access to PPFP services, the program piloted the introduction of progestin-only pills in public sector health facilities in Gaya district. The program's long-term goal is to address unmet need for modern contraceptive methods, in particular during the postpartum period, thereby empowering women and couples in India to fulfill their reproductive health wishes.
Ensuring Quality and Informed Choice for Family Planning
Funded by a philanthropic investment from an anonymous donor, this program focuses on ensuring that women in India are fully supported to select the family planning method that best suits their needs. To this end, Jhpiego has successfully piloted an innovative model to support the Government of Jharkhand in implementing a range of policies, capacity-building approaches, and managerial/operational processes and tools. Under this program, Jhpiego plans to implement the lessons learned from the state of Jharkhand in select districts of Maharashtra and Assam. Jhpiego will convene and actively engage government family planning champions as "thought partners" and messengers to propel statewide scale-up of a quality improvement model in Maharashtra and Assam through data-driven advocacy at district and state levels. Jhpiego will also assist in the rollout of reformed incentive mechanisms to ensure that success is defined not only by the number of new acceptors, but also by the assurance that each woman has received the best available method to meet her needs.
Dakshata: The Government of India's Strategic Initiative for Quality Improvement in Labor Rooms
Jhpiego has been the lead technical partner in developing Dakshata, the Government of India's strategic initiative aimed at strengthening the quality of care during and immediately after childbirth through competent, skilled and confident providers. This initiative has been funded by various organizations, including the Children's Investment Fund Foundation. The Dakshata program uses the World Health Organization's Safe Childbirth Checklist as a framework for improving the skills of health care workers, prioritizing resource availability, improving compliance to safe care practices and improving use of data for action.
Manyata: Sustaining Quality Assurance Accreditation for Maternal Health Care in India's Private Sector
Based on the success of a previous program that leveraged private enterprise to improve maternal, newborn health and family planning in India, MSD for Mothers (as Merck for Mothers is known in India) is supporting Jhpiego to implement Manyata, a program targeting private-sector health care facilities in Uttar Pradesh, Jharkhand and Maharashtra. Under this program, Jhpiego works closely with partners to develop and validate a viable and investable business model for a quality assurance mechanism, while laying the groundwork for sustainable quality improvement efforts in the maternal health care private sector in India.
Born Healthy: Addressing Maternal Infections to Improve Newborn Outcomes
Funded by the Children's Investment Fund Foundation, the Born Healthy program is testing a proof of concept to transform the way antenatal care (ANC) is provided in Rajasthan. The program is an attempt to devise an evidence-based ANC model with a special focus on the identification and management of maternal infections as well as strengthening targeted supplementation of iron and calcium during pregnancy. Jhpiego is testing a model of improved ANC—called group antenatal care—that also uses technology in the form of point-of-care diagnostics to make testing and treatment of key high-risk maternal conditions efficient, cost-effective and readily available. Strengthening identification and tracking of high-risk pregnancies is also a key focus area. The program has initially been introduced in 125 facilities across 14 blocks of four districts of the state of Rajasthan (Bundi, Dholpur, Karauli and Udaipur). The program aims to achieve a pan-country scalability through informing the ANC guidelines for the country.
Defining an Operational Model for Antenatal Care-Based Gestational Diabetes Mellitus Screening and Management
Funded by an educational grant from Novo Nordisk, Jhpiego, in collaboration with the Government of India and the Government of Madhya Pradesh, implemented a two-year demonstration project (2015–2017) in Hoshangabad district of Madhya Pradesh to operationalize an antenatal care (ANC) based service delivery model for gestational diabetes mellitus (GDM) screening and management, as envisioned in the national GDM guidelines. Now, through additional support from World Diabetes Foundation, Jhpiego is providing support to the national government to scale up the intervention at the national level and continue its work in Madhya Pradesh. Additional assistance in Hoshangabad district will also expand to Betul district, essentially to make these districts as model sites for GDM implementation for Madhya Pradesh and for the nation.
Improving Maternal and Newborn Health Outcomes through Technology Driven Interventions: Alliance for Saving Mothers and Newborn
The Alliance for Saving Mothers and Newborns (ĀSMĀN) is a major health care technology-driven initiative that is being funded by the Reliance Foundation, U.S. Agency for International Development, Tata Trusts, MSD for Mothers (as Merck for Mothers is known in India) and the Bill & Melinda Gates Foundation. The ASMAN program is being implemented in the states of Madhya Pradesh and Rajasthan to help create innovative, facility-based interventions that enable provision of high-quality care during and immediately after childbirth.
Performance Management and Action Project (PMA)
This four-year project, funded by the Bill & Melinda Gates Foundation, builds on the PMA2020 project, which used innovative mobile technology to support low-cost, rapid-turnaround surveys monitoring key health and development indicators. PMA is enhancing this survey platform to generate high-quality data and ensure that governments, donors, managers and advocates use this data to make decisions regarding family planning programs. In addition to scaling up the survey platform for more widespread use, this project supports expanding it to include additional technical areas. Co-led by Jhpiego and the Bill & Melinda Gates Institute for Population and Reproductive Health, this project is operational in several African and Asian countries, including India.
Assessment of Home-Based Newborn Care in 15 High-Priority Districts of "SAMPURNA" Strategy in Odisha
With funding from UNICEF, Jhpiego is conducting an eight-month assessment of home-based newborn care (HBNC) in 15 high-priority districts of the "SAMPURNA" strategy in the state of Odisha. The assessment focuses on service delivery, health workforce, governance, health information system and availability of medical products in order to identify strengths and performance gaps pertaining to the HBNC program. In addition to pinpointing enablers and bottlenecks, the assessment is also examining the perceptions of providers and beneficiaries—all of which will inform rollout strategies of future programs and interventions. Results will inform a high-level committee constituted by the state government of Odisha on reducing neonatal mortality in the state. Based on findings, the committee will develop recommendations to be implemented through the government of Odisha with support from UNICEF.
Early Detection, Diagnosis and Management for Cervical Cancer in Odisha
With funding from Merck, Jhpiego is supporting improving access to early detection, diagnosis and management for cervical cancer in Odisha State. Jhpiego is providing technical assistance to the state to develop an operational framework on cervical cancer care and implement the framework in phases in one district of Odisha. Activities include: developing training and learning resources for primary health care; building the capacity of providers to detect, diagnose and manage cervical cancer; raising community awareness of cervical cancer; strengthening referral pathways; establishing review mechanisms; and documenting program learnings. The ultimate goal of this initiative is to build a clear, long-term road map for comprehensive cervical cancer care in Odisha.
India Update
Dakshata and Born Healthy showcased by Government of India's think tank for their innovation and effectiveness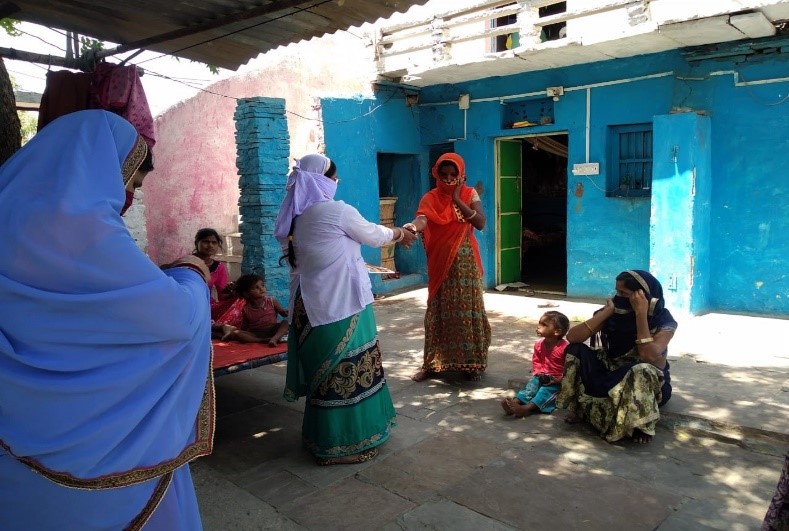 The National Institution for Transforming India, also called NITI Aayog, was formed in 2015 and since then, has been serving as the premier policy 'think tank' of the Government of India (GoI), providing both directional and policy inputs. While designing strategic and long-term policies and programs for the GoI, NITI Aayog also provides relevant technical advice, both nationally and to the states. The think tank's latest Health & Nutrition Practice Insight Vol. II, which includes effective strategies from all over the country, includes two interventions supported by Jhpiego India – Dakshata (pgs. 18-20) and Born Healthy (pgs. 46-48).
Prepared with an objective to display innovative approaches and facilitate knowledge sharing, this practice insight includes programs, which have produced the desirable behavior change and contributed to improving the health and nutritional status of the target population. The two Jhpiego India programs handpicked for their innovative approaches and effective strategies have also scored high in efficiency, relevance, sustainability and possibility of replication and involvement of the community, the criteria used for identifying the practices. Very importantly, as this practice insight was prepared, while the country was devising measures to tackle COVID-19, the support provided by these programs to tackle the pandemic finds a mention in the compendium.
About Dakshata: A strategic initiative developed by the GoI to address the problem of adverse maternal and neonatal outcomes during and immediately after childbirth, and Jhpiego played a key role in developing and implementing the program, which is currently being funded by the Children's Investment Fund Foundation (CIFF). Specifically in Rajasthan, the program was implemented in a phased manner to cover 20 out of 34 districts, with a target of covering 202 high delivery points. Acknowledging the impact of program, the Government of Rajasthan has scaled up the program across all 34 districts and hired dedicated 'Dakshata Mentors' in 19 districts. As per a guidance note released by Maternal Health Division, Ministry of Health and Family Welfare, on operationalization of Dakshata, the states interested in implementation of program can send an expression of interest to the GoI. To commence, the states should implement the program in their high-priority districts, with a plan for scale-up to remaining districts.
The people we serve
Country Contact
Bulbul Sood, Country Director
Tel. 91 11 49575100
29, Okhla Phase 3
New Delhi, India – 110020
Current and Recent Donors
Advance Family Planning
Bill & Melinda Gates Foundation
Children's Investment Fund Foundation
David and Lucile Packard Foundation
Gavi, the Vaccine Alliance
Johns Hopkins University
MSD for Mothers
Novo Nordisk
Reliance Foundation (ĀSMĀN)
Tata Trusts (ĀSMĀN)
UNICEF
University of Manitoba
USAID
World Bank
World Diabetes Foundation