Some clear commonalities unite this trio of couples whose generous contributions to Jhpiego's India campaign involve much more than simply signing checks.
All have strong emotional and familial ties to India, from which arises a desire—no, a need—to be of help during this latest wave of the pandemic, which has produced a tsunami of pain.
All are emphatic about wanting to do something, not just anything. Something meaningful, effective and sustainable. Something as in accelerate and advance Jhpiego's work in a place that is hurting; a place these couples—along with Jhpiego—know well and love deeply.
Anjou Parekh and Siddhartha Kadia
"It's very clear almost every family in India is affected [by COVID-19] at this point," says Siddhartha Kadia, retired CEO with a PhD in biomedical engineering from Johns Hopkins University (JHU). "Not doing something wasn't an option. But being so far away, sometimes you feel really helpless."
Siddhartha was born in India and his wife Anjou's family originates from there. Now living in southern California, the couple still has family and friends there.
Purchasing and sending off a handful of oxygen concentrators might be helpful, Siddhartha thought. But he and Anjou knew that equipment alone wouldn't do much to build the country's health care muscle.
"It dawned on us then that Jhpiego would be a fantastic institution [to contact]," he says, "because we know what they do, and how they set up a framework and resources to help not only in the short term, but also in the long term."
In fact, the couple was well acquainted with Jhpiego's mission and long history in India. After Anjou earned a master's degree in Health Sciences/International Health from JHU, she joined Jhpiego, a JHU affiliate, as a program development officer to work on a maternal and neonatal health program in Honduras and Guatemala. While at Jhpiego, from 1998–2002, she also earned a master's degree from JHU in counseling.
After Jhpiego, Anjou served as Commissioner of Health for the City of Cleveland, Ohio, and then managed a variety of community-based programs within the Family Health Division at the Orange County Health Department in California. These days, she works in mental health as a practicing psychotherapist.
"Both of us owe our professional careers to Johns Hopkins," Siddhartha says, adding that supporting an institution and organization they benefited from and wholeheartedly trust was ideal: "a win-win-win all around."
Having contacted Jhpiego about their intent to give, the couple challenged friends and colleagues to join them in the effort by offering to match donated funds, up to $80,000.
"Basically, everybody responded very positively, and some had already been actively searching for meaningful ways to support India," Siddhartha says of their global network. "We are just grateful that people placed their trust in our judgment regarding how best to help."
The couple shared that they were aligning with Jhpiego "because its strategy in India focuses on key components of providing high-quality care, informed by broad experience with India's pandemic response.
"Only by joining together as part of a unified effort can we make a difference in this global health crisis," they wrote, noting Jhpiego's commitment to enhancing health worker preparedness; building workforce resilience and wellness; deploying effective and efficient systems management; emphasizing the right levels of resources and care; and leveraging telemedicine to activate and expand intensive care units.
"As immigrants, we live with our hearts and minds in two different places," Siddhartha says. "Being able to do something that is a meaningful action, and Jhpiego providing us with that opportunity, it is a real privilege for us."
As immigrants, we live with our hearts and minds in two different places. Being able to do something that is a meaningful action, and Jhpiego providing us with that opportunity, it is a real privilege for us."

Siddhartha Kadia
Drs. Uma and Lakshmanan Krishnamurti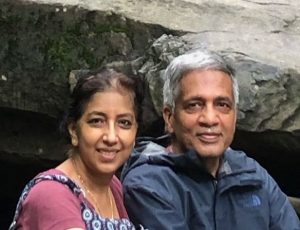 "It was just raw emotion at the horror that had broken through," Lakshmanan Krishnamurti says, explaining how desperate he felt to help those living in the country where he was born and educated, and where many of his family, friends and colleagues still live.
Lakshmanan, a pediatric hematologist/oncologist and professor at Emory University, and his wife, Uma, a pathologist at Emory, visited India earlier this year and witnessed firsthand "the whole social fabric being rent" by the latest wave of the pandemic. All signs were pointing to the situation getting dramatically worse, he says.
"For so many people, no modern medicine was available," he says. "People don't expect to die outside of the hospital in a modern country with a very highly trained medical workforce.
To not have a low-cost, low-technology product like oxygen—you just take it out of the air and put it in a cylinder—is an unthinkable breakdown in civilization as we know it."

Lakshmanan Krishnamurti
As a graduate of one of India's premier medical colleges—the Armed Forces Medical College (AFMC) in Pune—Lakshmanan felt compelled to garner collective support from fellow alumni around the world. He convened a call to discuss the situation on the ground as well as to commiserate.
"Each of our lives have been touched by this," he says. "We're losing alumni [to COVID-19] at a rate of one a day."
Everybody knew the situation was bad and getting worse. The million-dollar question was, how to help make it better?
During the call, US-based alum Dr. Aditya Kasarabada said that his wife, Dr. Bhakti Hansoti, had been working for a year on the pandemic response at a global level, and had data that might help inform the group's decision about how best to use its collective muscle.
"Bhakti [joined the conversation and] told us about what Jhpiego does … she talked about implementation science and capacity-building and knowledge exchange and resilience training, and, honestly, from that moment on, I didn't want to do anything differently than work with Jhpiego," Lakshmanan says. "I saw that sending equipment, which may or may not fit literally and figuratively in an environment … where approvals might keep equipment held up until after the crisis had passed, and where there may not be any way of keeping it useful … was not the way to go."
Bhakti's message resonated with the AFMC alums and they agreed to lend Jhpiego their support. In addition to financial donations, AFMC alums also are giving time and sharing insights during weekly telementoring sessions with colleagues in India.
"Jhpiego connected us with a collaborator in one of the medical schools in Pune, where we all went to school," Lakshmanan says. "It has a large network of primary care doctors, so we're able to reach the people who are in private clinics and small hospitals, which is where most of the [COVID-19] patients are going first."
During the calls, the clinicians discuss cases and best practices. All learn and all teach, Lakshmanan says: "It's really quite gratifying that through this collaboration we're able to have real dialogue that affects real people."
Drs. Bhakti Hansoti and Aditya Kasarabada
For better and for worse, Bhakti Hansoti and Aditya Kasarabada have vast professional pandemic experience and a deep personal understanding of COVID-19.
Back in March, when Bhakti was pregnant with the couple's second child, she became sick with the disease. Soon after, Aditya also became critically ill and needed hospitalization.
Both recovered and returned to work: she as a Johns Hopkins emergency medicine physician working with Jhpiego to assess and ensure that health facilities across India and elsewhere are equipped and ready to manage severely ill COVID-19 patients; and he as medical director of the medical/surgical intensive care unit at Inova Fairfax Hospital in Virginia.
These days, however, the disease is leaving them breathless all over again, and causing a brand-new searing pain as it decimates their homeland, daily claiming the lives of their friends, colleagues and family members living in India where a second wave of the pandemic has crested.
"We're sort of lucky—or unlucky—to have seen it in every possible way," Aditya says, referring to COVID-19. "I've had friends and family die in the second wave so I can't sit here … we can't just sit here and do nothing about it."
Recently, he was on a group call with alumni from his alma mater, the Armed Forces Medical College, discussing ideas about how to help. With everyone spread across India and around the globe, they agreed they'd have a more meaningful impact acting collectively rather than individually.
"We all banded around helping Pune, the city where we all got our training," Aditya says. "We have a special affinity to our college because it is what shaped us to be the kind of physicians we are."
Some wanted to send oxygen concentrators; others floated alternative ideas. Aditya suggested they might want to hear from his wife, Bhakti, who, at that moment, was on her computer in the same room: "She has been working in this space, so why don't we find out what they actually need and how to do this right."
Based on her experiences at Jhpiego and JHU where she organized the Center for Global Health COVID-19 Seminar series, Bhakti related the many pitfalls of sending equipment abroad; told about how coordination and clinical case management training were lacking.
"The challenge is that everybody wants to do something right now, wants to scatter a little bit of something everywhere," she said, cautioning against a knee-jerk reaction. "Everyone thinks it has to get fixed right away. But we need to focus on building a health system that's resilient.
Why be myopic by attempting to send oxygen when really we should be trying to avoid the next pandemic?"
The alums appreciated learning from her that Jhpiego has boots on the ground in India and is fully established within the health facilities.
They agreed that their private fundraising project, called Breathe, would support Jhpiego, and that its initial focus would be in Pune. Their aim is to stand with one health district and show coordination among donors, the private sector, health facilities, government and hospitals, ultimately strengthening the health system.
"Hopefully we can demonstrate a model that will be replicated elsewhere," the couple says. "That's why both of us started advocating [as] opposed to just donating. It's not just about money, it's innovation and thinking through ideas, and informing our approach on other possible projects."
Maryalice Yakutchik is the global communication manager for Jhpiego.
Jhpiego believes that when women are healthy, families and communities are strong. We won't rest until all women and their families—no matter where they live—can access the health care they need to pursue happy and productive lives.
Donate now!