A mere few months ago, 25-year-old nurse Chetna Sharma was dispatched to her first-ever posting as a community health officer at the Ayushman Bharat Health and Wellness Center (HWC) in rural Madhya Pradesh, India.
As if figuring out how to serve 7,000-plus people living across six villages in central India wasn't daunting enough, she also was learning about a new virus spreading across the world, and began preparing to protect her community from COVID-19, the disease caused by this novel coronavirus.
"Even now, I do feel a bit scared with the way the numbers [of cases] are increasing," she admits. "But, I don't let the fear overpower me."
COVID-19 has not caused this new nurse to cower for so much as a moment. She's too busy being bold, brave, and innovative. Her days—and nights—are full of seeing patients, sharing information about COVID-19, enlisting the help of community leaders and police to get the message out to the villagers.
In fact, Sharma's commitment to keeping her community safe from COVID-19 compelled her to move into the HWC where she is based for work.
"I realized I need to give more time to the people, as I was very new to my job and people did not really know me. So I felt, this would be the best way … to establish a trusting relationship with the community," she says. "I am living alone in this village HWC for emergency duty, but people are taking good care of me."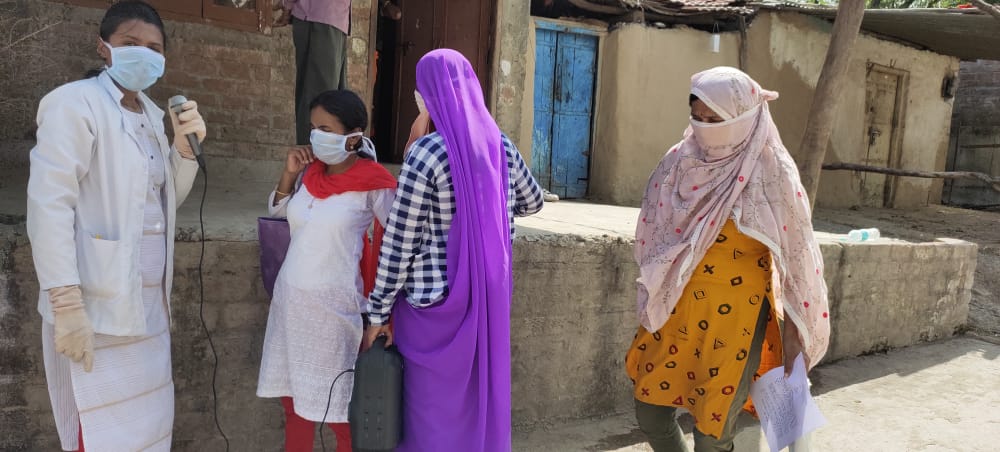 She, in turn, is taking great care of the farming families and migrant laborers who live and work here as well as in the neighboring city of Indore, a COVID-19 hotspot with many confirmed cases.
"I demonstrate to the villagers how to wash hands properly, how to maintain hygiene during coughing or sneezing, how to isolate yourself at home in case a person is sick, and also what is coronavirus and how it spreads," she says.
Sharma credits a March 24 virtual COVID-19 response training session by Jhpiego and the NISHTHA: Transforming Comprehensive Healthcare in India for new knowledge and skills to competently provide health care during the pandemic. She is one of 1,580 community health officers across Madhya Pradesh who benefited from NISHTHA's assistance to local state governments.
Funded by the US Agency for International Development, NISHTHA provides technical assistance to the national government and 12 state governments in implementing the country's health and wellness centers under the world's largest comprehensive primary health care program, Ayushman Bharat.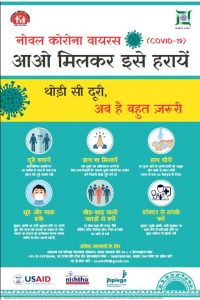 Recognizing the imperative for social distancing, the Jhpiego-led NISHTHA project leveraged the power of digital technology to help state leaders prepare local COVID-19 response plans and train front line health workers in strategic messaging, screening activities, counseling of patients and basic clinical management and referrals.
"The main thing I learned was how to spread awareness in the community," she says. "When we visit [the communities], we find there are many misconceptions in their minds, even today. Many feel they are safe and that the virus cannot reach their village."
To convince people that COVID-19 is a real and present danger, she has assembled a traveling team of community health workers, known as ASHAs, and auxiliary nurse midwives who, despite the hot sun, wear protective gloves and handmade cloth masks as they make rounds of the villages, on foot. They use a microphone to broadcast health announcements and safety instructions, advising that everyone listen from a distance, and not gather close together.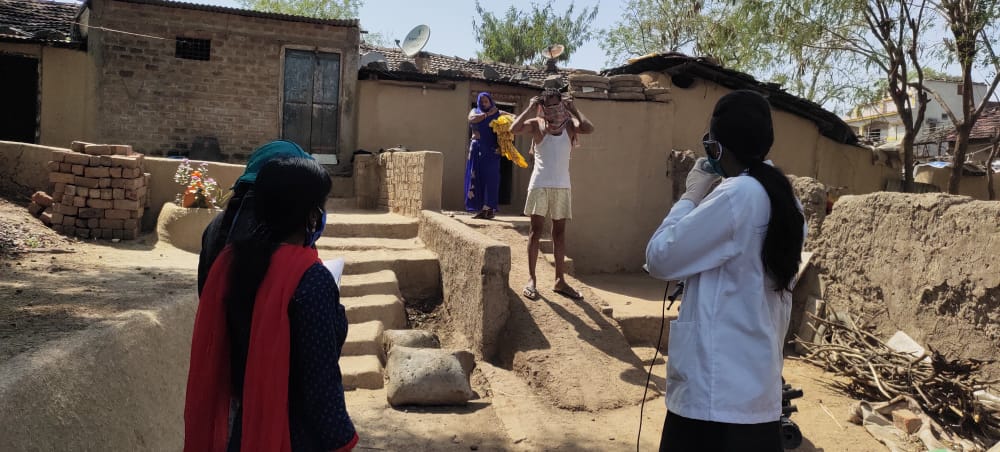 "The first thing we tell them is not to come out of their homes," Sharma says, following government protocols. "Then we find out how the people are feeling and inquire about any travel history. We get to know if someone has a cough or cold, or is down with a fever. We provide medication [to reduce fever] for three days and keep following up [to check on the symptoms]. If the person's condition does not improve, we call on the state COVID-19 response center and ask for the person to be taken to the community health center for testing.
"For example, there is a family with a 15-year-old boy that had visitors from Indore [the largest city in the state of Madhya Pradesh, which has many confirmed cases of COVID-19]. That boy has had fever for the last four days with throat irritation. I asked the family to keep him in a separate room. The boy's fever hasn't come down with medication. So [according to government protocol], I am going to refer him to the community health center [11 kilometers away]."
In addition to counting on the help of local ASHAs, Sharma also has convinced local police to regularly patrol the villages in their vans from which they broadcast pre-recorded messages about the new coronavirus disease from district authorities.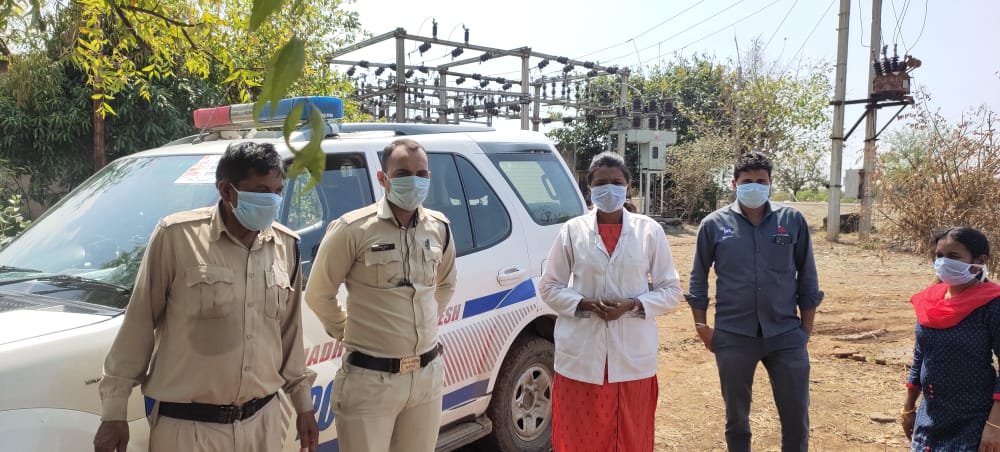 "Many who think that nothing can happen in their village become a bit extra alert when they see that the police are also giving the same message as we health workers, and that the authorities are serious about asking people not to come out of their homes," she says.
Every morning, before the community outreach commences, Sharma sees patients at the HWC.
"We have made markings for people to stand at least one meter apart [while waiting to come in]," she says, adding that entry is restricted to two people at a time.
"Some tell us to our faces that they will not pay heed and sit in groups," she says. "But we keep at it. We feel if we repeat ourselves a hundred times, at least one of the times, they will agree to follow us."
With steady leadership, calm authority, and boundless energy, Sharma persists, "This is a tough job, but I've got an opportunity to be of service, so I will work to fight this pandemic. I couldn't have asked for a more intense experience at the start of my career."
Indrani Kashyap is the Asia Region Communications Specialist and Krithika Murali is the Documentation Officer, Jhpiego India. Maryalice Yakutchik is Jhpiego's Communications Manager. Dr. Jyoti Benawri, Madyha Pradesh State Team Lead, and Shirish Tiwari, Program Officer, also contributed to this story.
Jhpiego believes that when women are healthy, families and communities are strong. We won't rest until all women and their families—no matter where they live—can access the health care they need to pursue happy and productive lives.
Donate now!