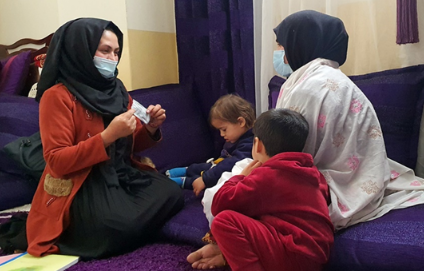 Malali is 35 and has been married for five years. In that time, she has given birth to five children. Three of her pregnancies occurred one after another and she lost two of the babies, born in poor health, before their first birthdays. Malali started taking oral contraceptive pills, but because she was swamped by house chores and caring for her children, she did not take her pills regularly. When she became pregnant again, Malali and her husband agreed this child would be their last.
Not only are newborns at risk, with 46 deaths per 1,000 live births, but thousands of Afghan women also die each year from pregnancy-related causes. Afghanistan has one of the highest maternal mortality rates in the world, with 620 fatalities per 100,000 live births. Most of these deaths could be prevented through access to education, counseling and health care services.
The U.S. Agency for International Development-funded Urban Health Initiative (UHI) has been providing some relief and hope for women since 2020 by strengthening health services in five urban areas in Afghanistan. The five-year project is implemented by a consortium led by Jhpiego, in partnership with Management Sciences for Health, CARE, the Agency for Assistance and Development of Afghanistan, Afghan Midwives Association, BAO Systems, Project ECHO, Terre des Hommes and Viamo. It works in Kabul, Herat, Kandahar, Jalalabad and Nangarhar to provide maternal and newborn health, family planning, child and adolescent health, nutrition, immunization, tuberculosis and COVID-19 services.
The project's family planning component aims to strengthen services through health facilities, community midwifery programs and community volunteers in urban settings, all of which can play a crucial role in preventing unnecessary maternal deaths. This includes helping Afghan women access family planning services by conducting competency-based education programs for health workers on family planning methods, counseling and administration, and distributing short-term methods such as injections, oral contraceptives and condoms.
Since June 2021, 508,164 people have accessed a family planning method through the UHI project.
"The UHI project is bringing family planning services closer to the women living in communities with limited access to services," says Dr. Pir Mohammad Paya, Deputy Country Director of Jhpiego Afghanistan. "We are working to strengthen and increase service delivery points for family planning to improve access to quality services and reach the unreached."
Shakila is an urban community health worker who participated in a UHI training on family planning methods in November 2022. When she visited Malali at her home, Malali shared that she did not want to get pregnant again soon and was looking for a suitable family planning method. Shakila felt equipped with the knowledge and skills to confidently provide family planning services and counseled Malali on the long-term family planning methods available.
Malali chose the Sayana Press, an injectable contraceptive, and Shakila not only administered the injection but also demonstrated to Malali how to inject herself. Now, Malali visits the health facility every three months to pick up her method.
This family planning method is uncomplicated and can be used by women themselves every three months. It is the best option for women who desire birth spacing and a healthy family."

Shakila
Aziza, another urban community health worker who participated in the UHI training on long-acting contraception, educates and counsels women on healthy birth spacing and shares the various family planning methods available to couples. "I am thankful for the training and learning sessions provided by the UHI project," she says. "Now I have the necessary skills to insert the postpartum intrauterine contraceptive device for women who choose this family planning method."
Thanks to the hard work of urban community health workers such as Shakila and Aziza, Afghan women have access to quality family planning services—and the tools to make voluntary and informed decisions about their reproductive health and well-being.
Dr. Gathari Ndiranguy Gichuhi, MD (ob/gyn), Global Family Planning and Reproductive Health Director, Jhpiego, reviewed this story.
Rahmat Nabi is the communications manager in Jhpiego's Afghanistan office. Dr. Ghutai Sadeq Yaqubi is the deputy technical director for the UHI project in Jhpiego's Afghanistan office. 
Jhpiego believes that when women are healthy, families and communities are strong. We won't rest until all women and their families—no matter where they live—can access the health care they need to pursue happy and productive lives.
Donate now!