Madhya Pradesh, India—It was early April, and Nishad Bano's due date was fast approaching. Soon, her baby would be born during a nationwide lockdown of India's 1.3 billion people—a frightening though preventive measure against the pandemic.
She and her husband, Shahrukh Khan, had big worries and lots of questions. How could they stay healthy? Where would it be safe to deliver their baby?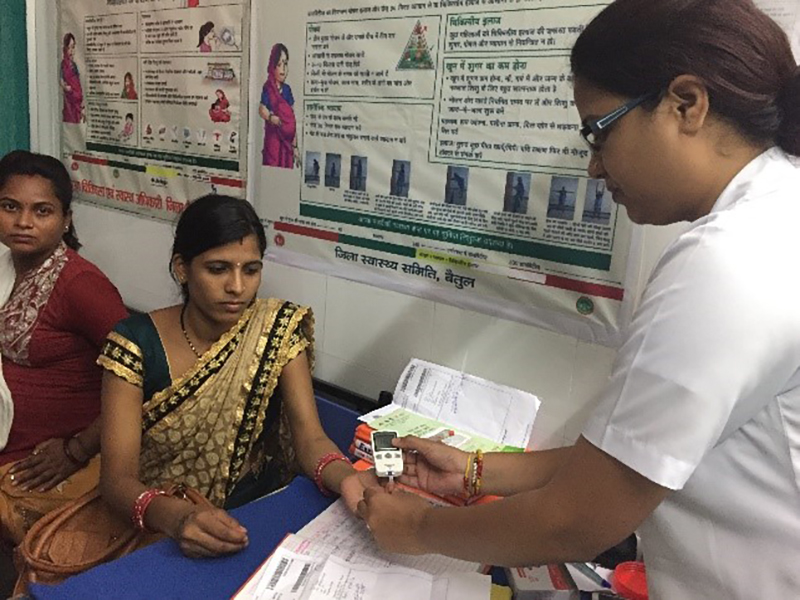 In response, nurse Madhuri Pawar provided calm, evidence-based answers. Having learned about COVID-19 through online training organized by Jhpiego, Pawar competently counseled the couple about hand hygiene, social distancing and mask use.
"They themselves were wearing a mask whenever they visited our home," says Khan, referring to Pawar and local health providers.
During one such visit, Pawar had advised that the couple should travel from their home in Saikheda village to the district hospital in Betul when it was time for delivery. When they agreed, the nurse arranged for ambulance transport through the state health helpline.
The mother-to-be had no qualms about trusting Pawar, having met the nurse seven months ago during her first antenatal checkup.
At that time, Bano had been stunned to learn that she tested positive for gestational diabetes mellitus (GDM).
"I am so young," the 25-year-old had protested. "How can I get diabetes?"
Then a staff nurse at Betul District Hospital, Pawar empathized with the mother-to-be. In this area of India, it's not uncommon for women to marry soon after turning 18 and get pregnant within a year or so, and she's seen many clients in their early 20s express shock at testing positive for GDM. In fact, prior to learning about the condition from Jhpiego, she herself had assumed that diabetes was a concern only for those who were much older.
Jhpiego has helped frontline health workers like Pawar gain a greater understanding of GDM and its treatment with support initially from Novo Nordisk and currently from the World Diabetes Foundation.
Diabetes was having a big impact on not only the young mothers she was caring for but also their babies, Pawar learned. "I was quite surprised by this too," says Pawar, who has since gone on to become a community health officer at Ayushman Bharat Health and Wellness Center Saikheda.
Mothers with GDM are at risk of developing life-threatening complications, including high blood pressure and pre-eclampsia, as well as needing a cesarean section. Babies born of women with GDM are at risk of being larger than average and suffering more congenital abnormalities. The high prevalence of GDM in India, where the condition complicates an estimated 8.8% of pregnancies annually—an estimated 2.5 million women—is expected to increase, research shows. Its negative effects on the health of mothers and newborns prompted Jhpiego in 2016 to begin providing technical assistance to the Government of Madhya Pradesh to implement GDM national guidelines in the state.
Realizing the urgency to test every pregnant woman for GDM, Pawar and other newly trained providers readied their facilities to initiate testing to ensure that all women and their babies receive proper care before, during and after delivery.
Pawar helped to establish a GDM clinic at Betul District Hospital in October 2018, where she met Bano. She explained to the young woman that hormonal changes during pregnancy sometimes lead to GDM. Most times, Pawar assured, the condition resolves on its own a month or so after delivery. Further testing at that point would indicate if Bano still had the disease.
With the nurse's support, Bano managed her condition with medical nutrition therapy and a few simple physical exercises. She followed all of Pawar's advice. Throughout the pregnancy, she regularly visited the village health and wellness center to monitor her blood sugar levels, and when she went into labor, she and her husband traveled to Betul District Hospital for delivery.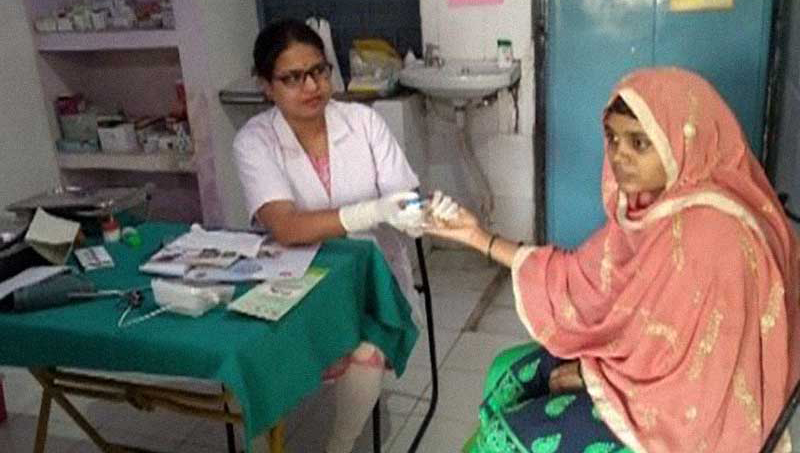 On April 13,2020, Bano gave birth to a healthy boy. Mother and father are thankful they had access to frontline health workers like Pawar, who provided high-quality antenatal, intranatal and postnatal services, including effective GDM management—even during a pandemic.
Along with providing the right health care services, giving correct information is also important," Pawar says. "[Because of the COVID-19 fear,] most of the clients are scared of coming to health care facilities. So, I try to do telephone follow-ups with the clients and patients in my area to ensure that they … do not hesitate to come to the facility in time of a genuine need.

Nishad was also scared, but she and her family members agreed to go to the district hospital because they got correct and timely information. And they trusted me."
Dr. Pooja Sharma, a senior program officer, and Manish Singh, a program coordinator, work on noncommunicable diseases in Jhpiego's India office. Harleen Kaur Sidhu is a communications officer in Jhpiego's India office. Communications manager Maryalice Yakutchik also contributed to this story
Jhpiego believes that when women are healthy, families and communities are strong. We won't rest until all women and their families—no matter where they live—can access the health care they need to pursue happy and productive lives.
Donate now!