Jharkhand, India — Sameena Khatoon wakes up at dawn every day with the conviction of transforming lives in and around her community. While she makes breakfast and gets her two sons ready for school, she mentally prepares to help more than 5,000 "neighbors" to maintain and improve their health.
Like thousands of other auxiliary nurse midwives (ANMs) working across India, Khatoon covers vast and often rough terrain to take a comprehensive package of health services right to the doorsteps of those living in far-flung villages.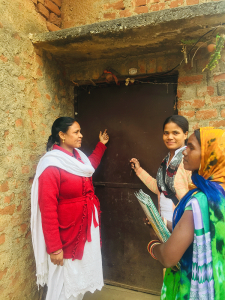 For the past decade, 40-year-old Khatoon has worked as an ANM at the health subcenter at Radhanagar in Bokaro district of Jharkhand, India. The job is challenging, but Khatoon and her team of community health workers are not easily deterred as they educate, screen and refer people for more advanced care.
The Government of India recently launched the Ayushman Bharat initiative, with the aim of bringing comprehensive primary health care closer to people's homes. Under this initiative, 150,000 health subcenters as well as existing rural and urban primary health centers are being transformed into health and wellness centers (HWCs).
They are providing integrated, comprehensive and continuous health care, beginning with health promotion and screenings to prevent illness through the diagnosis and treatment of common and serious disease. The goal is to deliver equitable care — regardless of age, gender, disability and economic status — that is client-driven, with citizens and communities playing a role and having a stake in the services they want and need.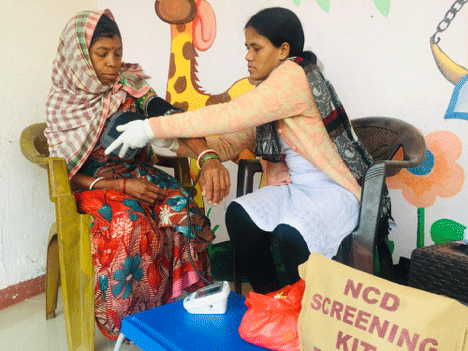 The US Agency for International Development's flagship Maternal and Child Survival Program, led by Jhpiego, is providing technical assistance for strengthening comprehensive primary health care in five high-focus states (Assam, Chhattisgarh, Jharkhand, Madhya Pradesh and Odisha) and seven northeastern states (Arunachal Pradesh, Manipur, Meghalaya, Mizoram, Nagaland, Sikkim and Tripura).
Khatoon likes that her scope of work expanded after her health facility was transformed into an HWC that provides services related to noncommunicable diseases (NCDs); eye, ear, nose, throat and oral health; and palliative and geriatric care. In fact, after being trained to screen patients for NCDs and manage their treatment, she and her team at HWC Radhanagar took advantage of existing village health and nutrition days to perform their new duties.
"Apart from immunizing infants, taking care of malnourished children and providing pregnant women with a protein-rich diet, we decided to use the same platform to screen people for NCDs," Khatoon says. "We thought this is an opportunity we shouldn't miss."
This outreach serves as an entry point for thousands—not only those living at a distance from HWC Radhanagar but also those reluctant to visit a facility despite symptoms of ill health.
Capitalizing on that success, the Maternal and Child Survival Program team, along with district-level officials, introduced fixed-day NCD screening at the HWCs, coupled with outreach sessions to make the interventions routinely accessible to many. Within 3 months, 407 people in HWC Radhanagar's catchment area had been screened for NCDs.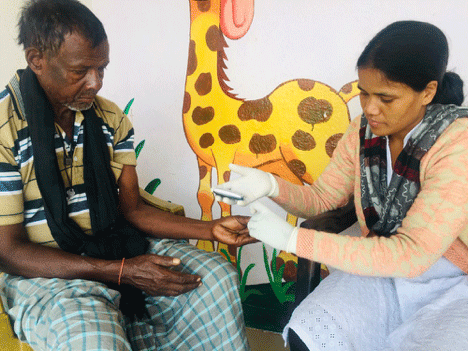 During community visits, Khatoon uses a glucometer to test for diabetes and a blood pressure device to screen for hypertension. She completes medical forms and maintains digital records in a tablet provided by the state government. And she refers anyone she thinks might have an NCD to the primary health center in the town of Char, where a doctor can confirm the diagnosis and prescribe drugs.

"People in the villages don't consider health a priority," she says. "So when we meet even five people a day, and educate, counsel and screen them, we are in turn reaching out to a large population and helping prevent or diagnose a disease. It makes me feel good that I am a part of this huge effort."
Jhpiego believes that when women are healthy, families and communities are strong. We won't rest until all women and their families—no matter where they live—can access the health care they need to pursue happy and productive lives.
Donate now!