Village Budhpura, Block Talera, District Bundi, Rajasthan
For the last ten years, Sarita Pankaj, an auxiliary nurse midwife (ANM), has dedicated her service to the residents of the small village of Budhpura in Bundi district of Rajathan. Situated close to a mining area and populated mostly by migrant workers and their families, Sarita's sub-center facility caters to this village's vulnerable population that is limited by resources and literacy. The nearest referral facility – primary health centre Lambakhoh – is located nearly 18 kilometers away.
As COVID-19 arrived on Indian shores and the government announced a nationwide lockdown, Sarita understood that this elusive virus could wreak havoc in her village, not only because of the risk of a rapidly spreading infection, but also due to complete disruption of essential health care service delivery, like maternal and newborn health care, which is so critical for her community. Sarita knew something needed to be done! While asking the villagers to stay indoors and practice all safety measures to prevent getting the infection, Sarita started going door-to-door, taking the essential health services to their homes.
Many ANMs in the district of Bundi, including Sarita, were previously trained by Jhpiego in quality antenatal care (ANC) services under the Born Healthy program. Supported by the Children's Investment Fund Foundation, this program has been implemented in Rajasthan since August 2017 in partnership with the state government with an aim to transform ANC in the state. But, in light of the rapidly evolving COVID-19 situation, Jhpiego acted fast to provide focused e-training to health workers across Born Healthy intervention facilities in the state, including Sarita, to ensure that they had access to and understood the latest guidelines around COVID-19. Apart from being able to separate COVID-19 facts from myths, the training also helped Sarita and others get a good grip on the collaborative role that ANMs and accredited social health activists (ASHAs) could play on the frontlines, helping protect pregnant and lactating women. They also learned about the precautions to be taken for themselves during field visits and the actions that should be taken if a community member presents with coronavirus disease symptoms.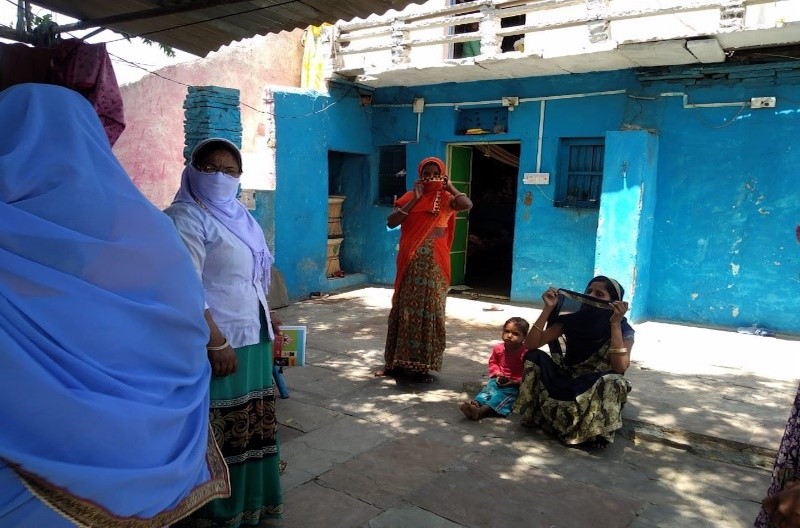 Sarita remembers those early days when the pandemic caused health services to stop at the community Anganwadi center (courtyard shelters in villages that act as child care centers and are also used for community health care services like immunization), as well as difficulty in providing services at the sub-center. "There is not enough space at the sub-center and so it becomes quite difficult to maintain social distancing. I was also afraid that I might put community members at risk, since I am the one visiting all the houses in the village, and getting in touch with those who have been quarantined," says the ANM.
Sarita finally found a solution after attending Jhpiego's e-training, where all her concerns and doubts were answered by the Jhpiego team, along with providing her a good understanding of COVID-19 prevention do's and don'ts. This helped her and other ANMs take necessary precautions while visiting the villagers and facilitating counseling sessions with the help of IEC material shared with her during the training. Now, during the doorstep ANC visits, Sarita reminds the pregnant women to continue taking iron and calcium tablets and food in a timely manner, asking the husbands to support their pregnant wives in taking care of their health, and stay home for safety during these difficult times. She ensures that pregnant women continue to safely make the essential visit to the higher facility (which continues to function through the pandemic) for necessary injections and investigations, as and when required. She counsels and helps those in their final trimester to plan for institutional deliveries, identifying the higher facilities where delivery services are being conducted even during the lockdown and to keep the ambulance numbers handy for transfer to the facility when labor pains begin. "Jhpiego training on COVID-19 has assisted me in gathering the information on the disease, specifically maternal health and the safety measures that need to be taken by pregnant women in the context of COVID-19. And, I am now able to provide counseling on preventive measures confidently to pregnant women in a simple manner that they can easily understand," says Sarita.
Appreciating the good work by Jhpiego, in beginning of April 2020, the Government of Rajasthan invited Jhpiego to provide technical support to Bundi district administration and to the district field team in strategic planning and handling COVID-19 response activities. Since then, the program team has been working alongside the district administration, providing assistance in multiple ways to help break the chain of this pandemic.
Jhpiego believes that when women are healthy, families and communities are strong. We won't rest until all women and their families—no matter where they live—can access the health care they need to pursue happy and productive lives.
Donate now!