Nahar Magra, Block Mavli, District Udaipur
Auxiliary Nurse Midwife (ANM) Pushpa Chanwal remembers those early days when COVID-19 was spreading across the globe and had just reached India. Part of a small team providing health care to 5,100 community members at sub-center Nahar Magra in Udaipur district, she worried that the vulnerable residents of this sparsely populated, drought-prone area, would suffer. Along with the danger of the virus spreading, she feared a breakdown in access to essential health care services like those related to maternal and newborn health, as the health machinery's energy diverted to deal with the pandemic.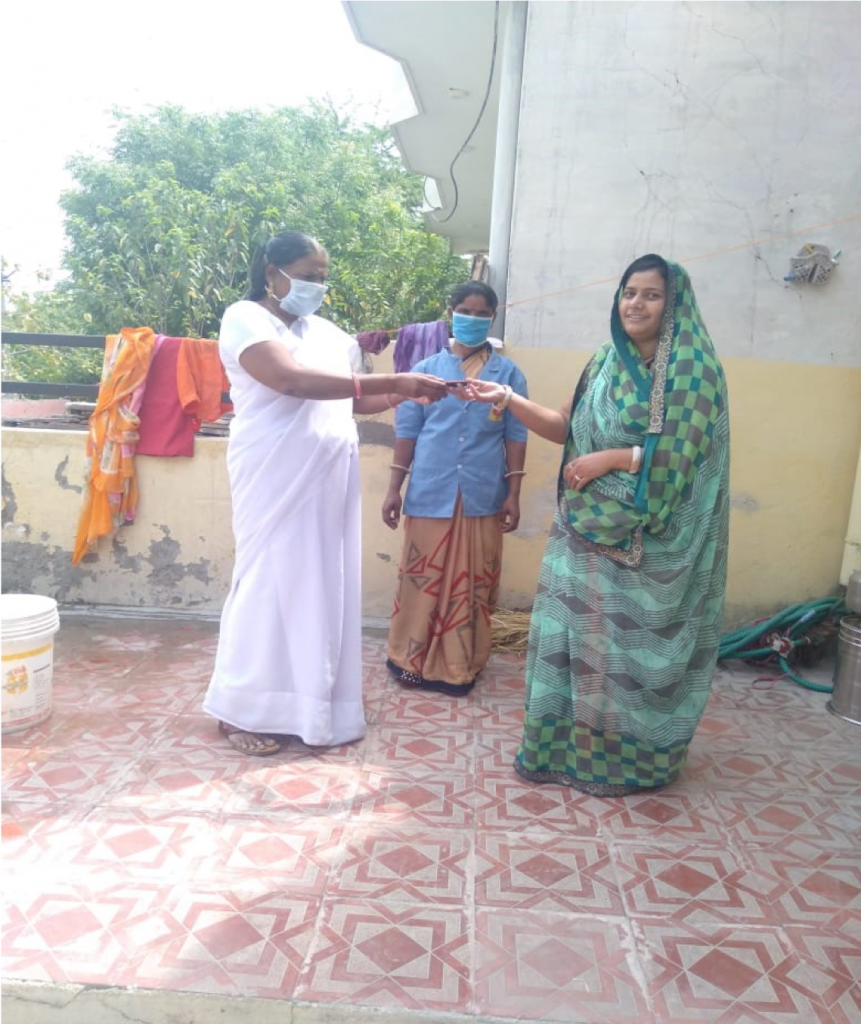 Soon, her fears started coming true. A nationwide lockdown was announced on March 25 2020, the largest in the world! Many services started getting disrupted, like 'maternal, child health and nutrition' days at the village anganwadis (village courtyard shelters) and 'pradhan mantri surakshit matritva abhiyan' – a government initiative to provide free comprehensive and quality antenatal care to all pregnant women on the 9th of every month. This left the mothers-to-be and health workers like Pushpa and team, Accredited Social Health Activist (ASHA) Manju Gameti, and the Anganwadi Worker (AWW) Soman Khati, concerned. It was becoming increasingly difficult to continue routine antenatal care (ANC) services at the sub-center, pushing back hard-earned progress towards safer pregnancies and childbirths in the community.
Acknowledging the challenges at hand, but determined not succumb to the challenge the pandemic posed, the ANM, ASHA and the AWW decided to work together as a strong team to ensure continuity of essential maternal, child health and nutrition services in the village, and reduce fear and anxiety among the pregnant women and their families.
Pushpa had already received training from Jhpiego in quality ANC under the Born Healthy program, implemented in Rajasthan since August 2017, in partnership with the state government and with support of the Children's Investment Fund Foundation (CIFF). But the pandemic raised many questions about important precautionary and preventive measures that could be taken, especially for pregnant women and their families. Recognizing this, Jhpiego, a global health leader and Johns Hopkins affiliate, moved swiftly to provide training to Pushpa and others like her across Born Healthy intervention facilities in the state to ensure that they had access to latest information on the coronavirus disease, enabling them to protect their communities. 
Pushpa feels that the training has provided the much-needed clarity on protective measures for pregnant and lactating women, and on the precautions to be taken by health workers like herself during field visits. She has also learned about the actions to be taken if one came across a community member with coronavirus disease symptoms. Feeling empowered to counsel pregnant women and lactating mothers on how to protect themselves and their children from COVID-19, the ANM says – "Prior to the training, I was not aware of what to do for ANC for mothers-to-be, especially if suspected of COVID-19. After the orientation, I am now aware and feel confident about identifying COVID-19 symptoms, and provide counseling on prevention strategies to pregnant women."
Pushpa also made sure that she shared the information gained during the COVID-19 capacity building session with the ASHA and the AWW. "I have also shared all information that I got from the training with Manju (ASHA) and Soman (AWW), so they are now able to help me in providing necessary ANC services at homes such as distribution of medicines, delivering ration at the homes of the community members, and counseling on COVID-19 preventive and precautionary measure, and nutrition, hygiene related messages for pregnant women," says Pushpa. Now, both the ASHA and the AWW are working hand in hand with the ANM in ensuring essential health care services for the pregnant women at their doorsteps, including ensuring sufficient supply of medicines like folic acid, iron and calcium, and encouraging the pregnant women to take the supplements regularly.
ANM Pushpa has come far from the initial days of being worried about the unknown to now feeling empowered to do her bit in collaboration with her team, the ASHA and the AWW, in protecting pregnant and lactating mothers in the community they serve, despite the pandemic.
Jhpiego believes that when women are healthy, families and communities are strong. We won't rest until all women and their families—no matter where they live—can access the health care they need to pursue happy and productive lives.
Donate now!