Hoshangabad District, Madhya Pradesh
If there is one thing that the current COVID-19 pandemic has taught us, it is that millions of everyday heroes walk among us. Some wear scrubs or lab coats, but many do not, and yet when they see an opportunity to be a soldier in the war against COVID-19, they choose to be extraordinary. Devnarayan Khapre, a husband and a father to two children and a consultant with Jhpiego, is one such everyday hero.
If these were normal times, Devnarayan, as part of Jhpiego's program team that has been providing technical assistance to the Government of Madhya Pradesh for the World Diabetes Foundation supported program, would have been spending his days in the field, working to expand and integrate the screening, diagnosis and management of diabetes in pregnancy into routine antenatal care. But the rapid spread of COVID-19 led to a nationwide lockdown starting March 25, 2020, bringing all field activities to a screeching halt.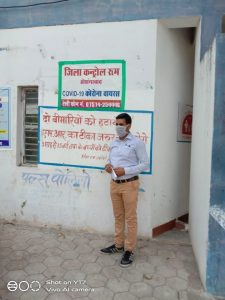 A few days prior to the lockdown, Jhpiego's work-from-home policy for all employees had already kicked in and Devnarayan too had this option. But he chose, instead, to volunteer for the Hoshangabad district's 'COVID-19 control and telemedicine room'. He had been monitoring the developments relating to this pandemic in the country, and wanted to do his bit to help break the chain of transmission. Even if it meant staying away from his wife and children, who had to temporarily move to his parents' house so that he could give his full attention to the work at the district COVID-19 control room. "When the COVID-19 crisis unfolded, I opted to support the district team to combat the disease. But, before rendering my services at the district COVID-19 control center, I wanted to be equipped with the latest information (on the coronavirus disease). I made sure that I attended training on COVID-19 (organized by Jhpiego), and interacted with the epidemiologist (at the district Integrated Disease Surveillance Program) in order to find out about the ways I could support the team," says the COVID-19 warrior.
As a global health leader, Jhpiego acted fast to provide all possible support to health workers across intervention states, as well as its own team members like Devnarayan, to ensure that they had access to the latest information on COVID-19, equipping them to deal with the pandemic and protect their communities. So far, with generous support from its donors and in partnership with the national and state governments, Jhpiego has used virtual platforms to train close to 45,000 health workers, in understanding the infectious coronavirus disease and the preventive measures that could be taken to stop the infection from spreading, preparing health care facilities with triaging and isolation protocols, and guiding health workers with measures to ensure continuation of maternal and newborn health and other essential services.
Devnarayan's days at the control center include attending to phone calls related to COVID-19 and other medical issues from the entire district and connecting the calls with a doctor for resolving any health related concerns, and following up with those who had called the helpline the previous day to make sure that their problems got resolved. He also makes calls to those who have been home quarantined either due to a recent travel history or have been in close touch with a COVID-19 positive person and connects them with a doctor in case any disease symptoms develop. For cases where a doctor has prescribed medicines, Devnarayan informs the Block Medical Officer, as well as the district mobile medical teams to ensure home delivery of those medicines. Thankful for an opportunity to do his bit in the fight against this elusive enemy, Devnarayan is also pleased that in some ways, he can keep the gestational diabetes mellitus (GDM) work alive. As part of his daily routine at the control center, he continues to provide telephonic counseling to women with GDM, and enables availability of medicines to pregnant women and those with chronic diseases through constant communication with the community-level health workers, the Accredited Social Health Activists.
While coronavirus is keeping most of us cooped up indoors, the frontline workers, and those like Devnarayan who have volunteered, are braving the outdoors and overcoming the fear of being infected themselves every day to win a war we cannot afford to lose. Devnarayan sums it up, "Sometimes, I feel apprehensive that I'll get infected, but I observe due precautions, which I am sure will protect me. And, I feel good that I am doing what I can, playing a small part in this enormous war against COVID-19."
Jhpiego believes that when women are healthy, families and communities are strong. We won't rest until all women and their families—no matter where they live—can access the health care they need to pursue happy and productive lives.
Donate now!