Village Dharampur, Arunachal Pradesh | April 2020 — As the world is grappling with the growing pandemic, this is even more of a challenge for remote areas that get completely cut off during the nationwide lockdown due to severe curbs on transportation. In one such village, Dharampur, in Namsai district of the far northeastern state of Arunachal Pradesh, a nurse and Community Health Officer (CHO) – Lila Tamang is leading the way in combatting COVID-19 by adopting a 360-degree communication approach using simple technology, such as WhatsApp groups, and enlisting the combined effort of different stakeholders in her community.
"I have always wanted to serve people, and that is why I chose to become a Community Health Officer, so that I could help people within their communities, bringing care closer to them. In such times, my role, I feel, is even more important. People are unable to come to the health facility, so I take the health care to them as much as possible," says Lila passionately.
When 13 people in her area had come from other COVID-19 infected states, she took all measures to ensure that they were home quarantined. At the same time, she also saw to it that all their basic needs, including health care, were met. She created a WhatsApp group for these 13 families that acted not only as a support group to share their fears and anxieties, but also a platform for daily self-reporting. "I created the group for my people, because at such a time when there is a lot of panic, it is important to stay connected and to ensure that they get the correct messages. When we can use technology for trainings, then why not for connecting with the community!" says Lila.
Lila received training on the COVID-19 pandemic by Jhpiego led NISHTHA: Transforming Comprehensive Healthcare in India project. Funded by the U.S. Agency for International Development, NISHTHA provides technical assistance to the national government and 12 state governments in implementing the country's health and wellness centers under the world's largest comprehensive primary health care program, Ayushman Bharat. Several trainings were conducted to equip CHOs like Lila with the right knowledge and skills to respond to the pandemic. More than 20,000 health workers were already trained across intervention states of NISHTHA by end April, 2020.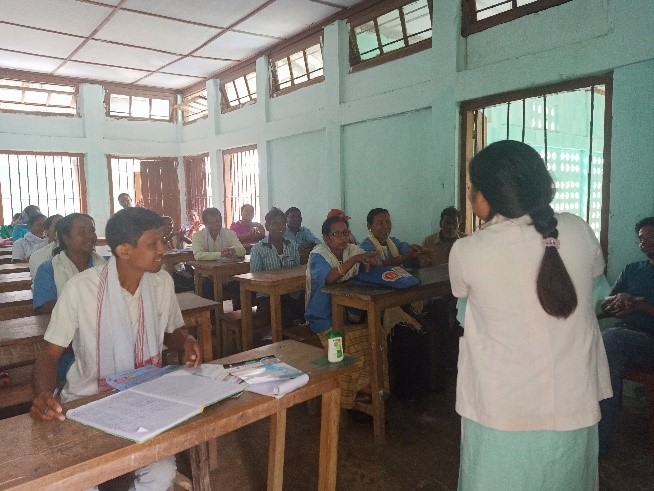 After the training, Lila held a meeting with her team, including community health workers like accredited social health activists (ASHAs), auxiliary nurse midwives (ANMs), cleaning staff and also included other stakeholders, such as the Panchayati Raj (local governance) members and school teachers. In the meeting, she passed on the knowledge that she acquired at the training to the group and quickly formulated a plan on how they would work together to defeat COVID-19.
Along with her team of health workers, she started going door-to-door to create awareness on hand washing, respiratory hygiene and other preventive measures. The Panchayati Raj members and school teachers were also involved in awareness generation along with delivering basic groceries to the people who were home quarantined so that there was no need for them to step out of their homes.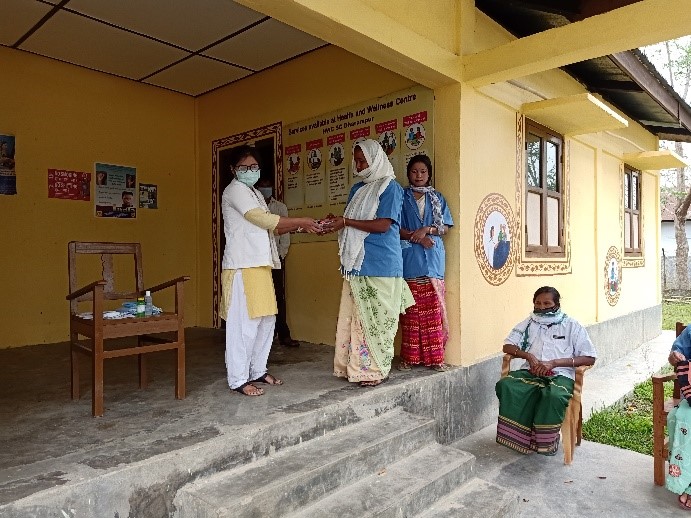 "I have a great team that works together with me. We all coordinate so well that it makes work very easy for me. After creating a lot of awareness in the community, I also have the community with me, though initially I did face some resistance," says Lila while recounting an instance where she had faced some difficulty. With fear and panic looming large during this pandemic, one of the families that were quarantined, faced stigma and discrimination from the villagers even after completing its quarantine period. The members from that family were not allowed to visit the local village shops or go about their regular work. Lila and her team of frontline workers went to the village and individually counseled the community members, making them understand that stigma would not stop coronavirus, but it could, in fact, deter families from reporting any symptoms. She also counseled the family facing the stigma to ensure their mental wellbeing.
Lila put the WhatsApp group to full use, not just to regularly be in touch with the 13 quarantined families and ensure that they receive the right information, but also to pass on risk communication messages to them. She also displayed IEC material related to COVID-19 at her health facility to disseminate accurate information about the pandemic to the community. Besides Lila's state of Arunachal Pradesh, NISHTHA is also supporting 11 other states in developing risk communication material on preventive measures, coping with stress, elderly care and on mitigating stigma and discrimination. Apart from developing print material, support was given for display of material through other means, such as community messaging scripts and ticker messages for the state government television channels.
Lila acknowledges that all the work that is being done to defeat COVID-19 would not be possible without the combined efforts of her team and the cooperation of the entire community. After all, as the famous saying of Hellen Keller goes, "Alone we can do so little, together so much." We can only defeat COVID-19 by working together!
Jhpiego believes that when women are healthy, families and communities are strong. We won't rest until all women and their families—no matter where they live—can access the health care they need to pursue happy and productive lives.
Donate now!