Inhale. Exhale. Inhale. Exhale.
Midwife Monali Thulu, 32, guides Sonali Bhoykar, a second-time mother, as she readies to give birth at the midwifery-led care unit (MLCU) of Mahatma Gandhi Institute of Medical Sciences Hospital in Maharashtra, India. Beside Sonali and her midwife, Sonali's husband, a supportive birth companion, holds his wife's hand and breathes with her. The trio, guided by the midwife, works as a cohesive team to make Sonali's birthing experience as positive and comfortable as possible.
This MLCU is part of a landmark Government of India initiative to ensure high-quality, dignified and respectful care for women and newborns. A professional cadre of midwives—nurse practitioner midwives (NPMs)—who are educated according to international standards, are the first point of contact at these units. In a country where around 25 million babies are born every year, establishing a cadre of professional midwives is the way to move beyond improving access to facility-based birth to ensuring that all women and their babies receive high-quality maternal and newborn care.
According to the 2014 Lancet Midwifery series, a complete package of high-quality midwifery services, including family planning, can avert 83 percent of all maternal deaths, stillbirths and newborn deaths. Further, evidence suggests that high-quality midwifery services result in reduced interventions during labor, decreased need for pain relief medication and improved psychosocial outcomes for women and newborns. Mindful of this evidence, and the fact that midwives can meet nearly 90 percent of the need for essential sexual, reproductive, maternal, newborn and adolescent health interventions, the Government of India prioritized investment in developing the NPM cadre through its landmark 2018 policy decision.
Jhpiego, a global health leader and Johns Hopkins University affiliate, is a key partner to the Indian government in this initiative. With support from the Bill & Melinda Gates Foundation, Jhpiego is assisting in the development of a comprehensive midwife education system, which includes establishing training institutes at the national and state levels and developing technical resources for rolling out the educational process. Three national midwifery training institutes (NMTIs) have been established in Maharashtra, Uttar Pradesh and Madhya Pradesh and one state midwifery training institute in Patna, Bihar. These training institutes are linked to MLCUs that function as clinical practice sites for the NPM learners and provide maternity care in communities. These MLCUs offer antenatal, labor, birth and postnatal care to healthy pregnant women and newborns.
As this is a first-of-its-kind effort in the country, nurse practitioner midwife educators (NPMEs) are also being prepared by handpicked faculty from India and from countries with well-established midwifery-led systems.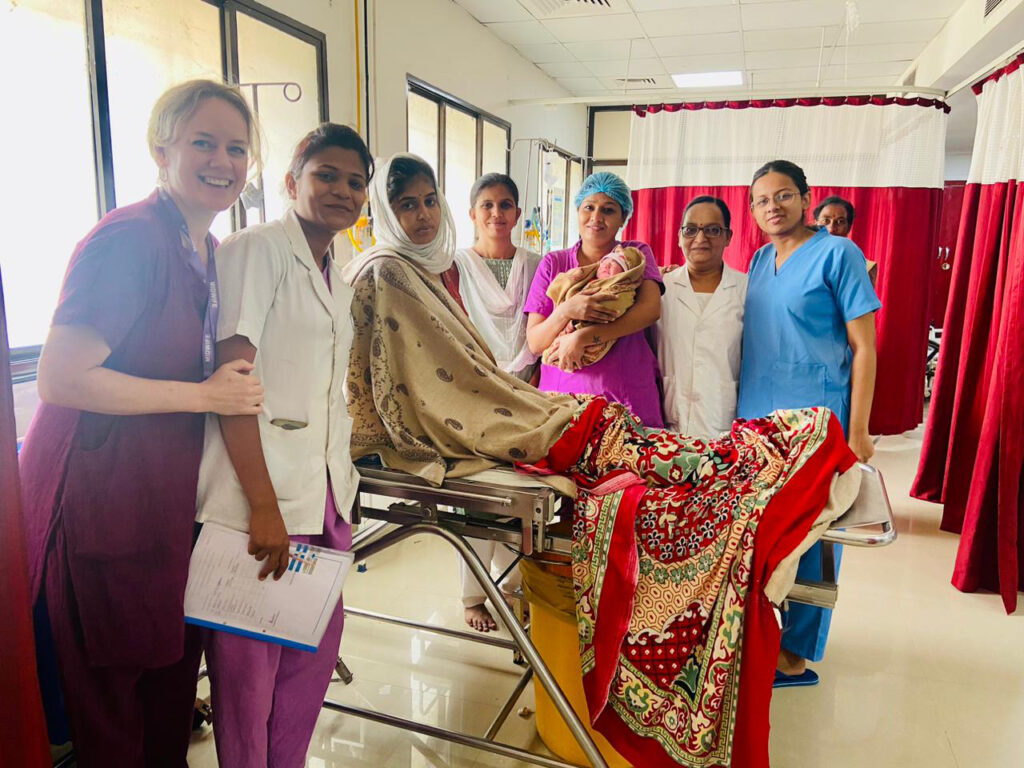 Midwife Monali is among the initial NPME learner cohort who will prepare the new NPMs. A robust 18-month specialization course is helping Monali understand the profound significance of several techniques that assist women during childbirth, such as controlled breathing, support from a birth companion, and the freedom to choose the birthing position that is most comfortable for her. As part of her education, Monali is undergoing an intense six-month residential training at the NMTI in Maharashtra. She will then be placed at a state midwifery training institute, where she will teach and train NPMs. More than 50 NPMEs have already received training from Jhpiego, and their mentorship continues.
In the MLCU, Sonali's contractions were growing stronger. Midwife Monali reminded her of the various birthing positions she could try. The mother decided to sit in a warm bath to ease her pain. With midwife Monali's patient and expert guidance, Sonali soon gave birth to a healthy baby boy.
"The incredible emotional support I received from Monali didi [sister] has made this birthing experience much more special," said Sonali smiling, with her newborn in her arms and husband by her side.
For midwife Monali, helping women feel supported and cared for while giving birth to healthy, thriving babies in a comfortable environment reminds her why she chose this profession.
I come from a small village in Maharashtra, where I have seen how a negative birth experience can adversely impact a person for life, making one averse to seeking health care for the rest of one's life. I wanted to change this through my work. I want to teach others that to be an effective midwife, one must constantly learn and grow, and strive to provide the best possible care to mothers and newborns. This is not just a job. It is a calling."

Monali Thulu
Kanika Khanna, National Communications Officer for Jhpiego-India, and Indrani Kashyap, Associate Director, Regional Communications, also contributed to this article. Photos courtesy of Charu, Staff Nurse, MGIMS
This article was reviewed by Laura Fitzgerald, MSN, Midwife and Senior Program Advisor, and Frances Ganges, Midwife and Sr. Maternal Newborn Health Technical Advisor.
Jhpiego believes that when women are healthy, families and communities are strong. We won't rest until all women and their families—no matter where they live—can access the health care they need to pursue happy and productive lives.
Donate now!