"What I like about Jhpiego is that they meet you where you are and bring you to where you should be."
Christine Elder, former United States ambassador to Liberia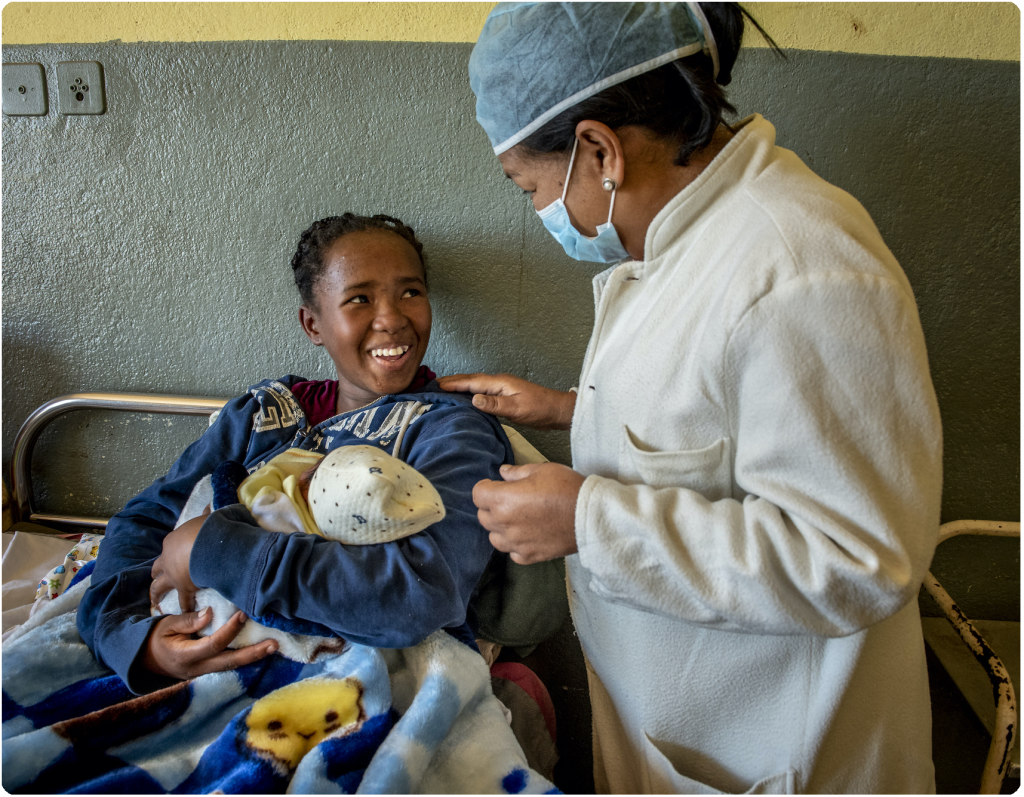 ---
Our Impact: Saving lives, improving health and transforming futures.
Data below reflects five years, 2015-2019
---
Partnering with Countries to Reach Self-Reliance
The journey to self-reliance begins with a country's commitment to provide high-quality, equitable and respectful health care to women and their families. Throughout our work in more than 155 countries, Jhpiego has stood alongside and partnered with governments to initiate and adopt policies, implement systems, and build a confident and skilled workforce to deliver services that save lives, improve health and transform futures. We have shared knowledge, expertise and innovative practices to ensure that countries from Afghanistan to Zambia can improve the health of the most vulnerable families and strengthen communities in prosperous times as well as when disaster hits. Our focus has been on forging sustainable health systems through which countries care for themselves—from home to health facility.
Jhpiego's dedication to strengthening health services and systems stems from our core belief that where an individual lives should not determine if they live. Our work finds its heart in communities, from the urban centers of Kenya and India to displaced persons camps in South Sudan to remote villages in Myanmar. Our partnerships span educational institutions, community organizations, professional associations, private businesses and policymaking bodies—all with the goal of helping countries deliver on individual promises of a better tomorrow for their citizens, because good health is the foundation of a prosperous and secure future.
Jhpiego's team of health professionals—including more than 1,000 nurses and midwives—is driven by a passion to engage women, men and families in setting their own health agenda, strengthening the delivery of primary health care and fostering a spirit of self-reliance individually and collectively. Over our 5-year leadership of the US Agency for International Development's flagship global Maternal and Child Survival Program, Jhpiego and partners stewarded countries on their respective paths to self-reliance, hitting milestones along the way. 2019 was no exception, as expectations were met and some exceeded.
Accountability. Investment of local finances. Engagement with the private sector. Development of the health workforce. Jhpiego works with country partners to achieve gains in each of these areas. Our investment in building high-quality primary health care services through our support of nurses and midwives reflects our commitment to self-reliance. These intrepid frontline health workers are the gatekeepers to good health and self-sufficiency because they do it all—educate, heal, innovate, lead.
When countries invest in nurses and midwives—as Ethiopia, Liberia, Tanzania and other governments have done—change happens at their direction and through the communities they serve. They are mapping their own development journey, and we celebrate their achievements every step of the way. As every community is touched by the COVID-19 pandemic, it has never been clearer why investments in nurses now, not after a crisis happens, are critical to saving lives and livelihoods. Before, during and after emergencies, they are the backbone of our shared goals for universal health coverage and the foundation of our efforts to extend primary health care services to all.
Leslie Mancuso, PhD, RN, FAAN
President and Chief Executive Officer
Read our 2019 Annual Report