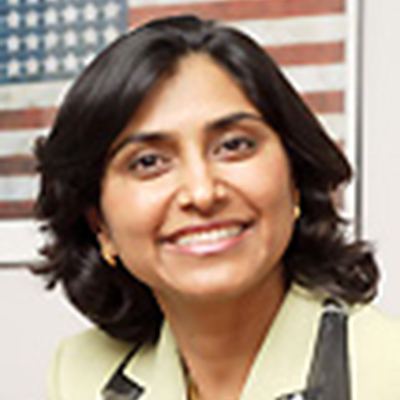 Sheela Murthy, Esq.
Sheela Murthy, renowned immigration lawyer, entrepreneur, community leader and philanthropist, is the president and CEO of the preeminent US immigration law firm, the Murthy Law Firm. Ms. Murthy is among the Best Lawyers in America© and a Super Lawyer. The law firm's website, murthy.com, is considered the world's most popular law firm website, with useful and cutting-edge information.
Notable among her many other honors and recognitions are being among Maryland's Most Admired CEOs, 50 Most Influential Marylanders, United Way's Philanthropist of the Year and Maryland Innovator of the Year. She was the Ernst & Young Entrepreneur of the Year and became a judge for that program. Ms. Murthy has been the chairwoman of the board of the Maryland Chamber of Commerce and the president of the board of TiE DC, a network of global entrepreneurs. She serves on several other boards, including the Baltimore Museum of Art and the Maryland Institute College of Art, and is the immediate past chair of the Maryland Chamber Foundation board. A biography of her life and work, Being Sheela, was recently published by Harper Collins.
Ms. Murthy and her husband, Vasant Nayak, started the MurthyNAYAK Foundation after the tragic events of September 11 to help and empower people in her birth country, India, and her adopted country, the US. Ms. Murthy is passionate about the benefits of immigration to America, entrepreneurship, motivation, leadership, women's issues and working with others to make the world a better place.