…and I Choose to Stay Safe from HIV
By Charles Wanga
Mathare, Nairobi County—While waiting for her son's turn at the well-baby clinic of Shining Hope for Communities (SHOFCO), the only health care provider in the Mathare slum, Ivonta Molenta spotted a young woman handing out brochures. She reached for one but it slipped to the floor. "I picked it up, and there it was—that medicine I heard from friends that can prevent you from getting HIV," said the 18-year-old. "It is called PrEP."
Until that encounter with peer educator Caren Nasiche, Ivonta didn't quite believe oral pre-exposure prophylaxis for HIV—PrEP for short—existed. And if it did exist, Ivonta thought it would be too expensive for her, a single mom struggling just to provide the basics for her child. But Caren's job is to seek out young people living in the overcrowded, poorly served Mathare slum who are at high risk of HIV and offer them the opportunity to protect themselves and live healthy and safe.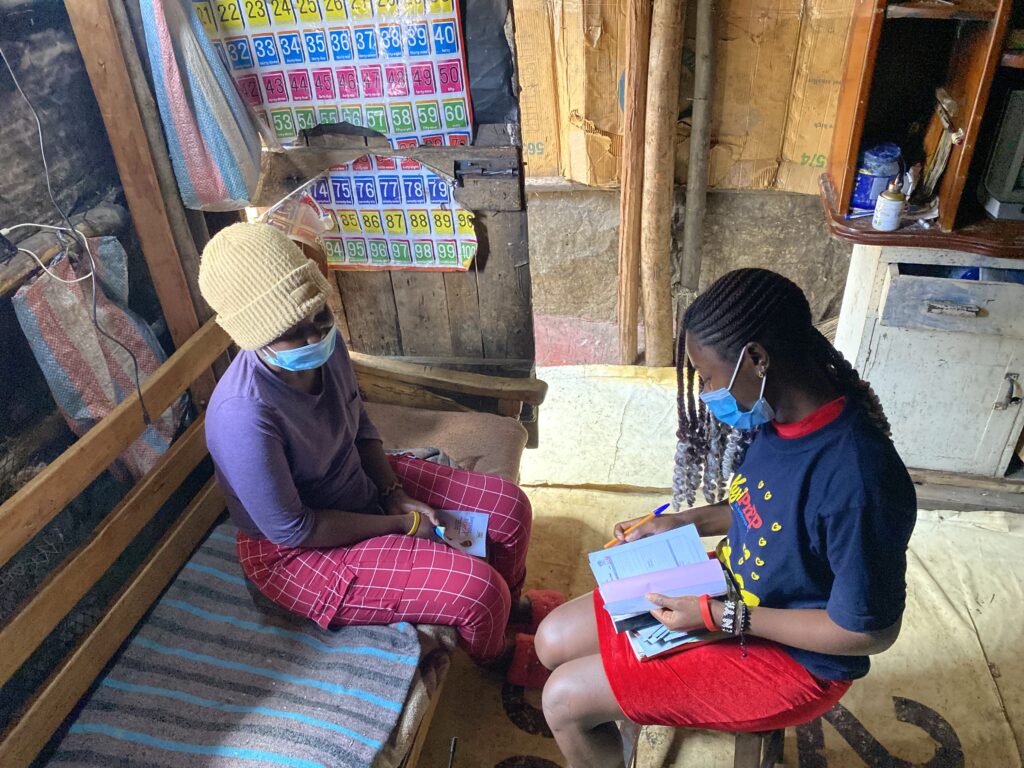 Caren is on the frontlines of an ambitious effort in Kenya to reach those most at risk for HIV through the support of a project called Jilinde, which means "protect yourself" in Swahili. Jilinde, working with the government and partners, is a first-of-its-kind initiative that uses evidence generated from PrEP research to roll out a national prevention strategy through health facilities and in the community.
Caren is looking for Ivontas. And here's why—in sub-Saharan Africa, adolescent girls and young women (aged 15–24 years) account for one in five new HIV infections, despite being just 10% of the population. Although Kenya has made progress in reducing new HIV infections among adults in the last decade, female sex workers, men who have sex with men and people who inject drugs account for one third of new infections. Similarly, young women, ages 15–24, account for a third of all new HIV adult infections. In addition, HIV prevalence is higher among slum residents than those living in other parts of Nairobi city.
Jhpiego and Jilinde step in
The Jilinde project, led by Jhpiego, began five years ago in partnership with the government of Kenya and with funding from the Bill & Melinda Gates Foundation. Jhpiego, which successfully scaled up voluntary medical male circumcision for HIV prevention in Kenya and beyond, was challenged to show similar results in a large-scale introduction of a daily antiretroviral medication to prevent HIV.
"When the PrEP project started in 2016, the main goal was to answer the question, 'Is it feasible to scale up oral PrEP in a low resource setting like Kenya?' Five years later, with more than 37,000 people accessing PrEP services in Kenya through Jilinde, that question has been more than answered," said Dr. Daniel Were, Jilinde project director and co-author of a recent peer-reviewed journal article that discusses the implication of lessons learned from the Jilinde scale-up of PrEP for other sub-Saharan African countries. Through its innovative strategy, Jilinde exceeded its target of 20,776 people on PrEP, contributing about a third of those currently on the prophylaxis in the country at large.
The Jilinde project has worked with the Kenya National AIDS and STI Control Programme, the International Center for Reproductive Health–Kenya, Population Services Kenya and Avenir Health to integrate PrEP services in 10 counties in Kenya with high rates of new HIV infections. This includes the Mathare slum, where Ivonta lives.
A dream dashed, a dangerous choice
"My dream was to become a doctor, to serve sick people," said Ivonta, who lives on her own in the second most densely populated informal settlement in Nairobi County. But at 16, she learned she was pregnant. Afraid to face her parents, she dropped out of school and went to live with an aunt until her son was born. Then, she faced the harsh reality of having to provide for her child alone as the father refused to acknowledge his paternity.
Ivonta started washing clothes and cleaning houses but she earned barely enough to pay her rent. "Earlier, I had also tried to sell second-hand clothes. Still, with the baby wailing and all that, it became more difficult looking for customers," Ivonta said. "I needed a backup."
Her backup was transactional sex.
"I have a list of about ten men on my phone. A day cannot go by without one [of the men] calling. . . and I need at least three men per day to provide for my needs," said Ivonta who receives about $5 for each sexual encounter.
After she bumped into Caren, a peer educator with Jilinde's partner SHOFCO, the two agreed to meet again. As part of her job to educate young people on the role of PrEP and dispel misconceptions, Caren visits homes and places in Mathare where they hang out. Initially people were hesitant, saying, "this PrEP thing is for sex workers only," said Caren, "but now they know that it is for everyone as long as you are at high risk of getting HIV. Also, many people had the misconception that PrEP was for people living with HIV."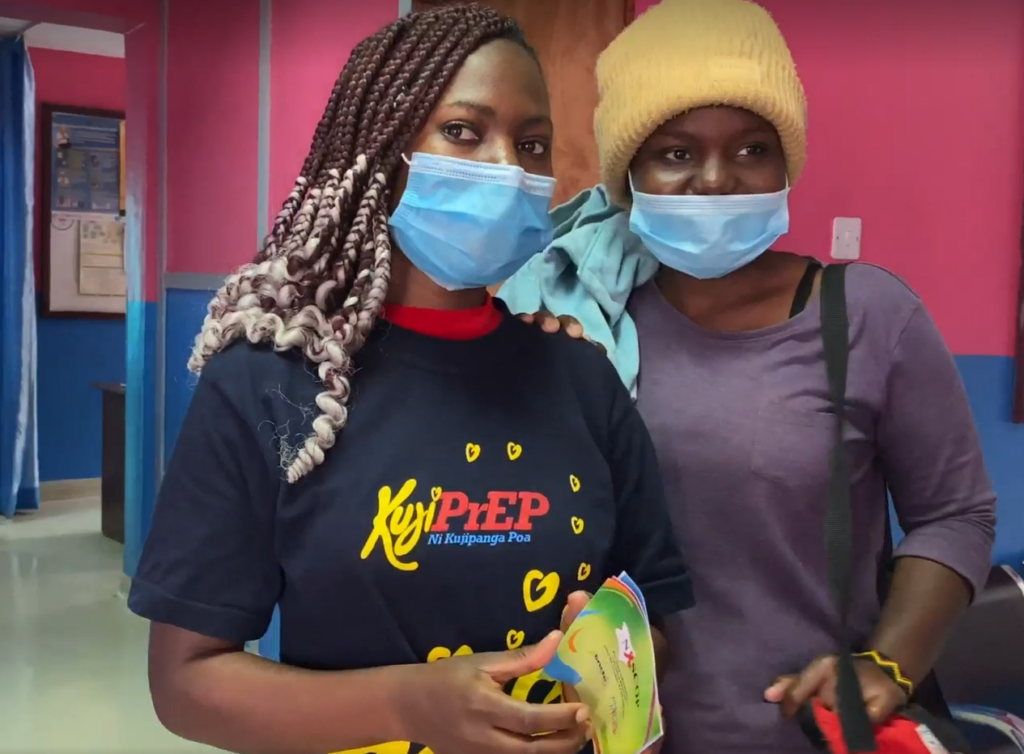 In her visit with Ivonta, Caren explained the benefits of PrEP for HIV prevention. She also discussed how to take it, what to expect, and where to get the services. And, that it was free of charge.
With this knowledge, Ivonta talked with a clinician and enrolled on PrEP. She had been on PrEP for four months when she spoke to Jhpiego in July 2021.
Why take an HIV pill every day
"When somebody has understood their risk, and they know their risk very well, and they know the risk of [getting infected] with HIV where you must take antiretrovirals for life, we find that those people are very consistent in taking PrEP," explained Mercy Kamau, Jilinde manager for Nairobi County. "People who are at risk always tell us, I do not want to become [infected] with HIV."
"Because they know yes, I am not sick, but I must swallow this pill for prevention," she added.
Ivonta has another compelling reason to remain on PrEP, "I do not want to get HIV. I also do not want to be the reason my baby catches it."
The success of the Jilinde approach has countries like Lesotho and Nigeria using the results, lessons—working with adolescents, stigma, hesitance among health care providers—and experience from Kenya to shape and inform their PrEP programs.
Jhpiego's Dr. Were is looking ahead for best ways to engage the private sector through community pharmacies to expand access to PrEP. Jilinde is also exploring how digital health and online platforms can increase access and make services more user-friendly for adolescent girls and young women who tend to be shy when they approach health facilities for PrEP. PrEP can provide them with some control since they often lack the negotiating skills and power to insist on condom use during sex. Despite the wide availability of condoms, many high-risk individuals do not use them consistently.
With PrEP, you still have a chance to chase your dream
As for Ivonta, she said, "Although I am yet to realize my dream of becoming a doctor, I am staying strong."
"My message to adolescent girls is, 'Do not ruin your life because of HIV. It is around the corner, waiting for us,'" Ivonta said emphatically.
As long as she stays on PrEP, Ivonta—and other young women using this comprehensive HIV prevention—can stay HIV negative, with a chance to pursue her dream, see her son grow and thrive and, hopefully, become the doctor she aspires to be.
Dr. Charles Wanga is Jhpiego's Africa region communications manager.