Pallisa, Uganda (September 26) – "It is your life, take charge!" That was the rallying cry of this year's World Contraception Day event hosted by the Ugandan Ministry of Health, the District of Pallisa and key family planning partners.
From friendly football matches and poems about contraceptives, to family planning counseling and traditional dancing, the two day event sought to raise awareness about the benefits of family planning for women, children, communities and the nation as a whole. Activities also focused on engaging young people and drawing attention to the importance of contraceptives in helping them plan their futures and reach their goals.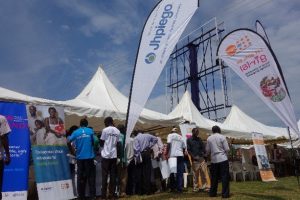 Along with other implementing partners, Jhpiego showcased the work it's done in support of Uganda's family planning programs. The Jhpiego booth, which received a visit from the Minister of State for Primary Health Care, Honorable Dr. Moriku Joyce, featured demonstrations on postpartum IUD insertion, opportunities to learn about family planning
methods and an interactive educational game for young people.
The Wheel of Knowledge game engaged participants through quizzes, role play and fill in the blank activities, and provided a platform for young people to discuss and learn about important health issues. More than 100 young people, partners and community leaders participated in the game.
The World Contraception Day event, the second to be hosted in Uganda, signaled the government's continued commitment to advancing universal access to reproductive health services. There is strong momentum building to ensure all women and men in Uganda have access to quality family planning services.  Jhpiego has trained health providers in Uganda to deliver high-quality postpartum family planning services and is currently supporting efforts to improve quality contraceptive implant services. — Gillian Leitch