Gibrilla Sillah knows what it's like to be sick. The 35-year-old routinely felt achy and fatigued; he had headaches and mouth sores. So, earlier this year, he went to a nearby clinic in Lungi, Sierra Leone, where the doctor examined and tested him. Sillah learned the cause of his symptoms: he had tested positive for HIV. Immediately, he agreed to treatment.
Soon after, Sillah was relieved to learn his wife and two children were negative for the virus. Sillah's recovery and renewed good health now fuel his work to reach his larger community with the same information that saved his life.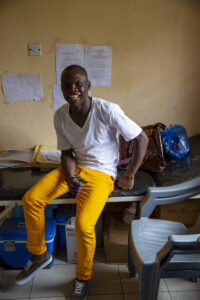 "I'm an [HIV]-positive man, and I'm healthy because I'm taking my medication," he said. "I want other people to get the same thing I am getting."
Sierra Leone, a country of 8.6 million people, has long struggled with some of the world's worst health outcomes—including HIV—with 3,900 new HIV infections in the country in 2021. To stop transmission, it is critical for Sierra Leoneans to know their status and, if they test positive for HIV, start and stay on treatment. The country's population also skews young—42% of its people are under 15 years of age. This generation has been particularly hard hit. Last year, children 0­­­­–14 years of age accounted for 41% of new infections and 40% of deaths due to AIDS.
Despite these sobering statistics, Sierra Leone is making progress towards their 95–95–95 goals for epidemic control by 2030: 95% of all people living with HIV will know their HIV status; 95% of all people with diagnosed HIV will receive sustained antiretroviral therapy; and 95% of all people receiving treatment will have viral suppression, which reduces the risk of transmission. But stubborn equity gaps remain. Crossing the "last mile" to bring services to the hardest-to-reach populations and underserved areas requires innovative, targeted approaches.
Enter volunteer expert clients like Sillah. One month after Sillah discovered his status, the supervisor at Lungi Government Hospital flagged him for this role due to his influence in the community. Sillah is a well-known, former soccer player and cyclist who is also comfortable discussing his HIV status and the role of medication in keeping him healthy. He now provides support and counseling to patients at Lungi Hospital, drawing on his own positive experience when encouraging them to adhere to their treatment schedule. Sillah's commitment to treatment has resulted in him being virally suppressed—with so little virus in his blood, it is untransmissible.
"We encourage clients. You have to enlighten them," he said. "As soon as they start taking the medication, they come back to me, or call me, and thank me for the advice."
Sillah and other expert clients receive training through Global Reach II, a five-year project that is helping countries to address challenges to their HIV response. Funded through the U.S. Health Resources and Services Administration by the President's Emergency Plan for AIDS Relief, Jhpiego leads the project with a coalition of partners: University of California San Francisco, International Treatment Preparedness Coalition, Project ECHO, African Forum for Research and Education in Health, Johns Hopkins University Center for Global Health and Ata Health Strategies.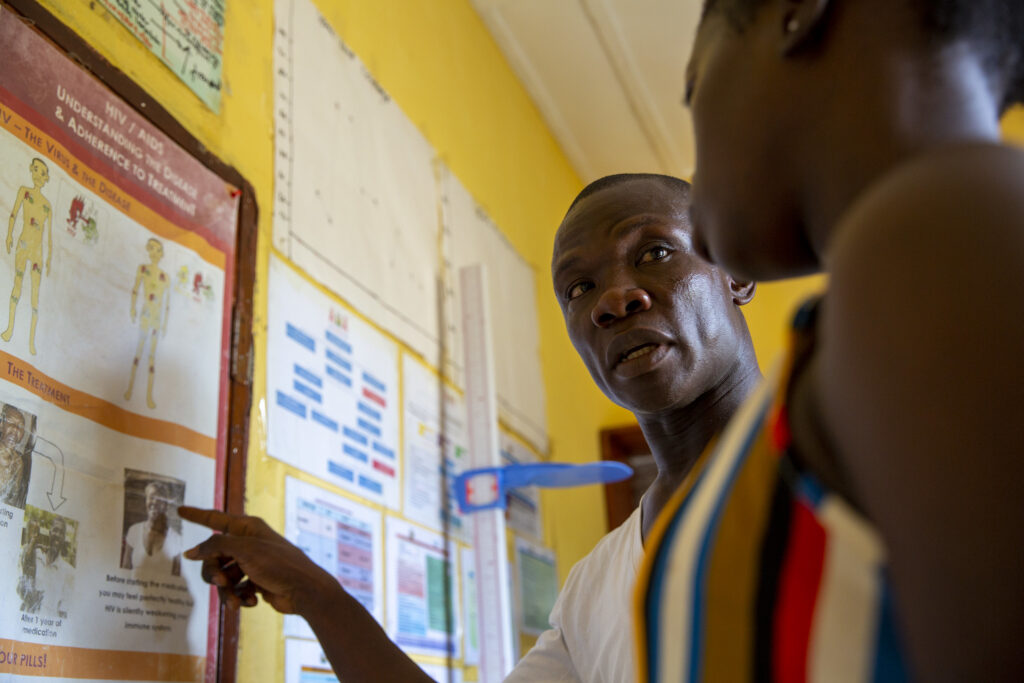 The project launched in Sierra Leone and Liberia in 2021. In Sierra Leone, the project supports the government to provide a comprehensive package of high-quality HIV services, including prevention, care and treatment services at 30 facilities and eight drop-in centers across four focus districts. The project looked at the data and chose three of the four focus districts from the districts with the highest HIV burden.
In 2022, the project expanded to three more countries—Zambia, Uganda and Ethiopia—each adapting project support to their local needs and contexts.
Authentic, trusted voices like Sillah's are driving the project's "by the community, for the community" approach to ensuring no one is left behind in learning their HIV status and, if they test positive, starting treatment. Expert clients also encourage patients who test positive to urge their partners and family members to learn their HIV status and access treatment and prevention services—a strategy called index testing.
 "Before we were testing at random. Since this program started, we now use the eligibility criteria, and we test people who are supposed to be tested," said Habsatu Bah, an HIV counselor and nurse at Lungi Government Hospital who often works with Sillah. "I believe that is one area of quality improvement since the program started."
At a patient's first visit, an expert client like Sillah helps them complete an index testing information form with the names of their sexual and drug-injecting partners from the last 12 months. Then together, they design an index testing plan: the provider, the patient, or both, notify each contact; biological children are brought to the facility for testing or are tested at home. Treatment—and regular follow-up—begin immediately for anyone who tests positive and accepts treatment. For those who test negative and are vulnerable to infection, providers recommend that they go on oral pre-exposure prophylaxis.
For Sillah, this marks the beginning of a hopeful journey back to health for each new patient. "I'm ready to go out there every day and night to do the job so that others can benefit from what I'm getting."
This program is supported by the Health Resources and Services Administration (HRSA) of the U.S. Department of Health and Human Services (HHS) as part of an award totaling $6.2 million with 0% financed with non-governmental sources. The contents are those of the authors and do not necessarily represent the official views of, nor an endorsement, by HRSA, HHS, or the U.S. Government. For more information, please visit HRSA.gov.
Katrin DeCamp is a senior writer at Jhpiego. Bridget Harnett is Senior Manager, Communications, Content Strategy, and Digital for the AlignMNH project. Basil Uguge, Global Reach II Project Director in Sierra Leone, also contributed to this story.
Jhpiego believes that when women are healthy, families and communities are strong. We won't rest until all women and their families—no matter where they live—can access the health care they need to pursue happy and productive lives.
Donate now!