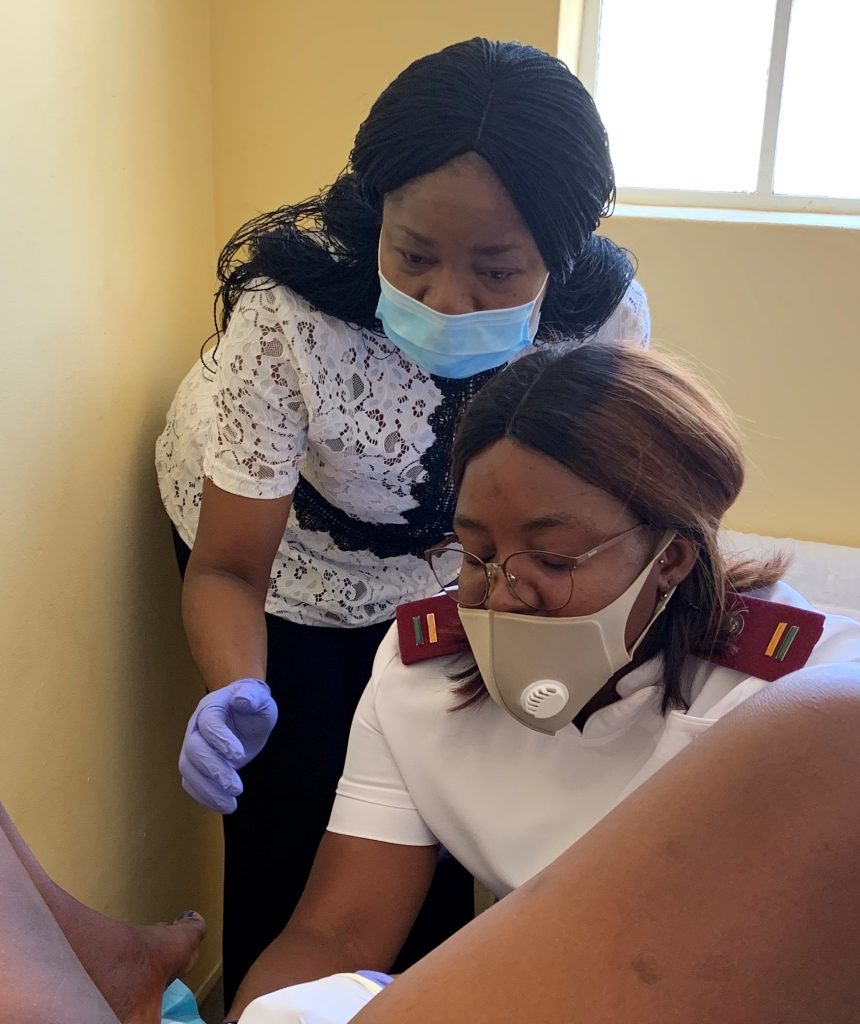 Women living near the Otjimuhaka Clinic in the Kunene region of Namibia would have to travel 93 miles (150 km) along a gravel road to reach a health facility that provided cervical cancer prevention and treatment services. But not anymore.
Today, with support from Jhpiego, a visiting nurse at the two-room clinic screens women for cervical lesions using a safe and effective approach suited to low resource settings, visual inspection with diluted acetic acid, or VIA. She is among the health care providers who have received training in VIA as part of the government of Namibia's decision to increase and expand cervical cancer prevention and treatment services to ensure that no woman is left behind.
Cervical cancer is one of the most common cancers in women worldwide, with more than 570,000 new cases and 311,000 deaths reported in 2018. The problem is worse for women living with HIV who are at four-to-five times greater risk of developing cervical cancer than other women. Approximately 85% of new cases and 90% of deaths occur in developing countries, where vaccination, screening and treatment rates are low. Increasing vaccinations for human papillomavirus (HPV)—a common sexually transmitted infection that can lead to cervical cancer—along with screening and treatment for precancerous lesions are keys to eliminating cervical cancer within the century.
In Namibia, a southern African country with 2.5 million residents and a population of 813,157 women who are 15 years and older, cervical cancer is the second most prevalent cancer, after breast cancer. But it is the leading cancer killer of women in the country. Current estimates indicate that every year 236 women are diagnosed with cervical cancer and 135 die from the disease.
As part of its expansion of cervical cancer prevention services, the Ministry of Health and Social Services (MOHSS) has focused on all HIV-positive women ages 20 to 49 and providing screen-and-treat services at existing antiretroviral (ART) clinics.
Jhpiego, with funding from the U.S. Health Resources and Services Administration under the Health Workforce for the 21st Century Project, is successfully supporting the MOHSS to introduce VIA screening and corresponding treatment methods and technologies in four regions: Kunene, Erongo, Hardap and Omaheke.
With Jhpiego's support, in 2018, the MOHSS introduced VIA screening and treatment of cervical precancer with cryotherapy in selected regions, and in the following year, health officials added to its basket of services thermal ablation, a new technology for treatment of cervical precancers.
"Women rarely seek out screening," said Dr. Cornelia Osim Ndifon, Jhpiego's cervical cancer technical advisor in Namibia. "However, when they come for other services, such as HIV care and treatment, family planning, immunization for their children, they are given health education on cervical cancer and are offered the chance to be screened, which they usually accept. We are beginning to introduce VIA screening and ablative treatment to new sites and expand these services to more villages in existing sites."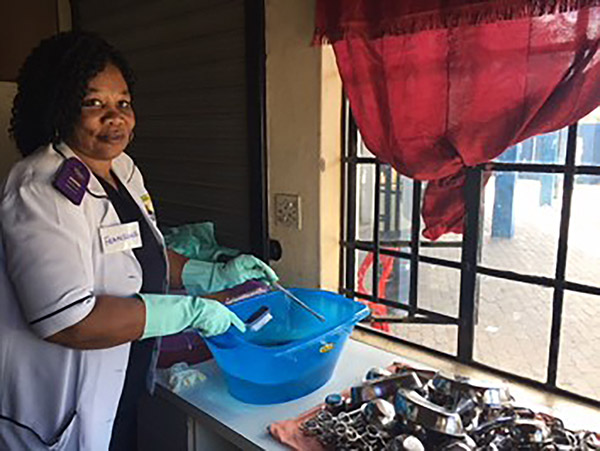 Among the new sites: the Otjimuhaka Clinic. Dr. Ndifon traveled there from the regional capital of Opuwo—making the same 93-mile journey women would have to take—to mentor six providers in the screen-and-treat approach. "The traditional Pap test would be a daunting task for the women to adhere to," she said, explaining that a Pap test requires a woman to visit a facility many times before it is determined whether she is free of precancer or not.
As part of its outreach efforts, Jhpiego works with community women groups, mobilizing influential women in the community and engaging with support groups, expert clients, health extension workers and clinic in-charges.
Through Jhpiego's partnership with the government, 12,271 women were screened with VIA from October 2019 to June 2020. Of those, 2,114 were found to have precancerous lesions and 100 with suspected cancer; 1,648 (82%) women with precancer received treatment.
To ensure continued access and progress, Jhpiego is helping the MOHSS to establish a consistent and effective policy platform to support and advance cervical cancer prevention. This includes development of national cervical cancer prevention and treatment guidelines, training curriculum and monitoring and evaluation tools. It is also developing national information, education and communication materials along with training materials for referral sites for treatment of precancerous lesions.
Aligned with World Health Organization's new Global Strategy for the Elimination of Cervical Cancer, Jhpiego is also currently supporting the MOHSS to develop a national strategy for cervical cancer prevention in the journey to elimination. This includes support to develop a landscape and readiness assessment for introducing and scaling up the integration of HPV testing into the screening and treatment program.
The aim is to make cervical cancer screening a priority among women, and not merely an add-on to other health facility services. The strategy prioritizes organized screening, with care providers mapping the target population and trying to reach everyone, rather than passively waiting for women to show up for testing.
The goal is for a minimum of 70% of women of reproductive age to receive these life-saving screenings.
An impact like that will help Namibia realize the goal of eliminating cervical cancer as a public health problem.
Jhpiego fully supports the dissemination and implementation of the Global Cervical Cancer Elimination Strategy with a vision that no woman should die from this completely preventable disease!
Dr. Veronica Reis, a senior technical advisor for Jhpiego, and Jenna Metz, a Jhpiego program officer for East and Southern Africa, contributed to this story.
Jhpiego believes that when women are healthy, families and communities are strong. We won't rest until all women and their families—no matter where they live—can access the health care they need to pursue happy and productive lives.
Donate now!