Baltimore, MD—The city of Baltimore and Jhpiego, a Johns Hopkins University affiliate and global health nonprofit, today announced the launch of a new health and jobs recovery program that will hire and train 303 people to track and contain exposure to the deadly coronavirus, with the goals of preventing transmission of COVID-19 and saving lives.
The Baltimore Health Corps project joins the office of Mayor Bernard C. "Jack" Young and prominent funders led by The Rockefeller Foundation and Bloomberg Philanthropies for a citywide program that will respond to the public health need and provide a national model to address widespread unemployment, job loss and the nationwide economic downturn.
"Bringing together Jhpiego's internationally renowned expertise in health workforce development and infectious disease prevention, the experience of Baltimore officials, the support of the Johns Hopkins Bloomberg School of Public Health—a leader in the nation's COVID-19 response—and local civic institutions positions this to be a one-of-a-kind effort and opportunity," says Jhpiego President and CEO Leslie Mancuso. "For nearly 50 years and in more than 155 countries, Jhpiego has been a leader in creating transformative health care solutions. We are honored to partner with city officials to help ensure Baltimore families are healthy and safe."
This initiative to establish sustainable, community-based health jobs is an exciting opportunity for Jhpiego to share its global experience in building a skilled health workforce and mainstreaming contact tracing as a best practice in eight countries to contribute to the COVID-19 response in its hometown. In collaboration with the Baltimore City Health Department, Jhpiego's work will help meet the need for an unparalleled expansion of the city's community health workforce. As a Johns Hopkins affiliate, Jhpiego uses the best science and practices to develop health care solutions in infection prevention and control, HIV, malaria, and reproductive, maternal, newborn and child health.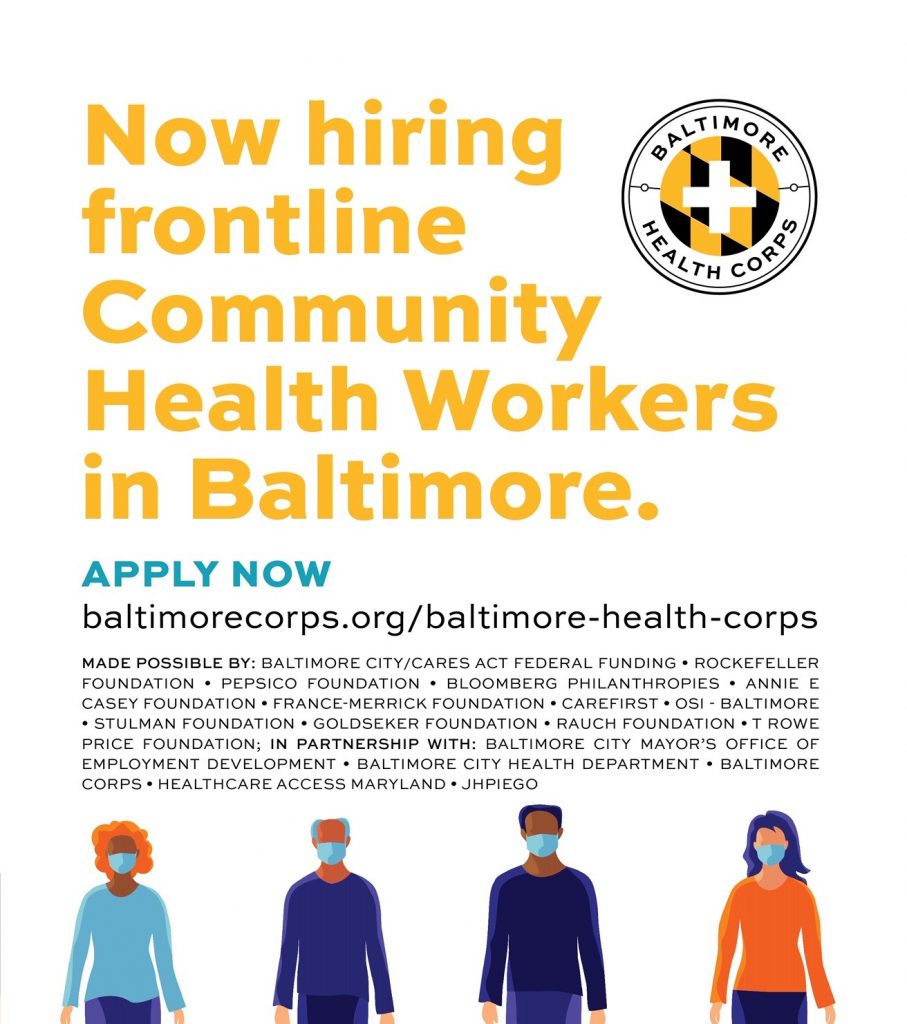 With the support of The Rockefeller Foundation, the project has the potential to be a national model for a federal public health jobs program and an economic driver for local communities.
It will create 303 jobs for the unemployed—with the majority being community health workers—and is a key component of the mayor's plan to reopen the city and establish a pathway to health for Baltimoreans. . As of Thursday, June 4, the city reported 5,801 confirmed cases of COVID-19 and 266 deaths.
The total cost of the project is $12 million. The Rockefeller Foundation has contributed an initial $2 million; the city and other funders contributed another $7 million. The city and supporters will help raise the remaining money.
---
The Baltimore Health Corps will focus on contact tracing, a method of identifying people exposed to the novel coronavirus, with the intent of preventing and containing transmission. Contact tracing has been deployed for decades in the US and abroad to assess exposure to infectious diseases, such as TB and HIV.
The Baltimore project will have a robust educational and care component that focuses on the city's most vulnerable residents, including the elderly, the uninsured, pregnant women and mothers of young children.
Jhpiego has vast experience establishing, training, and deploying community health workers who provide contact tracing for other infectious diseases, including HIV and tuberculosis—and the parallels with COVID-19 are great. These community health workers provide essential testing, counseling, and linkage to care and treatment services, and serve as a trusted liaison between families, communities, and health care providers.
Other local partners include HealthCare Access Maryland, Maryland Legal Aid and Baltimore Corps, a social justice employment group.
Baltimore Health Corps funders are a "who's who" of the city's changemakers, including Open Society Institute-Baltimore, the Annie E. Casey Foundation, the Abell Foundation, the Aaron Straus and Lillie Straus Foundation, the Harry and Jeanette Weinberg Foundation, T. Rowe Price, CareFirst, PepsiCo and others.
For more information, contact Ann LoLordo at 443-831-3834 or ann.lolordo@jhpiego.org.
Jhpiego believes that when women are healthy, families and communities are strong. We won't rest until all women and their families—no matter where they live—can access the health care they need to pursue happy and productive lives.
Donate now!