Community Health Volunteers on the Frontlines of Malaria Prevention
A Home Visit and Referral
Joie Yombeussem hands her referral form to midwife Guerinrim, head of the local health center, when they first meet. Joie's trip to the facility from her village of Goré, Chad, about 8 kilometers away, came after an unexpected visit at her home from a community health volunteer.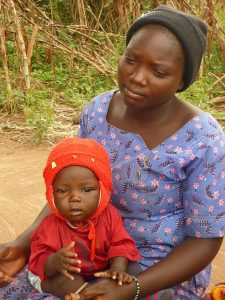 Because of how far the health center is from Goré, Rahab Nekouanodji, a community health volunteer, is this farming village's link to care. On Rahab's first visit, Joie was 4 months pregnant. Rahab recommended that the 19-year-old first-time mother go to the health center for antenatal care as soon as possible and provided her with a referral form on which she recorded key information for the health care providers. Rahab also advised Joie to sleep under an insecticide-treated bed net and discussed the importance of going for regular care at the health center throughout her pregnancy.
At the facility, midwife Gueri welcomed Joie and reviewed her referral form. She provided Joie with treatment to prevent malaria during pregnancy and iron-folic acid to prevent anemia. "Thanks to Rahab's counseling and the paper she gave me, I went to the health center, and the midwife examined me and reassured me that my pregnancy was progressing well," Joie said.
"They told me that malaria can harm my pregnancy. Since that day, I follow this advice and have had no problems with my pregnancy. I have not been sick, but I go regularly to antenatal care visits," Joie said.
Preventing Malaria for Millions
The Bébédjia district is among the malaria-endemic districts in Chad where Jhpiego is strengthening the capacity of the Ministry of Public Health, the National Malaria Control Program, health care providers and community health volunteers to provide high-quality malaria prevention and treatment for nearly 1,180,000 people living in 10 malaria-endemic districts (including one district in Cameroon) along ExxonMobil's 1,070-kilometer pipeline.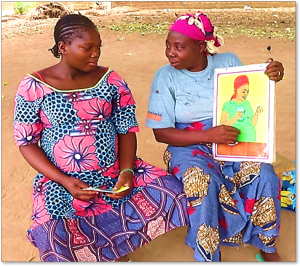 In addition to leading the development of national-level malaria guidelines and key manuals and reference materials, Jhpiego has empowered health care providers, supervisors and community health volunteers, like Rahab, to provide health services and messages, which are especially critical for those who don't live near a facility. In Chad, Jhpiego has provided skills-building and vital resources for about 100 community health volunteers in four districts and supported 122 facilities.
Among these dedicated volunteers, Rahab goes door to door to raise awareness about the importance of adopting good practices to help prevent malaria, the leading cause of morbidity and mortality in Chad. When she encounters sick people or pregnant women, she refers them for care or antenatal care visits.
This Midwife Matters
Midwife Gueri learned from Jhpiego how to manage malaria and supervise community health volunteers in her region. Jhpiego's efforts have strengthened malaria treatment to save lives and improved coverage for intermittent preventive treatment of malaria among pregnant women—a critical step in ensuring a malaria-free mother and baby.
After her appointment with Gueri, Joie returned to her village, eager to share feedback from the midwife with Rahab. She showed the community health volunteer her antenatal care booklet, which indicated the doses of malaria prevention treatment she received and follow-up visits scheduled.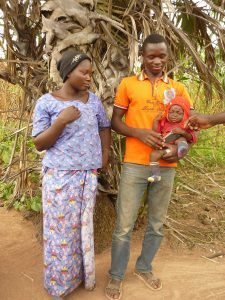 During these follow-up visits, Joie received counseling on family planning methods. Although she's interested in choosing a method, she hasn't yet decided on one. Her husband, Ismaël Domnaibeye, a farmer, is also in favor of the idea. With the guidance and support of Rahab and Gueri, the couple can grow their family in the way that is best for them.
During a recent visit to the health center, Gueri and a colleague look over the antenatal care register and see the names of pregnant women Rahab has referred to the facility. Sure enough, they find Joie—she's client number 984. What a start to a healthy relationship between client and health care facility!
This story was written by Moyreou Djimodoum, Joseline Mamadjibeye and Julien Laoundoul. Alisha Horowitz also contributed to this story.
Photos by Julien Laoundoul and Karen Kasmauski
Jhpiego believes that when women are healthy, families and communities are strong. We won't rest until all women and their families—no matter where they live—can access the health care they need to pursue happy and productive lives.
Donate now!