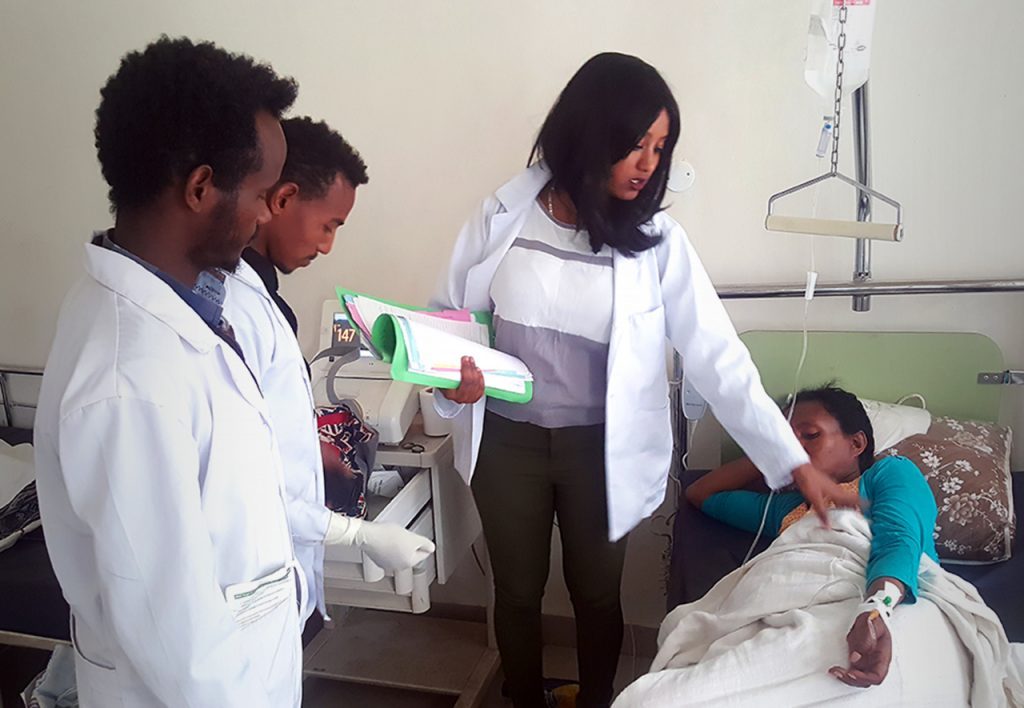 Amhara Region, Ethiopia—Second-time mom Awokech Wassie, 27, had been in labor for four hours when she arrived at Debre Tabor Hospital in northern Ethiopia. After confirming her vital signs and checking on the baby's position, heart rate and uterine contraction, midwife Betelhem Wubet prepared for the labor ahead.
When Awokech started pushing, Betelhem and her team expertly guided the young mom through a safe birthing experience and the arrival of a healthy 3.2 kg baby girl. "I was worried at admission, but [Betelhem] continuously provided me reassurance and even gave me gentle back massages," said Awokech.
As Betelhem often tells her students, birth is a natural process, but midwives must be prepared and ready to manage an unforeseen complication. Just two months ago, Betelhem was on duty when a woman in labor arrived with a broken leg that she suffered when the ambulance in which she was riding got into an accident en route to the hospital. A complex situation for sure.
"I was called to rapidly support the team and save both lives; a delay in one minute could jeopardize either life—the baby may go in distress or the mother may die due to severe bleeding. We acted as a unified team," she said, "I kept monitoring the fetal heart beat while the team was applying firm pressure to stop the bleeding from her leg. I proceeded to support the fetal head which was almost out and successfully assisted the birth of a 2.8 kg baby boy.
"I remember this scenario every day and share with my students," says Betelhem, 22, who serves as a clinical coach for students rotating through the hospital, which is the primary clinical education site for Debre Tabor University, where she also completed her midwifery training.
Betelhem is one of a new breed of competent health providers who were trained through the Government of Ethiopia's efforts to close the human resources gap that has undermined access to quality health services. Working with the U.S. Agency for International Development (USAID) through the Strengthening Human Resources for Health (HRH) Project, the Ethiopian Government has been addressing both the number and quality of midwives, anesthetists, health extension workers and other essential providers to make quality services available in areas with the greatest unmet needs such as the Amhara region where Betelhem works.
A revamped competency-based curriculum
Debre Tabor University is one of the 52 higher education institutions participating in the project, which began in 2013. The HRH Project worked with the university to design an innovative, competency-based curriculum. This curriculum focuses on development of deeper understanding and practical competencies through integration of subjects, problem-based learning, clinical simulation, and an early and higher dose of clinical and community-based education.
"During the first year, we learn how to approach patients and communicate with them. We develop skills such as taking [patient] history, performing physical examinations and instrument assembling in simulation center and health facilities," said Betelhem. In the second and third years, the intensity of clinical training increases such as assisting a woman in labor, provision of family planning services and antenatal care. An external qualifying exam is administered when students complete the third year. And transition to the fourth or final year is only possible for students who succeed in the qualifying exams. The fourth year is an internship program that allows students to practice in health centers and hospitals under supervision.
"The presence of a qualifying exam was a terrifying moment," said Betelhem. However, she said, the curriculum had prepared her and others. "We studied a lot and the majority of us [48 out of 50 students] succeeded in joining the fourth-year internship program."
Dr. Gebre Dinkayehu, Dean of the Health Science College at the Debre Tabor University, said the HRH project has helped the university ensure 96% of the students qualify to join the internship program. "The support we have received from the HRH Project since inception has made a significant contribution," he said.
The first graduates
Betelhem and 47 others were the first student participants to graduate from Debre Tabor University. They joined 37,040 new health workers supported by the HRH project who are now integrated into the Ethiopia health workforce. The second batch will graduate in July 2018.
This learning approach has helped midwives like Betelhem acquire critical midwifery skills and be competent and confident in providing lifesaving care. "I feel proud when I give care to mothers and coach my junior students," said Betelhem, adding, "and they all trust what I am saying."
Awokech, whom Betelhem helped deliver, affirmed that sense of trust in the midwife. "She [Betelhem] listened to me and did not embarrass me when I screamed for help," said Awokech. "I am satisfied with the care I received…my baby girl is healthy. May God bless the[se] care providers."
Betelhem's focus these days is to do everything she can to support the new generation of midwives enrolled in school. "I am very happy with the choice I made to become a midwife," she said proudly. "When I see babies survive and their mothers celebrate, I have such an intense feeling inside."
---
The USAID-funded Strengthening Human Resources for Health Project is led by Jhpiego with partners Management Sciences for Health, the Ethiopian Midwives Association, the Ethiopian Association of Anesthetists, the Open University of Ethiopia and Project Mercy.
Jhpiego's Dr.Tegbar Yigzaw, Muna Ahmed and Dr. Charles Wanga contributed to this story.
Jhpiego believes that when women are healthy, families and communities are strong. We won't rest until all women and their families—no matter where they live—can access the health care they need to pursue happy and productive lives.
Donate now!