Kabul, Afghanistan—Late in the evening of February 10, 2017, a woman in labor arrived at Isteqlal Hospital, a large facility with a well-regarded maternity unit in Afghanistan's capital city. She had been anticipating this moment for months. At the end of a normal pregnancy, her labor and delivery progressing routinely, everything seemed fine. Until the moment it wasn't.
Her newborn, a girl, was having trouble breathing. Her heartbeat was weak. She was limp when a midwife whisked her away to the neonatal unit at other side of the hospital. It took almost 5 minutes to get to the resuscitation area where staff with the proper bag and mask could try to get the baby to breathe.
The delay in treating the baby was too long. The cost, too high. When her mother held her for the first time, she was dead.
A Focus on Quality
Loss of a newborn is not unusual.
Despite significant progress in the past decade, Afghanistan remains a dangerous place to be born—and to give birth. The country has one of the highest newborn mortality rates in the world. Thousands of Afghan women die every year from pregnancy-related causes—most of them preventable.
The reasons are many. Even at facilities that have necessary supplies and equipment—which many lack—the care isn't always up to standard, a 2016 national quality of care study found. Too often, service providers don't know how to effectively prevent, detect and address complications. Difficult working conditions—not enough space, for instance, or clean water—also stand in the way of quality care.
To tackle these interrelated contributors to maternal and newborn death, the Ministry of Public Health, together with a Jhpiego-led consortium that includes Palladium, FHI 360 and the Afghan Social Marketing Organization, embarked on the 5-year Helping Mothers and Children Thrive (HEMAYAT) project, funded by the United States Agency for International Development. With the goal of improving both use and quality of care on the day of birth, the government and partners developed an improvement approach that would identify problems, engage staff in solutions, and mentor midwives, nurses and doctors in preventive actions that save lives. Skilled providers in a strengthened environment can lay the groundwork for a resilient health system able to meet challenges ranging from national security to natural disasters.
Since March 2018, this mentorship approach has been implemented in 53 hospitals across five regions of Afghanistan. HEMAYAT has worked directly with more than 100 senior staff clinical coordinators and engaged with 1,500 service providers, who in turn have supported 225,000 births. Read a related story about a mentored midwife saving mothers and newborns in a smaller hospital serving remote villages in northern Afghanistan.
Inside Isteqlal
Among the largest and busiest of the facilities benefiting from HEMAYAT is Isteqlal Hospital, managed directly by the Ministry of Public Health. In its maternity unit, 45 midwives and 17 ob-gyns manage about 70 cases of pre-eclampsia or eclampsia and postpartum hemorrhage each month among an average of 1,188 deliveries and 222 cesarean sections.
On an average day, three babies born here need resuscitation.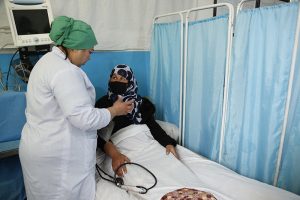 Collecting accurate data like these constituted a vital first step toward ensuring that even the most complicated cases are managed competently and confidently. HEMAYAT partners and hospital staff jointly analyzed the data and reviewed current practices to identify key barriers to providing quality preventive care for all women, and effectively responding when women and newborns had complications. Their review was used to develop an improvement action plan that midwives and doctors use to bring about sustainable changes and, ultimately, transform systems.
Champions in Action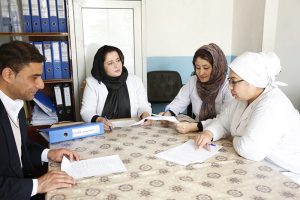 Among the champions at Isteqlal Hospital is Dr. Fatema Navid Barakzai.
A mother of five children, Dr. Fatema has a personal and professional interest in the welfare of mothers and babies. She had to drop out of medical studies at Balkh University in 1996 when the Taliban took power in Afghanistan, but returned to school in 2001 after the regime collapsed, graduating in 2004. She became an ob-gyn specialist in 2012 and an ob-gyn trainer in 2015.
Now, as a clinical coordinator with HEMAYAT, she supports Isteqlal's maternity unit staff, championing midwives as they hone skills that the improvement plan identified as needing attention. With the introduction of a comprehensive register, she emphasizes meticulous recordkeeping using a new comprehensive register and regularly reviews new service data on care provided. In addition, she routinely coaches her team during practices with anatomic models and interactions with patients.
A Dangerous Delivery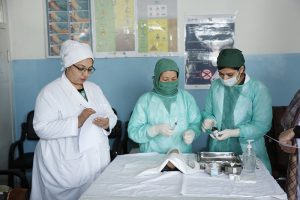 On June 15th last year, Dr. Fatema was making rounds when she came upon a laboring mother in distress and delivered an on-the-spot lesson in managing a potentially lethal complication.
"The mother had started to bleed," she recalled. "When I realized that she had not received oxytocin, I taught the attending midwife how and when and why to use this medication—not only to manage postpartum hemorrhage, but also to prevent bleeding and avert complications.
"Over the next few days I worked with her to make sure that she felt competent and confident about the lessons. I know that she will always give oxytocin from now on."
Data collected from September through November 2018 show that oxytocin administration was ensured unfailingly for 100 percent of women after delivery and with postpartum hemorrhage, said Dr. Behishta Fayaz, a HEMAYAT project mentor at Isteqlal Hospital. In addition, reliable counseling about breastfeeding and family planning is offered to all. As a result, many new mothers are opting for a long-acting reversible contraceptive method prior to discharge.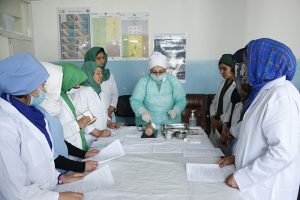 "So far, I have successfully inserted a postpartum intrauterine contraceptive device for 10 women, most recently on April 1, for a mother who was very concerned about how getting pregnant again would affect her health," said Midwife Maria, who joined the obstetrics and gynecology unit at Isteqlal Hospital in 2017. "Since March 2018, when I participated in the HEMAYAT mentorship program learning sessions, I am very happy and thankful to be empowered to help mothers."
Another notable change of late: No new mother is discharged from Isteqlal Hospital's maternity ward without having her blood pressure checked and recorded. This may seem simple, but it is critical for assessing conditions that can lead to death because of high or low blood pressure. 

And, importantly, when midwives deliver babies with breathing problems, the materials they need are right there in the delivery room, which means no more long walks across the hospital, and no separating mother and baby.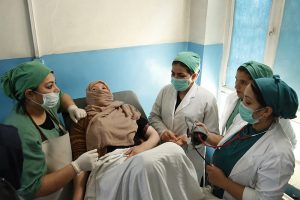 "Since December 2018, I have successfully resuscitated 15 babies, and that makes me feel proud," said Midwife Zubaida. "Before participating in the Helping Babies Breathe practical learning session, I used to apply old, traditional methods for the breathing problems of babies, but then I learned from Dr. Fatema how to properly use the bag and mask."
Dr. Fatema added, "There is no need to move a baby needing help to breathe to the neonatal unit. The resuscitation happens immediately, within the 'golden minute.'
"We are doing things differently . . . and saving many more mothers and babies."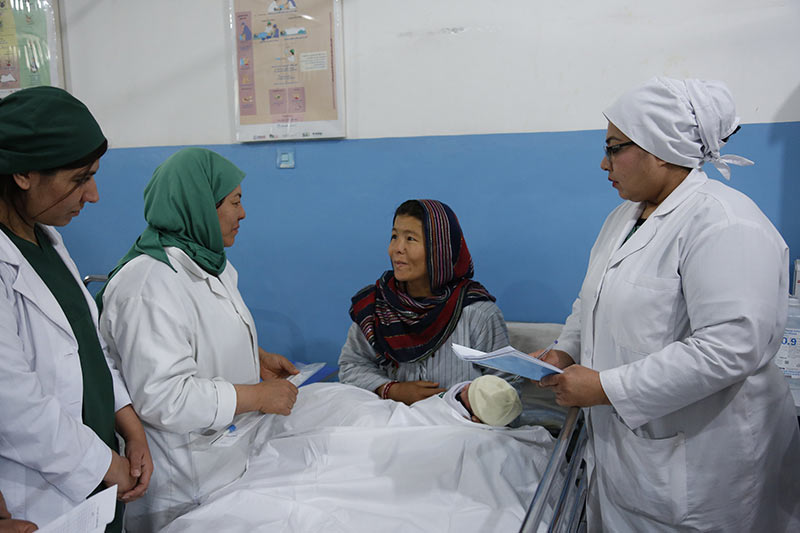 Rahmat Nabi is a communications advisor for Jhpiego Afghanistan.
Maryalice Yakutchik is Jhpiego's communications manager.
Jhpiego believes that when women are healthy, families and communities are strong. We won't rest until all women and their families—no matter where they live—can access the health care they need to pursue happy and productive lives.
Donate now!