When clinical officer Kaenda Kaenda transferred from the mental health department to the antiretroviral therapy (ART) unit to undertake a new assignment at Chipata Central Hospital in Chipata, southeastern Zambia, he realized he needed new skills to properly counsel and effectively manage cases of children living with HIV. His experience in psychiatry had not prepared him to care for such young clients, including initiating them on ART.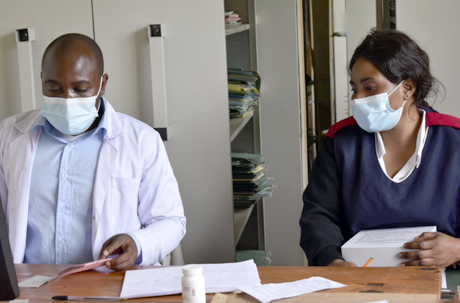 Kaenda had the opportunity to learn on the job through the Zambian Ministry of Health (MOH) HIV/TB ECHO telementoring program, supported by Jhpiego through Health Workforce for the 21st Century (HW21). This program provided on-the-job education and training that narrowed Kaenda's knowledge gap in child counseling, support for caregivers, HIV testing services, linkage, retention and viral load suppression. Through patient case studies and with onsite support from a medical mentor, Kaenda expanded his knowledge, sharpened his skills and grew more confident in offering a full range of services, including counseling, initiating on ART and continued support. This distance learning is facilitated by Project ECHO®, which is helping to improve the quality of care across Zambia.
Kaenda improved his management of young clients on ART and learned how to link them to care and other social support services, such as orphaned and vulnerable children (OVC) programs, that contribute to improved treatment outcomes. As of February 2021, enrollment of children in OVC programs had increased significantly. Of 400 enrollees, 100 have started receiving OVC services at Chipata Central Hospital supported by the Centre for Infectious Diseases Research in Zambia.
The ECHO telementoring sessions also guided Kaenda on the importance of providing TB preventive therapy (TPT) counseling and treatment.
My participation in telementoring sessions on TPT helped me acquire the needed knowledge and skills on TPT screening for eligibility and counseling. I learned about anti-TB treatment drugs and the dosages required for the ARV [antiretroviral] drugs when treating a patient with HIV/TB co-infection."

Kaenda Kaenda
Kaenda, 30, is just one of more than 4,800 health care workers who have benefited from the MOH telementoring platform, which operates in 240 sites across Zambia's 10 provinces. The MOH ECHO telementoring program is funded through the Health Resources and Services Administration of the U.S. Department of Health and Human Services, the University Teaching Hospital HIV and AIDS project (UTH-HAP) and the U.S. Centers for Disease Control and Prevention, supported through the U.S. President's Emergency Plan for AIDS Relief.
HW21 supported the MOH to initiate the ECHO telementoring program in 2018 with the aim of delivering education, continuing professional development, training and mentoring to improve the HIV service delivery capacity of health care workers.
"Telementoring ECHO should be taken seriously by all cadres in the health care system," Kaenda said, citing doctors, nurses, clinical officers, pharmacy and lab staff involved in management of ART patients. "It promotes a team approach to patient care and improves patient outcomes."
The ECHO model, which was developed at the University of New Mexico Health Sciences Center, employs proven learning techniques and interactive video technology to foster collaborative problem-solving. It effectively breaks down the walls between specialty and primary care by linking expert teams at tertiary facilities, centers of excellence and academic institutions with clinicians in local communities. The sessions, designed around case-based learning and mentorship, help local workers to gain expertise as they retain responsibility for managing their patients.
With his new knowledge, Kaenda began building linkages between patients who are unwell and other recipients of care by encouraging relationships between adolescents with high viral loads and peers who have reached viral load suppression.
To ensure sustainability of the program, HW21 works with the MOH to ensure that ECHO sessions are scheduled during staff working hours and that telementoring is embedded into a national clinical mentorship program recognized by the MOH under the Directorate of Clinical Care and Diagnostics. The expansion of the program helps ensure quality of care throughout Zambia. In addition, the project is supporting the MOH to establish and strengthen a telementoring task force that will provide leadership and coordination of the national telementoring program beyond the project's life.
Nomsa Kasoka Siamwanza is an HIV training specialist and Niza Kasonka Dindi is the knowledge management and communications officer, both in Jhpiego's Zambia office.
Jhpiego believes that when women are healthy, families and communities are strong. We won't rest until all women and their families—no matter where they live—can access the health care they need to pursue happy and productive lives.
Donate now!