On the Hindu holiday of Maha Shivaratri, Maiya Manandhar, the Nepalese health provider chosen as Jhpiego's 2011 International Midwife of the Year, donated 60 new dressing gowns to women who had recently given birth at the maternity hospital in Kathmandu.
Maiya's gift was part of her pledge to continue promoting and strengthening health care for pregnant women, using the honorarium she received as Jhpiego's distinguished midwife for 2011. The 53-year-old Maiya has worked at Paropkar Maternity and Women's Hospital, since she finished nursing and midwifery school. Paropkar is the most specialized hospital in Nepal for women's healthcare, conducting over 20,000 deliveries a year. Within the hospital, a separate, woman-friendly birthing center, established in 2007, is run by nurses and midwives and handles about 20 to 25 deliveries a day.
Maiya's efforts to prevent the needless deaths of women and newborns through access to skilled birth care at the hospital led to her recognition by Jhpiego, an honor that carries a $5,000 award.
Maiya explained that the new gowns for mothers in the birthing center will not only make the women feel good, but they will also help prevent infection when the mothers hold or swaddle their newborns to their chests as part of Kangaroo Mother Care, a skin-to-skin intervention that helps nurture premature infants.
At the same hospital, Maiya used part of her award to help refurbish a special daycare ward for the children of health care workers, providing new or repaired cribs, chairs and clothing cabinets. She also purchased new nets to be placed on the windows in the "crèche ward" to keep out flies and insects. This was another means toward improving the lives of children being cared for while their nurse or midwife mothers are hard at work.
And there's more to come, according to Maiya, who received the award at a special ceremony at the 2011 International Confederation of Midwives meeting in Durban, South Africa. She has plans to provide the birthing center with bed steps so women in labor can get in and out of bed easily; back supports to help women who want to give birth in a squatting position; toys for the crèche ward; and an emergency trolley to carry drugs and medical instruments.
"Women attending bigger hospitals, such as a maternity hospital, experience a high caseload," says Maiya, who was also honored by her employer after receiving the Jhpiego award. "Because of this, sometime they do not get a bed and staff struggle to provide quality services. In peripheral health facilities, though the caseload is less because of inadequate staff, equipment, instrument and supplies, women also do not get quality service sometimes. Skilled providers with a good attitude, as well as adequate… supplies and other materials such as linen, would go a long way toward helping strengthen the quality of care."
Having witnessed firsthand the deaths of numerous women from preventable birth complications, Maiya has worked tirelessly to reinforce the importance of having a skilled birth attendant present and has trained countless new nurses and midwives. Indicative of her selfless leadership and dedication to her profession, Maiya donated $625 to the Midwifery Society of Nepal on its second anniversary. The organization's goal is to strengthen the midwifery profession and advocate for midwives across Nepal.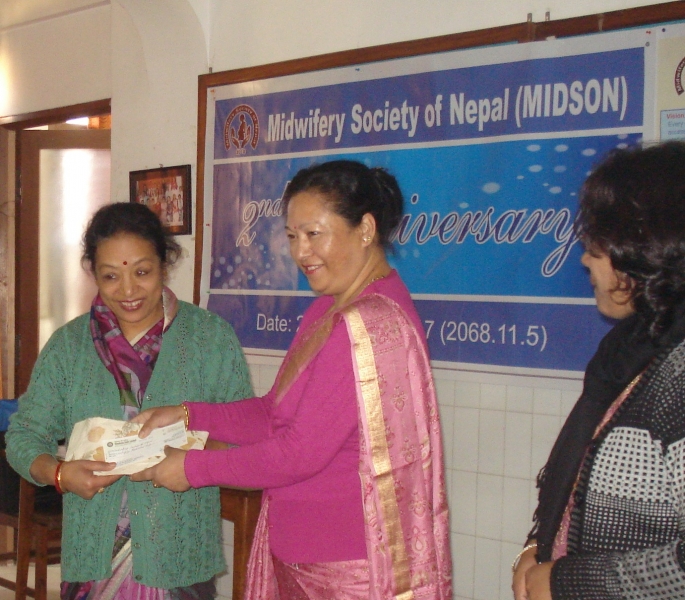 The National Maternity Hospital, located on the banks of the Bagmati River in Kathmandu, is a government-run referral hospital that employs 500 and offers services in obstetrics and gynecology, neonatal intensive care, endoscopy, emergency, immunization care, fertility and family planning, among others. With a fast growing medical research institute, the hospital also serves as a training center for maternal and newborn health and family planning, as well as a practicum site for a range of students from nursing to post graduation.
With support from the U.S. Agency for International Development, the hospital began offering postabortion care (PAC) services in 1994 and later conducted training in PAC for providers. Since 2007, a Jhpiego-supported quality improvement and assurance approach has been used to help train skilled birth attendants, and in 2010 and 2011, training courses in clinical family planning methods were held for government service providers in coordination with the Family Health Division and National Health Training Center. These efforts, along with the dedicated commitment of health care providers like Maiya, will continue to improve health care services for women throughout Nepal.