Cotonou, Benin — At the Mon Etoile maternity clinic, owner and midwife Flora Abalot Azondekon has learned that quality assurance is good for business. After adapting lessons learned in a Jhpiego-supported program, Madame Flora saw an increase in new clients at her private clinic.
"To make us competitive, Jhpiego taught us approaches in performance improvement to provide quality care to our clients," explains Madame Flora, who opened the private maternity clinic in 1980 in Benin's capital of 760,000.
Madame Flora first began working with Jhpiego in 2008 as part of the IMPACT program, an initiative in Benin funded by the U.S. Agency for International Development and designed to strengthen maternal health care services in HIV/AIDS counseling and testing, prevention of mother-to-child transmission of HIV, family planning and reproductive health and to increase demand for these services. Starting with two pilot sites in Glazoue and Kalale, the Benin IMPACT program has expanded to 12 public health centers and more than 50 private clinics affiliated with the ProFam network run by partner Population Service International.
As part of the IMPACT program, Jhpiego, which started its first project in Benin in 1998, worked with health providers to adopt an integrated health services approach to delivering care and to apply the Jhpiego-developed Standards-Based Management and Recognition (SBM-R) process to strengthen health systems and improve services. Through her collaboration with Jhpiego, Madame Flora and her staff were able to set premium health care standards at her facility and build capacity among employees to reinforce and strengthen the quality of care for mothers.
Pregnant with her first child, Olivia Tunde, 25, visited Mon Etoile after seeing a local television program highlighting the quality of care and well-trained staff. "I chose the services at this hospital for my first pregnancy and am very happy here because I am treated well. The medical interview and physical examination were well done," said Mrs. Tunde.
Through the IMPACT program, more than 360 physicians, midwives and nurses in public health centers have received training in an integrated approach to reproductive health. As a result, more than 9,000 clients were counseled and tested for sexually transmitted infections, 7,483 women participated in focused antenatal care (with a majority receiving services for prevention of mother-to-child transmission of HIV) and 1,600 accessed family planning services.
In addition, 137 private health providers received training in integrating HIV-related services with reproductive health care.
For the past five years, Jhpiego's Benin technical advisor, Dr. Mathurin Lougbegnon, has successfully integrated reproductive health services and HIV prevention programs using Jhpiego's SBM-R approach with the goal of strengthening health systems. "The reproductive health (RH) and HIV/AIDS services are strongly integrated in Benin and Jhpiego is working on that approach," he said. "Now we're doing an extension of that integrated approach. We are working in 12 public health facilities and 7 of them are offering the integrated services of RH and HIV/AIDS . . . I can ensure you that all Benin residents get the HIV care and services that they need."
By giving health care providers like Madame Flora a means to develop and implement their own self-improvement program, SBM-R strengthens current local best practices in maternal health care. This accountability-based strategy provides incentives for employees to maintain compliance with performance measures and allows for a more standardized approach to health care delivery.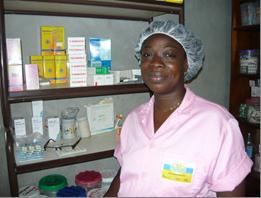 A graduate from the National Medical-Social Institute of Benin, which trains midwives, nurses and social workers, Madame Flora decided that instead of taking the traditional route in her profession by working in the public sector, she would open a private maternity hospital. This entrepreneur's experience with Jhpiego's pioneering quality assurance program shows how private sector clinics and hospitals can gain a competitive edge by improving their health care services.
Benin is among eight countries—including India, Kenya, Philippines and Tunisia—in which Jhpiego has helped private hospitals, clinics and providers expand and improve health care services. In Benin, private businesses account for about 35 percent of the West African nation's medical services.
Laura Yekame, 34, is another satisfied customer of Madame Flora's Mon Etoile clinic. She chose to deliver at Mon Etoile after suffering three previous miscarriages. Diagnosed with malaria, she was placed on an intravenous drip in order to protect her baby and felt reassured that she was in good hands. "My friends advised me to come here for better care," said Mrs. Yekame. "Indeed, as soon as I entered the clinic, I noticed that the reception is better than in other clinics I've attended."