HIV Testing Services
HIV testing services (HTS) continues to be the critical entry point to lifesaving HIV care and treatment for people living with HIV (PLHIV). These services are also important for linking people who test negative to other prevention services, such as pre-exposure prophylaxis (PrEP), voluntary medical male circumcision (VMMC), condoms, structural interventions, and risk reduction counseling.
Since 2001, Jhpiego has supported HIV testing service programs in 34 countries, providing 10 million people with testing services, and linking more than 240,000 people living with HIV to care and treatment services.
What Jhpiego is doing
Supporting UNAIDS 90-90-90 goals through partnerships with local governments and communities, and delivery of high-quality HTS with active linkage to HIV care and treatment for PLHIV.
Designing targeted programs that expand HTS access and uptake among hard-to-reach populations, including key populations, men, adolescent girls and young women, children and partners of PLHIV, through health facility- and community-based HTS.
Using evidence-based and innovative approaches for reaching target populations, including integrated and provider-initiated HTS, mobile testing, workplace testing, partner notification, couples testing and HIV self-testing.
---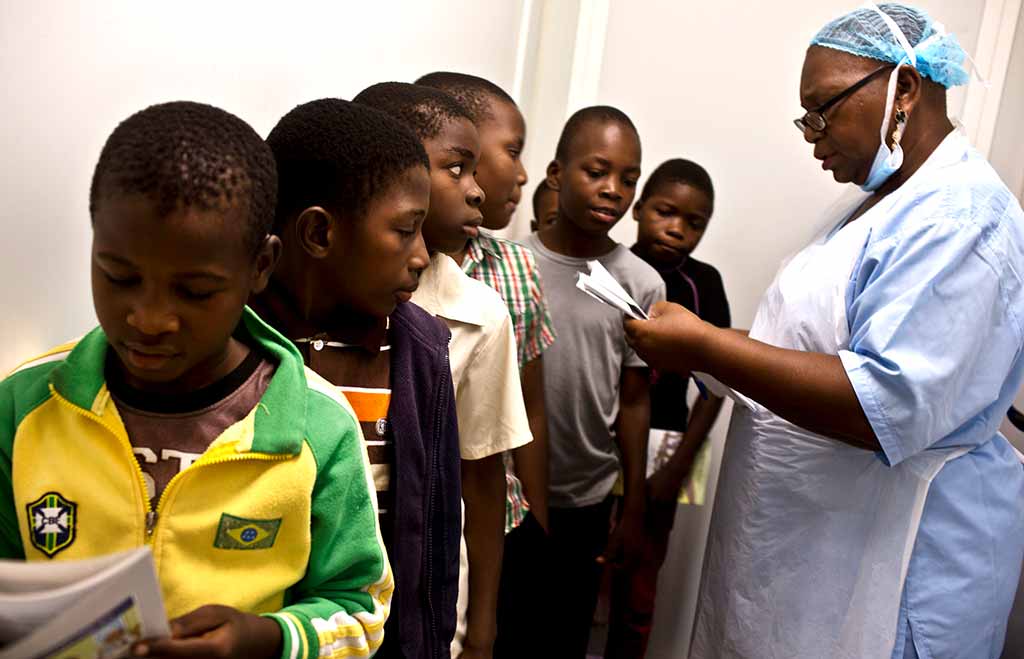 Biomedical Prevention
Prevention of new HIV infections is vital to achieving epidemic control. Jhpiego has championed bringing biomedical HIV prevention interventions to scale, including VMMC—a safe, minor procedure that reduces the risk of female-to-male HIV transmission by 70%1—and PrEP—a daily pill demonstrated to be more than 90% effective in preventing HIV.2
Since 2003, Jhpiego has emerged as one of the few international organizations with the knowledge and experience to support, strengthen, and scale up VMMC services while ensuring safety and quality. More than 2.5 million males have accessed VMMC through Jhpiego-supported services across 12 of the 158 VMMC focus countries since 2008.
What Jhpiego is doing
Reaching individuals in greatest need with high-impact HIV prevention interventions.
Offering service delivery models that maximize accessibility, safety, and acceptability, especially for hard-to-reach populations.
---
Prevention of Mother-to-Child Transmission (PMTCT)
With effective interventions, fewer than 5% of HIV-positive women will pass the virus to their newborns during pregnancy, childbirth or breastfeeding.3
What Jhpiego is doing
Integrating care for mother and baby—early infant diagnosis and PMTCT/antiretroviral therapy (ART) services in a single appointment
Using effective tracking systems—early infant diagnosis for up to 8 weeks
Increase male involvement/engagement—antenatal care as an entry point to attract men to health services
---
Care and Treatment
Jhpiego is helping individuals learn their HIV status and link to care and treatment. WHO recommends ART initiation by all PLHIV who are willing and able to start, regardless of CD4 count or other clinical criteria. Jhpiego supports essential services including clinical care, diagnosis and management of opportunistic infections, viral load testing and psychosocial support in the community. Currently, 74,000+ people are receiving ART through Jhpiego-supported programs.
What Jhpiego is doing
Supporting adoption of "Treat All" in countries where we work
Promoting patient-centered ART solutions—community ART and multi-month dispensing for stable clients on ART
Supporting adherence and retention through efforts like peer support groups and intensive support for clients with high viral loads (> 1,000 copies/mL)
Facilitating prompt switching to second-line therapy for clients with confirmed treatment or virological failure
---
Footnotes

1 Lei JH, et al. 2015. "Circumcision Status and Risk of HIV Acquisition during Heterosexual Intercourse for Both Males and Females: A Meta-Analysis." PLoS ONE 10(5): e0125436. doi: 10.1371/journal.pone.0125436.
2 Baeten JM, et al. 2012. "Antiretroviral Prophylaxis for HIV Prevention in Heterosexual Men and Women." N Engl J Med 2012;367:399-410. DOI: 10.1056/NEJMoa1108524; Grant RM, et al. 2010. "Preexposure chemoprophylaxis for HIV prevention in men who have sex with men." N Engl J Med 2010;363(27):2587-99.
3 UNAIDS. 2013. Global Report: UNAIDS report on the global AIDS epidemic 2013. Geneva: UNAIDS.