Global Health Security project helps build resilient health systems
By Ammar Zafarullah & Leanne Gray
Karachi, Pakistan–Civil Hospital Karachi has seen its fair share of public health emergencies since it was first built over a century ago: the bubonic plague pandemic of 1894, the influenza pandemic of 1918, outbreaks of leprosy and, since 2020, the current COVID-19 pandemic. Today, preparations are underway to strengthen the hospital's ability to withstand the next outbreak and safeguard the 2 million people it serves annually.
Visit Dr. Ruth K. M. Pfau Civil Hospital
Renamed in 2017 the Dr. Ruth K. M. Pfau Civil Hospital Karachi, after the physician who devoted her life to the elimination of leprosy in Pakistan, the hospital has renewed its focus on infection prevention and control (IPC), the underpinning of an effective health security system. In a hospital of this size, it is common for over 200 kilos of infectious waste to be generated daily.
Without strong, targeted IPC policies and practices, pathogens like SARS-CoV-2, the virus that causes COVID-19, can spread in health facilities, endangering patients, health workers and the community. To reduce the impact of the COVID-19 pandemic in Pakistan and future threats, the U.S. Centers for Disease Control (CDC) and Jhpiego are working in partnership with the Pakistan government to build facility-level IPC programs in a group of large public hospitals under the Enhancing Global Health Security: Expanding Efforts and Strategies project. The success of these IPC measures is contingent on appropriate policies, plans, procedures and monitoring systems and a skilled, confident workforce to carry them out.
Ensure Global Health Security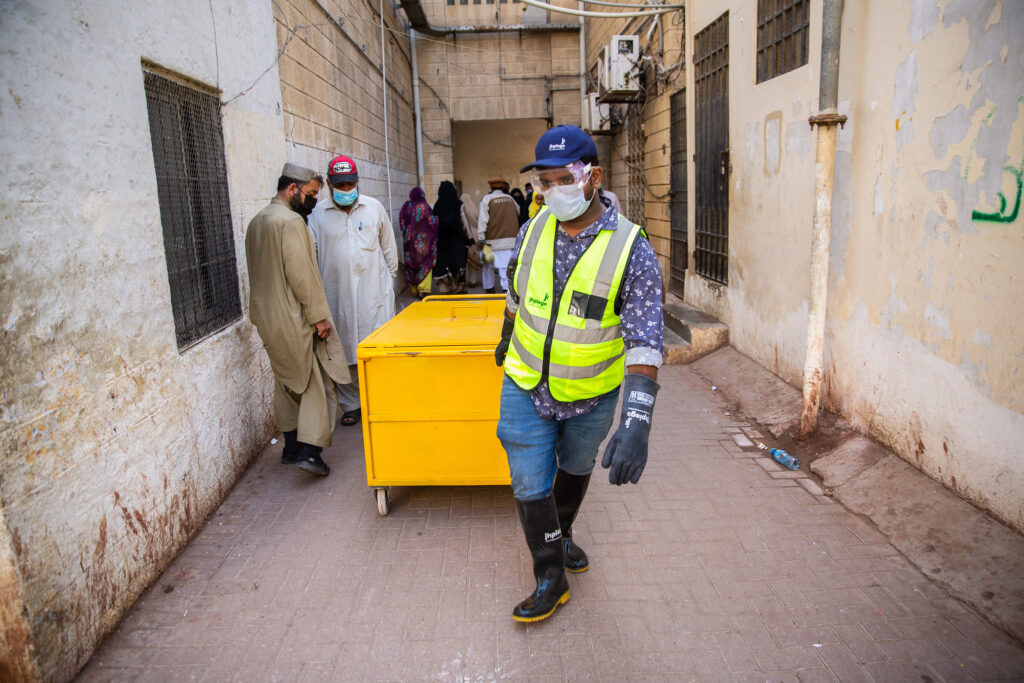 "Global health security is about ensuring that health systems are resilient and governments can prepare for, predict, prevent, detect and respond to infectious disease outbreaks," explained Jhpiego's Stacie Stender, who leads the global health security project that is engaged with more than a dozen countries.
"The recent pandemic exposed weaknesses and gaps in many health systems' ability to respond effectively and safely. We have partnered with ministries of health, communities and academic institutions on three continents to shore up their systems to meet today's challenges and tomorrow's threats, man-made or natural," she said.
In the Democratic Republic of the Congo, for example, Jhpiego is helping the government establish a national public health institute similar to the CDC. Burkina Faso requested assistance in enhancing their emergency operations centers and the Liberian government is working with Jhpiego to strengthen the national laboratory staff's ability to test for COVID-19.
And in Pakistan, "over the next three years, Jhpiego will respond to the evolving health needs and priorities of national and provincial governments for infectious diseases and will work collaboratively to improve health system capacities," notes Dr. Fauzia Assad, Jhpiego's country director for Pakistan.
Meet Isaac Joseph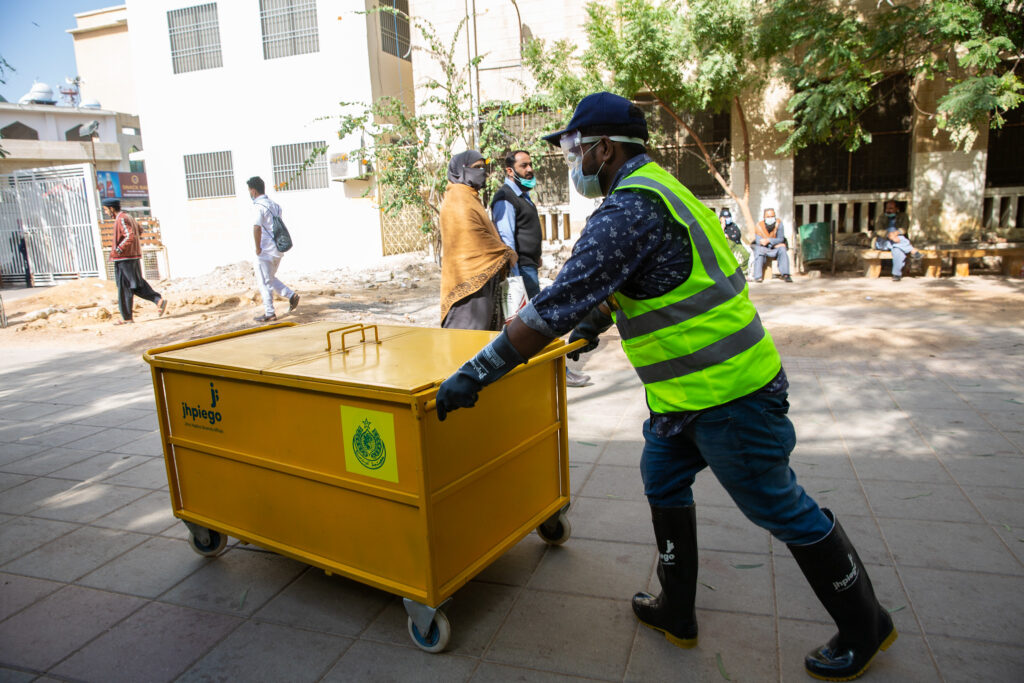 Isaac Joseph is on the frontlines of that effort. Joseph, 27, has been a janitor at the Karachi hospital for over five years. A janitor's job includes the timely collection and disposal of infectious waste, which is critical to preventing the spread of infectious diseases. Through the Jhpiego-led health security project, Joseph and his team of janitors received training and IPC resources along with safety goggles, gloves, protective jackets and shoes and other equipment. Color-coded bins were placed at different points throughout the hospital for separation of different types of waste.
Nearly 100 hospital workers, including managers, doctors, nurses and the housekeeping staff, participated in comprehensive trainings on basic IPC principles such as hand hygiene, injection safety, hospital waste management and appropriate use of personal protective equipment (PPE).
Make waste management a collective responsibility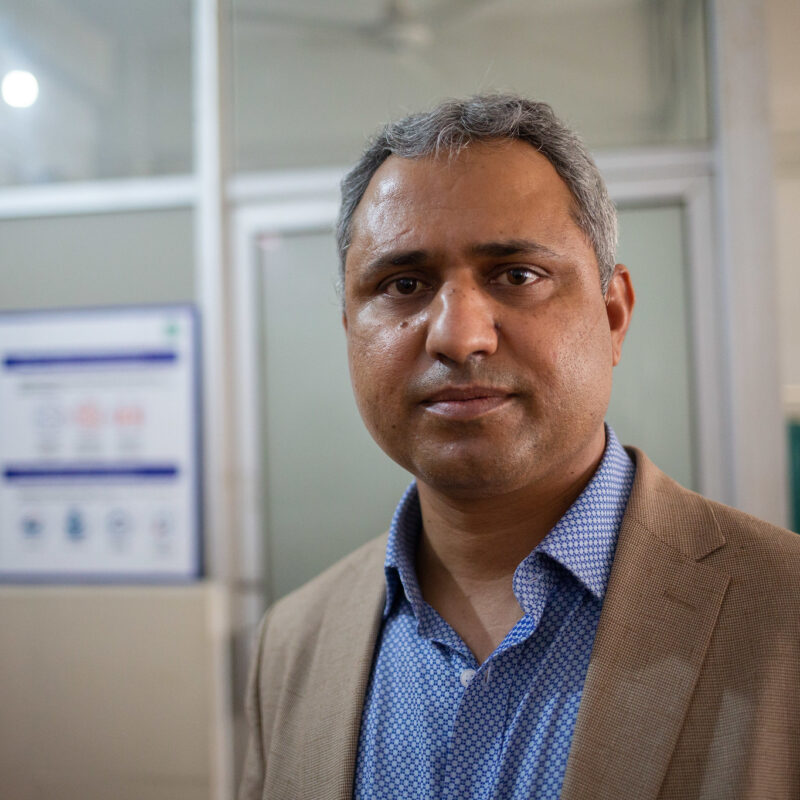 "When I joined the hospital three years ago, the understanding on infection prevention among health workers was quite low," says Dr. Azizullah Khan Dhillo, who oversees IPC issues at Civil Hospital Karachi. "Being a public sector hospital, the opportunities for staff trainings are often limited. The health facility baseline assessment findings identified that segregation, collection and disposal of hospital waste was not up to the mark, and the janitorial staff was being affected the most as they did not have PPE and requisite safety equipment. Through the technical and logistical support of Jhpiego, we were able overcome this challenge."
Civil Hospital Karachi is now rated at the "advanced" level of IPC according to the World Health Organization Infection Prevention and Control Assessment Framework.
Over the next three years, Jhpiego will respond to the evolving health needs and priorities of national and provincial governments for infectious diseases and will work collaboratively to improve health system capacities."

Dr. Fauzia Assad, Jhpiego's country director for Pakistan
Joseph feels that the equipment and on-the-job training provided by Jhpiego have enabled him to do his job safely and in a more organized manner. "We should also engage the public who visits this facility frequently and help them understand that waste management is a collective responsibility. Their support is much needed to make it a success," he said.
Dr. Dhillo also noted that, "infection prevention and control is a concept that cannot be imparted in a one-time training." IPC measures need constant reinforcement. With Jhpiego's support, Civil Hospital Karachi developed and displays educational resources, such as posters, at key locations so that hospital staff see them daily. In addition, national IPC guidelines have been placed in all wards as reference material for staff.
Three times a day, Joseph collects infectious waste from the color-coded waste bins and transports it to the incinerator in a customized trolley. Being a janitor is hard, hazardous work and often goes unappreciated. But Joseph does his job with pride and unwavering determination. "I derive my inspiration from Dr. Ruth, who dedicated over 50 years of her life to fight leprosy in Pakistan," he says. "I feel if I do my work honestly, I am doing a job well done for humanity at large."
Ammar Zafarullah is a Communications Specialist in Jhpiego's Pakistan office. Leanne Gray is a Senior Communications Specialist.