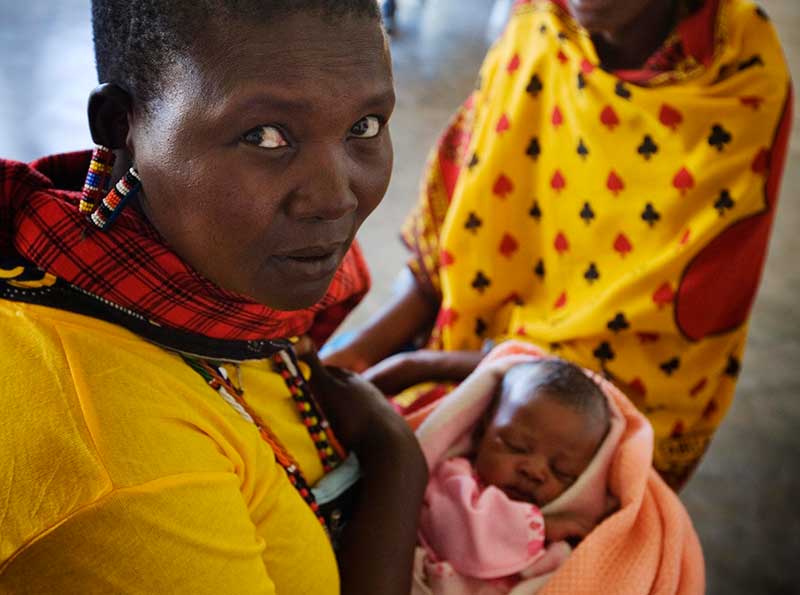 Seattle, Washington—Jhpiego's three low-cost, innovative global health projects designed to help save the lives of women and newborns won top awards this weekend at the prestigious Saving Lives at Birth: A Grand Challenge for Development competition.
The trio of award-winning projects, including a device engineered through Jhpiego's partnership with the Johns Hopkins Center for Bioengineering Innovation and Design (CBID), beat out tough competition in a field of 500 entrants from 60 countries in the Grand Challenge, a competition sponsored by the U.S. Agency for International Development, the Bill & Melinda Gates Foundation, Grand Challenges Canada, the United Kingdom's Department for International Development and the Government of Norway.
The Saving Lives at Birth funders sponsored the competition with the goal of creating a community of innovators who could spur development of strategies that can have a significant impact on reducing the more than 250,000 childbirth-related deaths that occur each year, most in the developing world.
Of the 65 finalists that competed in Seattle, only 12 were selected for grants. Jhpiego was the only organization that won for more than one application.
Jhpiego's three-for-three sweep represents a trifecta of health care innovation, engineering design and public health field experience. The projects adapt cell phone technology to devise a non-invasive screening device for anemia, which accounts for 700,000 deaths a year; create an easier-to-use, less costly model to teach health care providers how to insert an intrauterine contraceptive device (IUD) after birth and increase access to family planning; and develop a program to equip frontline health care workers at the periphery of the health system with the skills to prevent the leading causes of childbirth-related deaths for women and newborns.
Dr. Harshad Sanghvi, Jhpiego Vice President and Medical Director, said the organization's success at the highly competitive Grand Challenge was a recognition of Jhpiego's global health leadership over four decades, a unique collaboration with exemplary partners—the Hopkins Department of Biomedical Engineering's CBID program and Laerdal Global Health—and a comprehensive approach to saving the lives of women and newborns. The projects illustrate a continuum of care that begins before a woman gives birth, continues through the day of birth to ensure mother and newborn survive, and follows both to help a family safely plan and space a subsequent pregnancy so all are healthy and thrive.
"Jhpiego, through its work over 40 years and in more than 120 countries, has a very deep understanding of the needs of women and families," said Sanghvi, who leads Jhpiego's Innovations Unit. "We are demonstrating here the significant, comprehensive approaches that will work within communities at the most basic level."
Here are summaries of the Jhpiego-led projects:
HemoGlobe transforms a basic cell phone into a non-invasive anemia screening and reporting tool. Harnessing the cell phone's computational power, it estimates a woman's or newborn's level of hemoglobin to determine anemia. If the patient is moderately or severely anemic, the community health worker can counsel the patient to seek appropriate medical care, simultaneously transmitting the data to a central repository in a "Google Maps" format for better targeting of scarce health systems resources. Anemia contributes to the deaths of more than 100,000 women and 600,000 newborns each year. Hopkins undergraduate engineering students from the CBID program designed this device, which will be field-tested in Kenya with a $250,000 seed grant.
"This device has the potential to be a game-changer," said Dr. Soumyadipta Acharya, of the graduate program of the Johns Hopkins CBID program. "It will equip millions of health care workers across the globe to quickly and safely detect this debilitating condition in pregnant women and newborns."
A new, low-cost, realistic simulation model to reinvigorate and expand skilled use of the postpartum IUD and increase access to this method of postpartum family planning is an award nominee for a $250,000 seed grant. As highlighted in the Gates-hosted London Summit on Family Planning last week, if more women had increased spacing between births and better access to effective family planning, more than 100,000 maternal deaths could be prevented each year. Jhpiego will work with Laerdal and local partners in Pakistan to field-testand further refine the new low-cost simulation model so that it will be ready for subsequent scale-up and integration with Jhpiego's postpartum family planning programs around the world.
A proposal to train and mentor frontline health care workers in preventing the two leading killers of women and newborns on the day of birth—postpartum hemorrhage and neonatal asphyxia—is an award nominee for a $2 million transition grant to build and sustain this facility-based training approach in Uganda. This project is in partnership with Protecting Families against HIV/AIDS(PREFA), a local NGO in Uganda, the American Academy of Pediatrics (AAP) and Laerdal. It will use a lifelike simulator that recreates bleeding after birth, Mama Natalie, and a realistic newborn model on which health care providers will learn how to resuscitate an infant under the AAP's Helping Babies Breathe approach. Mobile technology will be used in post-training mentoring and supervision.
This is the second consecutive year that Jhpiego and partners have taken top honors in this preeminent design competition founded to spur innovation in responding to global health challenges in low-resource settings.