When Gafirigi described his 4-year-old daughter Antoinette as weak, feverish and vomiting, Monique Nirere knew what to do. She examined the girl and, finding she had a high fever, used a rapid diagnostic test to confirm that Antoinette was positive for malaria. Monique then administered artemether-lumefantrine, a medication used to treat the mosquito-borne disease.
After years of wanting to improve the health of her rural village, Monique became a community health worker (CHW) for moments like these. And thanks to intensive MCSP training on integrated Community Case Management (iCCM), she is as confident in her skills as she is passionate.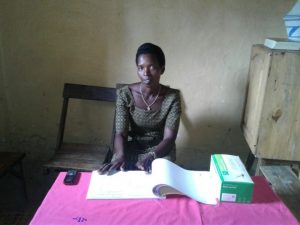 For the first two doses, Monique watched over Antoinette and advised her family on proper timing and administration of the medication. She followed up a few days later to check on the child's progress; within 3 days of the initial dose, Antoinette was improving quickly.
Monique grew up in this part of southern Rwanda helping her family farm. At age 18, she began training to make handicrafts like baskets, but she had to stop to help care for her six younger siblings. However, her leadership skills and ambition remained clear: she volunteered at her church helping refugees, which led to her election as a local leader in the village justice committee, where she served for 9 years.
At age 40, Monique decided to pursue her lifelong dream of becoming a health worker. Village members elected her to be a CHW, citing her outstanding contribution as a local leader and her passion and dedication to solving health issues.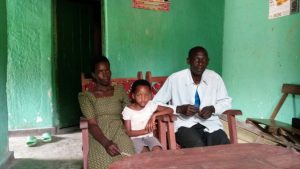 With support from the U.S. President's Malaria Initiative, MCSP—in collaboration with the Ministry of Health—helped to train Monique in iCCM. She is now one of 2,500 CHWs recently trained—and one of more than 6,200 supported—by MCSP and the ministry to manage common childhood illnesses like malaria, diarrhea and pneumonia in the seven iCCM districts in Rwanda.
iCCM extends case management of childhood illness beyond health facilities, giving more children access to lifesaving treatments within their communities. Monique sees about five local children every week, treating many and referring others to the health facility. Her ability to effectively assess young patients has made a positive impact on her community, including grateful families such as Antoinette's.
"We are very happy to have a CHW as our neighbor, because when my child was sick, she helped a lot and the health center was far," said Gafirigi, Antoinette's father. "We feel lucky to have a health worker around us."
iCCM by CHWs accounts for 60% of all malaria treatment in Rwanda. As frontline health workers at the community level, they are trained, supplied and supervised to diagnose and treat children for malaria using artemisinin-based combination therapies. By ensuring utilization, accessibility and appropriate and prompt treatment of the disease, CHWs are proving key to reducing needless deaths from this leading killer.
---
Angelique Mugirente is a Malaria Program Officer in Jhpiego's Rwanda office; Tumaini Gilbert is a project management intern; and Jennifer Araujo served in the Rwanda office as a Peace Corps volunteer. Mamy Ingabire, Communications Specialist, and Noella Umulisa, Malaria Team Lead, also contributed to this story.

Jhpiego believes that when women are healthy, families and communities are strong. We won't rest until all women and their families—no matter where they live—can access the health care they need to pursue happy and productive lives.
Donate now!