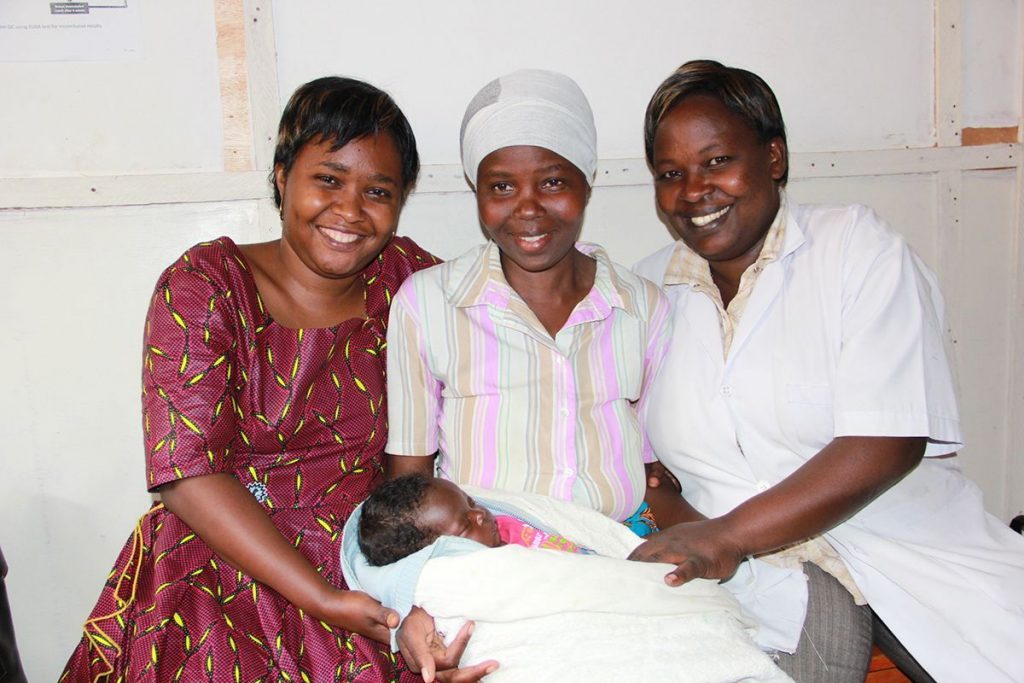 Hands-on learning, with frequent and supervised practice, helps a nurse to handle postpartum hemorrhage.
Musanze, Rwanda — As Euphrasie Banyangiriki holds her healthy newborn daughter in her arms, her gratitude bubbles up into a melody. With a harrowing delivery behind her, Euphrasie sings softly to baby Irakoze as she lays in the bed at the Rwaza Health Center maternity room.
This 27-year-old mother of three recently lay bleeding and unconscious in the health facility where she had given birth.
"I couldn't hear anything, and I couldn't even recognize where I was," says Euphrasie, recalling her terror just before blacking out from severe bleeding after birth (postpartum hemorrhage).
Someone called out for help, and an attendant summoned nurse Francoise Murekatete.
Francoise had been trained about 9 months earlier by nurse-mentor Delphine Uwineza on how to manage emergency situations and complications that arise during birth as part of basic emergency obstetrical and newborn care. Around the same time Euphrasie learned she was pregnant, Francoise learned about managing postpartum hemorrhage. This unique training approach—using a low-dose, high frequency (LDHF) methodology that features supervised and repeated skills practice at the health providers own workplace—is proven to increase retention of skills and knowledge over traditional training.
With support from the U.S. Agency for International Development's flagship Maternal and Child Survival Program (MCSP), the government of Rwanda has made a priority of expanding access to quality reproductive health services by increasing the competency and confidence of nurses and midwives—those providers who deliver the bulk of health care here to pregnant women, mothers and children. MCSP worked in partnership with the Ministry of Health to roll out the LDHF approach for postpartum hemorrhage in 172 facilities. This approach was studied and is used in Ghana and Uganda where it led to a large reduction in postpartum hemorrhage, newborn deaths and stillbirths in health facilities where the training took place.
Delphine was one of more than 100 Rwandan mentors trained to take the LDHF approach into health facilities throughout the country, ultimately improving patient care in maternity wards like the one where Euphrasie went to have her third baby.
Francoise had learned about postpartum management, in theory, while at nursing school. But there, in the classroom, she never had the opportunity to practice the necessary skills to solve complex problems that arise during childbirth. That's why she has no doubt that the lessons learned more recently from Delphine—lessons practiced regularly under her mentor's capable supervision—enabled her to save Euphrasie's life.
Under Dephine's tutelage, Francoise's confidence in her ability to both diagnose and treat complex cases increased. She immediately identified the underlying cause of Euphrasie's bleeding: a failure of the uterus to contract after delivery, which is the most common cause of postpartum hemorrhage.
She wasted no time in administering the drug oxytocin to stimulate the uterus to contract. When the bleeding didn't stop right away, she calmly began compressing the uterus with her hands, which she knew to be an effective means of stimulating a uterine contraction. Finally, her determined competence paid off. Euphrasie's bleeding stopped and the young mother soon regained consciousness.
Before training, Francoise transferred all mothers experiencing postpartum hemorrhage to the district hospital. To date, Euphrasie is one of five such cases that she has successfully managed at the Rwaza Health Center.
"I am doing well now and I am breastfeeding as normal," Euphrasie says, cradling Irakoze. "I thank MCSP, and nurses for their efforts and passion in saving lives of mothers and children."
---
Mamy Ingabire is a communications specialist for Jhpiego in Rwanda.
Jhpiego believes that when women are healthy, families and communities are strong. We won't rest until all women and their families—no matter where they live—can access the health care they need to pursue happy and productive lives.
Donate now!