In the years Jock Bol has worked to increase men's access to a highly effective HIV prevention procedure, he has often been asked a profoundly personal question, "Are you circumcised?" Others inquired if Bol would have his young son undergo medical circumcision, which has been shown to prevent the spread of HIV. He hasn't been shy about answering "yes" to both questions.
Bol, a trained health care provider, is forthright about his own family's health because he feels strongly that his experience can lead others to understand the impact of voluntary medical male circumcision (VMMC) in preventing HIV and to seek out the procedure for their own health.
Research trials have shown that VMMC reduces a man's risk of acquiring HIV from a female partner by up to 60 percent, increasing to around 75 percent over time. VMMC offers men lifelong, partial protection against HIV infection and has other health benefits for both men and women.
"It is very important that [family and community members] have information about VMMC clearly from me," said Bol, who has served the past six years as Jhpiego's VMMC Regional Advisor in Ethiopia. "When people learn that I practiced what I preach and have done so with my own son, they will have more confidence and trust toward the comprehensive VMMC services currently provided through a number of public facilities throughout Gambella Region."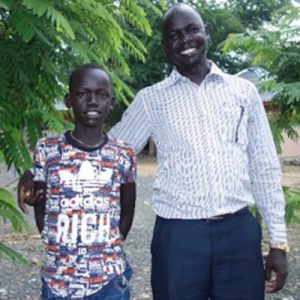 This past summer, Bol accompanied his 13-year-old son, Wichieng, to the Gambella Regional Hospital for medical circumcision. It was a proud day for father and son. "I myself got circumcised back in 1999, when I was a nursing student at Yirgalem Nursing College. If I have to be trusted by my close colleagues and the community for more clients to come to the health facility and get circumcised, I have to set an example by being really committed to what I am preaching."
In partnership with the Federal Ministry of Health, Gambella Regional Health Bureau, Surgical Society of Ethiopia and other partners, Jhpiego has been providing comprehensive VMMC services, including HIV counseling and testing, since 2009. The President's Emergency Plan for AIDS Relief funds the VMMC program through the U.S. Centers for Disease Control and Prevention Ethiopia and ICAP at Columbia University.
Over the past eight years, more than 73,000 men and youth in the Gambella Region of west Ethiopia, which borders South Sudan, have received comprehensive VMMC services to prevent the spread of HIV and save lives.
Bol's commitment to men's health is evident in his everyday work. He has traveled extensively throughout Gambella Region and met with local government officials, community-influencers, religious leaders, health extension workers and other health care workers. He has devoted hours to advocacy efforts, training, mentorship and supportive supervision to ensure that high-quality services are provided through the VMMC program.
In a few instances, Jock traveled by helicopter, courtesy of the World Food Program, to reach health facilities that were inaccessible by road because of flooding. He made these trips to ensure that providers in active VMMC campaigns had the supervision and commodities they needed for safe and effective programs.
And yet, some traditional communities had little interest in VMMC.
Andrew Duop Pal, a health officer from Gambella Regional Health Bureau, said he had trouble convincing the local community to participate in the service when he worked in a health center a few years ago. "VMMC was considered a taboo, something unnatural in our community," he said. "Today, after training, campaigns and educating society, things have changed so much that the people go to the nearby health centers or hospital requesting the service."
Having a local role model who also is a public health expert has proven to be beneficial for HIV prevention efforts underway today.
"As I am from the native tribes and in order to attract more uncircumcised native adults and young boys above the age of 10 to voluntarily come to the male circumcision providing sites and prevent HIV, I have to behave in a way that people consider me as their role model," says Bol. "I have experienced it myself and [so has] my own son. I can use this as a selling point to attract new clients who might still have some myths and misconceptions regarding male circumcision."
Dr. Tadele Bogale, MPH, is the Director of Special Projects in Jhpiego's Ethiopia office.
Jhpiego believes that when women are healthy, families and communities are strong. We won't rest until all women and their families—no matter where they live—can access the health care they need to pursue happy and productive lives.
Donate now!