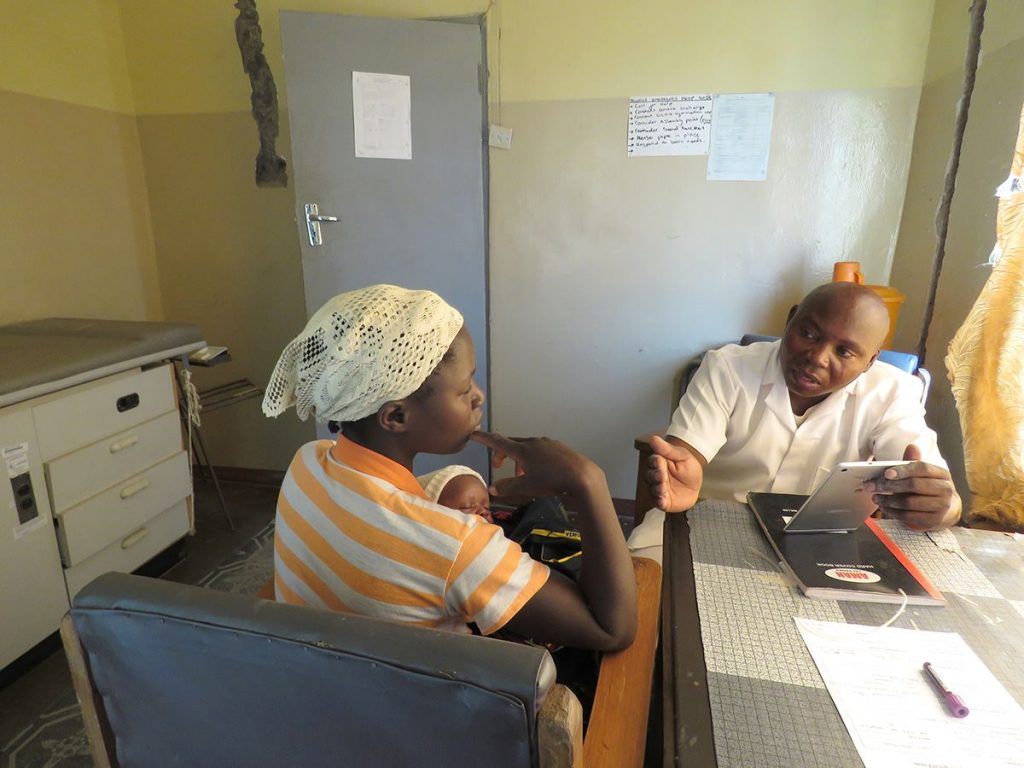 As a health care provider in rural Zambia, nurse-midwife Michael Mweetwa Chinene struggled to stay current with evolving best practices in HIV and tuberculosis care.
"I have a very busy schedule at my facility," said Chinene, who works in Mazabuka District in the Southern Province, "and it's difficult to access learning opportunities."
Yet, the clients Chinene serves—HIV patients with TB—require prompt and correct diagnosis, regular treatment and appropriate case management. Without the ability to get the latest information in patient management, Chinene said his "confidence to be able to provide specific services (for these clients) declined."
He found it difficult to attend to people with HIV and AIDS, and resorted to referring them to other facilities. He is hardly alone; nurses and midwives in many parts of Africa face workforce shortages, high patient volume, limited resources and strained training facilities. And, many nurses and midwives can't afford to attend continuing professional development trainings that require long-distance travel.
But eLearning—education and training conducted via digital devices like computers and smartphones—is giving health care providers the opportunity to learn anytime, anywhere. With support from the U.S. Centers for Disease Control and Prevention, Jhpiego—in partnership with the Zambia Ministry of Health (MOH) and Mwabu, an education technology company—is implementing an innovative blended learning method that melds technology with a new training method to provide health workers with the skills and clinical updates necessary to deliver high-quality health care.
The low-dose, high-frequency eLearning approach engages students with short, digestible information on a regular basis accompanied by on-site clinical mentorship. eLearning, a strategic priority for the MOH, complements the blended learning approach by delivering hands-on guidance and up-to-date health information in a way that is accessible to providers.
For example, during a mentorship session, the provider and mentor can reference current guidelines on a solar-powered tablet to check the correct course of action. After the visit, the provider can access the eLearning course on their own time to refresh their knowledge. At the next mentorship session, the provider can demonstrate new skills and ask questions to further understand the protocol.
Health care providers like Chinene who work in remote areas are able to update their skills without having to leave their facilities and, more important, the patients needing their care.
"Through the e-course," Chinene said, "I have real-time access to much needed information when attending to clients."
To date, Jhpiego and partners have conducted 1,342 mentorship sessions, empowering 499 providers in five districts of Zambia.
Earlier this year, Jhpiego used the eLearning platform to pilot an MOH-endorsed digital course on HIV antiretroviral therapy (ART) with 70 health care providers in three districts. During the course, providers followed a fictional doctor through case studies and scenarios and received pertinent information on adult ART management. The students, though physically in different districts, shared experiences and challenges, and motivated each other via a group WhatsApp chat.
The eLearning course delivered just what Chinene needed to provide quality health services to fellow Zambians. "I have confidence in being able to counsel clients, which is one of the biggest components of HIV case management. Because of the e-course, I now ensure that all who test positive for HIV are begun on IPT to prevent tuberculosis," said Chinene, referring to the isoniazid preventive therapy (IPT) that's recommended by the World Health Organization.
Chinene's new confidence and knowledge have no limits now that his continuing education is available anytime, anywhere through eLearning.
Christopher Bwale is the Monitoring, Evaluation and Research Officer in Jhpiego's Zambia office; Saul Banda is a Technical Officer for Learning and Education in the Zambia office; and Jenna Smith serves as Senior Program Coordinator for Jhpiego's East and Southern Africa Region.

Jhpiego believes that when women are healthy, families and communities are strong. We won't rest until all women and their families—no matter where they live—can access the health care they need to pursue happy and productive lives.
Donate now!